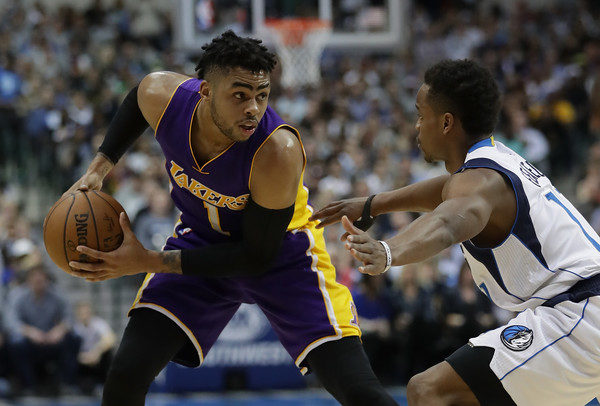 For the third consecutive year, the Lakers landed the #2 overall pick in the NBA Draft. In the previous two drafts, they selected D'Angelo Russell from Ohio State and Brandon Ingram from Duke. This year, the Lakers are projected to draft the California native from Chino Hills and UCLA, Lonzo Ball. From what Ball has shown us, his ceiling is the roof and he's a true point guard. The addition of Ball would have the potential to make Russell expendable, which is why multiple teams are exploring trade options for him.
D'Angelo Russell still has two seasons left on his rookie contract and he could be a convenient addition to any team in need of a point guard, rather than spending a lot of money on a free agent ball handler this offseason.
At this point in time, Markelle Fultz is looking like the clear #1 overall pick. This being said, he would be a Boston Celtic if they decide to keep their pick. This would be a fascinating way to rejuvenate the Celtics-Lakers rivalry in the future. Fultz thinks he's better than Ball; Ball thinks he's better than Fultz; LaVar thinks his son is better than everyone. Their already brewed rivalry makes it all the more interesting if they each get drafted to the biggest rivaled franchises in basketball. It just doesn't seem like Russell fits into the picture very well going forward, if Ball pans out.