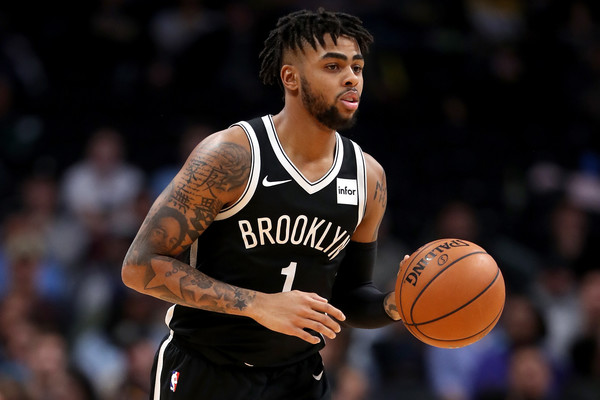 D'Angelo Russell is having a good year, and seeing what's happening in Los Angeles might make it even better. Many players would kill to be able to play alongside LeBron James, but Russell told Leo Sepkowitz of Bleacher Report that being traded from Los Angeles was the "best thing to happen is (his) career."
"I can't imagine what they're trying to block out," Russell says. Later, he adds: "If [the Lakers] didn't let me go then, they were gonna let me go now, and I'd be going through what they're going through. Best thing that happened in my career."
Russell was drafted with the second-overall pick in the 2015 draft by the Los Angeles Lakers with big expectations on his shoulders. After an incredible season at Ohio State which earned him Big-10 freshman of the year, Russell was touted as a high level point guard who could pass, shoot, and score on an NBA level from day one. Russell came in and contributed right away, but the lack of team success and gaudy numbers had fans turning on him sooner than they should have.
Russell was given a fresh start in Brooklyn in 2017 after being traded and has taken advantage. Improving his game across the board, Russell has improved his public opinion and earned his first All-Star nod this year being named an injury replacement for Indiana guard Victor Oladipo. As the Lakers went from zero to hero overnight with the signing of LeBron James last off-season, one might think that Russell may be resentful but he's grateful instead.
As the Lakers struggle to re-enter the playoff picture, and many young players were faced with the possibility of being traded, D'Angelo Russell expressed his gratitude to play for a franchise that appreciates his contributions and holds him in higher regard than the Lakers seem to for their young players or ever did for him.