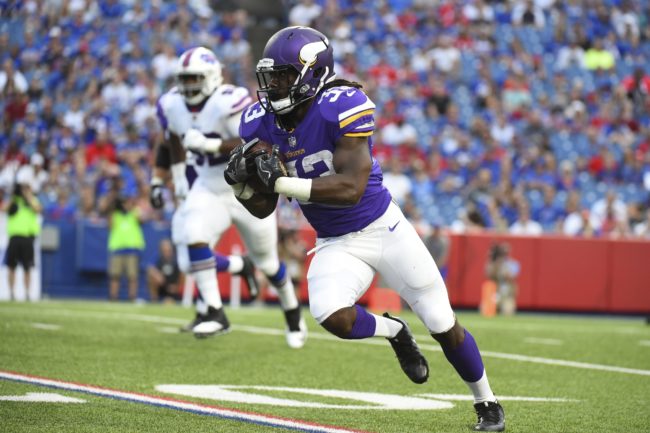 Dalvin Cook was on his way towards being a possible rookie of the year candidate. Cook, 22, rushed for a franchise record 222 yards through his first three games. His season will, unfortunately, end in week four of the 2017 NFL Season. Well, at least it looks that way.
Ian Rapoport has reported that it appears Cook has a torn ACL.
The #Vikings initial diagnosis for Dalvin Cook is a nearly complete ACL tear, per @TomPelissero and me. He's hopeful the MRI shows otherwise

— Ian Rapoport (@RapSheet) October 1, 2017
Latavius Murray and Jerick McKinnon are the next man up to replace the rookie tailback. Cook was taken in the second round of this past draft in what is looking like a strong running back group. For years the Vikings leaned on Adrian Peterson. Now they lose another reliable player in Cook.
The team confirmed Cook did indeed suffer a torn ACL.
Coach Zimmer confirms that Dalvin Cook has a torn ACL.

— Minnesota Vikings (@Vikings) October 2, 2017
Check out what caused the injury below:
#Vikings RB Dalvin Cook left the game after suffering a knee injury on this play ? pic.twitter.com/csL8lb6pIc

— Def Pen Sports (@DefPenSports) October 1, 2017
The good news for the Vikings is quarterback Sam Bradford should return at some point this season. Minnesota is now 2-2 on the season after losing to Detroit on Sunday.