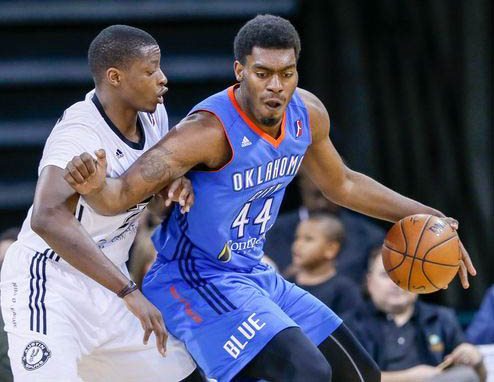 Dakari Johnson showed the NBA spectrum one thing during the 2016-17 season.
He's just getting started.
The former Kentucky Wildcat is the first Oklahoma City Blue player to earn All-NBA D-League team honors. He averaged 18.5 points and 7.9 rebounds in 49 games. He had a much-needed jump in production during his sophomore campaign, posting career a career high in assists (2.3), blocks (1.3) and field-goal percentage (55.7 percent).
The year before (2015-16), he started in 47 of 50 games and went on to achieve All-Rookie team honors, averaging 12.3 points, 8.1 rebounds, 2.0 assists and 1.2 blocks per game while shooting 53 percent from the field in 27.6 minutes of action.
He took a step forward in his NBA journey and it's all about his development. Patience is a virtue for talented young guys seeking a full-time opportunity in the league.
"These past two years have been great for me with the Blue — working on my game, working on my body — and seeing the progress. It's been slow and steady, but I've been consistent," Johnson said in an interview with The Oklahoman. "(I'm) always on the weights, eating better food. My whole game and body have changed, I feel like. That's what I've been working on while I've been being patient and waiting for my opportunity."
The development league (re-named to the NBA Gatorade League) gave Johnson the minutes he needed to prove he's capable of producing for an NBA organization.
"Playing in the D-League, they put you in a lot of different positions where I can expand my game. Shooting the mid-range (jumper), handling the ball, doing different things. I feel like my game has grown," Johnson said. "In college, it was kind of a system thing. Up in the NBA or in the D-League, there's a freedom. It's players making decisions."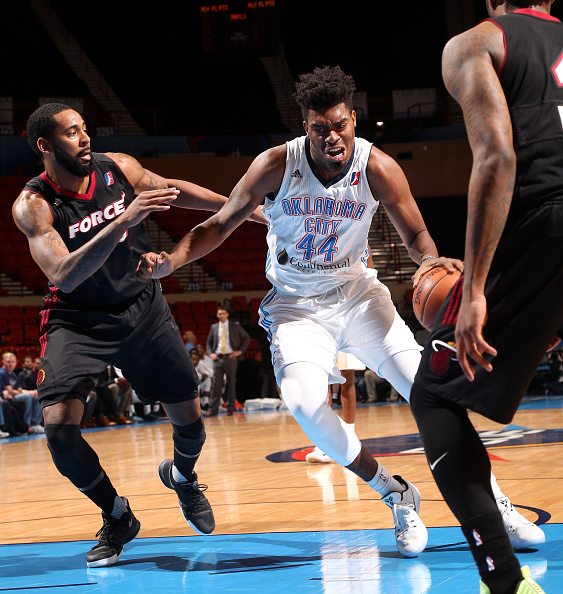 His expanded game was evident in the Orlando Summer league. Mark Daigneault — head coach with the Oklahoma City Blue, the Thunder's G-League affiliate, and the coach of OKC's Summer League team — has worked with the talented big man every step of the way this offseason, mentioning he sees a lot of a former Thunder player in Johnson's abilities.
"He's a skilled, skilled offensive big that is extremely versatile on that end of the floor," said Daigneault via Basketball Insiders. "And then he has the size to be an effective rim protector with early help, despite the fact that he doesn't have a ton of lift, or despite the fact that he's not going to block a ton of shots. There's been a lot of very effective defensive bigs like Kendrick Perkins that had those sorts of qualities and was highly effective. He has an opportunity to do that."
Others saw the same thing. The Oklahoma City Blue standout could find himself as an effective role player this season with the Oklahoma City Thunder. The trade between Sam Presti and Kevin Pritchard may have opened the door for Johnson.
"He had another solid performance in Florida (in the Orlando Summer League), out working most of the pack, scoring and rebounding effectively," said Fran Blinebury of NBA.com. "Maybe with Domantas Sabonis gone to Indiana in the Paul George deal, the door is cracked open for another big man in OKC."
During the last two seasons, Johnson has matured in several aspects on the defensive side of the floor.
"The main thing is on the defensive end, being more vocal and getting up in pick and roll coverages," Johnson said. "Talking to my guards, helping them out on screens and helping my teammates being there early on defense."
Johnson has yet to make an appearance in the NBA. He was raw coming out of Kentucky, but he has yet to put his head down. Scouts were skeptical of Johnson's choice to leave college early, but he wasn't. He knows what he is capable of achieving.
"I have no regrets," he said via Kentucky.com. "I knew it was going to be a tough road ahead anyway. Having a chance to chase my dream is all I can ask for. My time at Kentucky was great, going to two Final Fours. It was a blessing."
In October, he could very find himself with playing time under Billy Donovan. It's all about following the course.
"I definitely feel like I can be on the roster, but it's all up to the opportunity," Johnson said. "I have to come in and really go hard this summer and stick to the script. Stick to the plan."
After all, the Thunder big man is only 21-years-old.