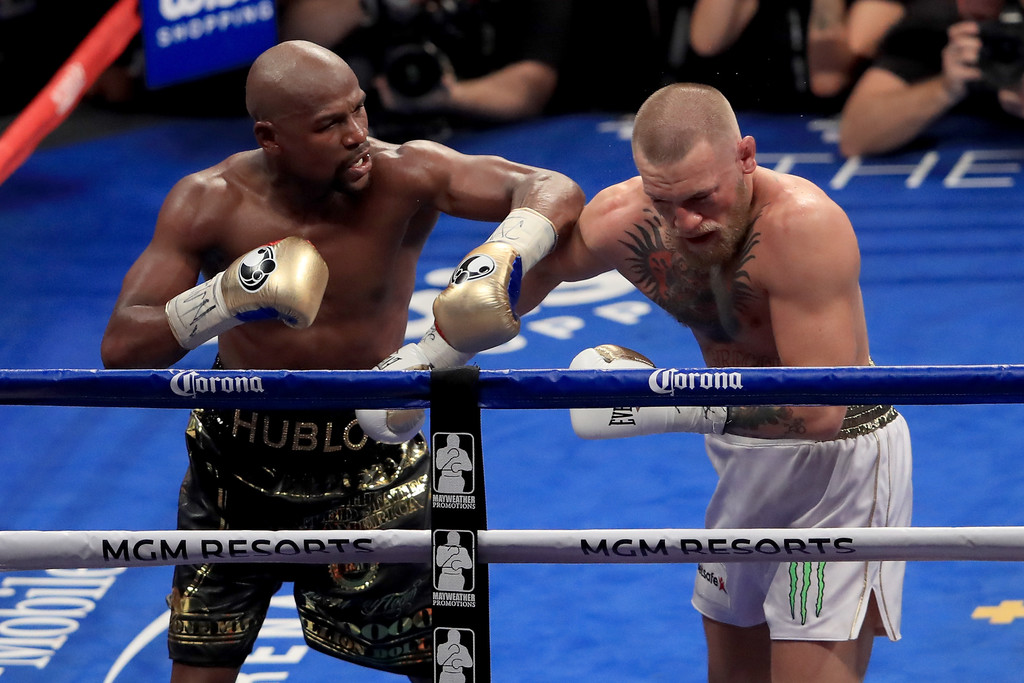 Conor McGregor came out swinging early on in his superfight against boxing legend Floyd Mayweather but after a handful of rounds, Mayweather's gameplan started to take form. 'Money' Mayweather Sat, waited, and showed patience as he allowed McGregor to wear down before coming in with a flurry of action starting in the sixth round. Four rounds later, Floyd Mayweather came out victorious with a 10th round TKO.
It was the once in a lifetime fight between the two icons in their respective sports. The first-ever two division champion in UFC history finally squared off with the undefeated champion in a matchup that originally was talked about in an interview with Conan O'Brien almost two years ago. The fight was finalized after all the drama surrounding the setup of the bout was cleared away. August 26th was the day, Las Vegas was the host and Showtime was the provider. The arena didn't sell out, the pay-per-view providers experienced outages nationwide but the fight lived up to the hype.
#McGregor started off strong… pic.twitter.com/ot4zltjMWr

— Rob Lopez (@R0BaTO) August 27, 2017
In his professional boxing debut, Conor McGregor went 10 rounds with the man he said he would knock out early. He came out swinging from the first bell and showed what he could hang in the squared circle with the best. McGregor controlled the fight early landing strong shots as Mayweather struggled to land hits and receiving a flurry of shots from Conor. Floyd remained composed as McGregor started showing signs of fatigue.
86-85 for Mayweather. Conor has a lot of heart but is in bad trouble.

— Brian Campbell (@BCampbellCBS) August 27, 2017
In the sixth round, Mayweather started to get more aggressive as he sent out a solid wave of haymakers that were landing clean. Shot after shot McGregor started to slow down and Mayweather appeared to get more and more amped up as the fight made its way into the double digit rounds. As the 10th started, it was all Mayweather and he closed it out with a technical knockout thanks to a referee stoppage.
Floyd Mayweather knocks out Conor McGregor in the 10th round pic.twitter.com/tK9X89RIhg

— Rob Lopez (@R0BaTO) August 27, 2017
The 40-year-old Mayweather entered the fight with an undefeated career mark of 49–0 including 26 knockouts. He now moves to 50–0 passing a 49-0 mark from the legendary Rocky Marciano. McGregor, 29, made his boxing debut right in the middle of a decorated UFC career in which he currently stands at 21–3 with more MMA fights on the horizon.
Mayweather said after the fight that it was his last bout.
.@FloydMayweather reaches 50-0 and calls his career a wrap. #MayweatherMcGregor pic.twitter.com/uO6nj4Duap

— SHOWTIME Boxing (@ShowtimeBoxing) August 27, 2017