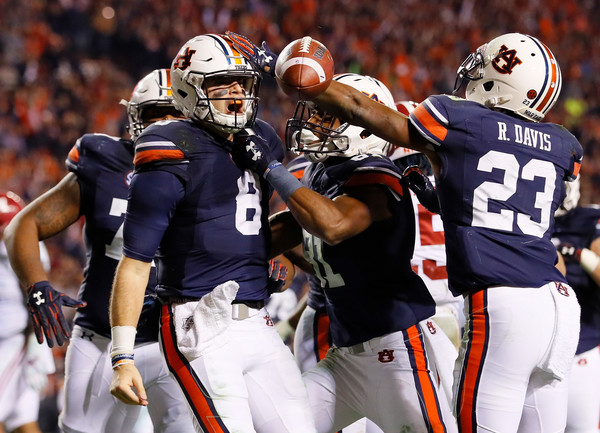 College Football Playoff Rankings: Week 14
Week 13 was capped off with a tremendous Auburn victory over the No. 1 Crimson Tide. This game alone made Alabama a very unlikely Playoff candidate team as they are shut out of the SEC title game. Earlier that day, the No. 2, undefeated Miami Hurricanes fell to Pitt on the road. Miami still has their shot at the Playoff with an ACC title against Clemson. These two games have completely shaken up the entire Playoff picture. With a crazy week 13 in the books, we are now ready for the new College Football Playoff rankings of week 14.
Wisconsin finally gets their place in the top-4.
The Wisconsin Badgers, for weeks, haven't landed in the top-4. As this comes as a surprise to some people, it makes perfect sense. They didn't have the strongest schedule up until week 13. Their victory against the Michigan Wolverines, along with a Miami and Alabama loss, was enough to convince the committee to consider the Badgers at No. 4. With a win against Ohio State in the Big Ten Championship game on Dec. 2nd cement the Badgers in the Playoff. A 13-0 Big Ten champion would never get snubbed, no matter what the circumstances are.
The Pac-12 is highly unlikely to make Playoff, yet again.
After two straight seasons of no Pac-12 teams in the Playoff, it will very likely become three straight. The last team? Oregon in 2014 (vs. FSU in the Rose Bowl, OSU in the title game). With the highest ranked Pac-12 team being No. 10 (USC), it will be incredibly challenging, if not impossible. USC has two losses this season which automatically makes them not a candidate considering their schedule. Although, with Auburn having two losses and sitting at No. 2, their schedule backs them up. Has USC beaten two No. 1 undefeated teams in the last two weeks? Nope. In fact, that is extremely rare to happen in college football, if it even has happened.
Week 14 rankings: perfect, yet again.
It's hard to argue the current top-4 as we haven't had the conference championship games yet. And on the outside looking in, everything looks perfect. Alabama being at No. 5 can be a little tricky when it comes to who actually wins their title game, the Tide could possibly sneak in and shock the country. However, the chance of that is extremely low, as an SEC champion will make the cut, regardless. This upcoming championship weekend is going to be extremely intense, and a Playoff spot is on the table for the taking for most of the current top-8 teams.
College Football Playoff Rankings
1. Clemson
2. Auburn
3. Oklahoma
4. Wisconsin
5. Alabama
6. Georgia
7. Miami
8. Ohio State
9. Penn State
10. USC
11. TCU
12. Stanford
13. Washington
14. UCF
15. Notre Dame
16. Michigan State
17. LSU
18. Washington State
19. Oklahoma State
20. Memphis
21. Northwestern
22. Virginia Tech
23. Mississippi State
24. North Carolina State
25. Fresno State