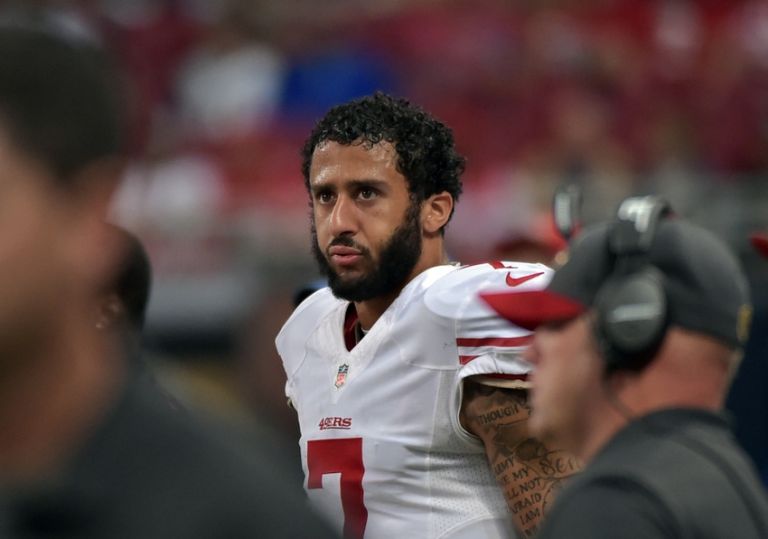 Colin Kaepernick made national news recently when he elected to express his freedom as an American citizen. The San Francisco 49ers Quarterback decided to not stand during the National Anthem before the Niners preseason week three contest against the Green Bay Packers.
Whether or not you agree with him, Kap decided to do something he strongly believed was the right thing to do. He believed this action would help bring awareness to a country wide issue. While he might not have done it in the same manner as Carmelo Anthony or other athletes, he certainly made a statement.
It appears that his seated protest might not be the last time we see Kap take a stand for what he believes is right. Colin Kaepernick said the following after a 49ers practice earlier today, courtesy of Nick Wagoner from ESPN.
"Yes, I'll continue to sit," Kaepernick said. "I'm going to continue to stand with the people that are being oppressed. To me this is something that has to change. When there's significant change and I feel like that flag represents what it's supposed to represent, this country is representing people the way that it's supposed to, I'll stand."

"It's something that I've seen, I've felt, wasn't quite sure how to deal with originally," Kaepernick said. "And it is something that's evolved. It's something that as I've gained more knowledge about, what's gone on in this country in the past, what's going on currently. These aren't new situations. This isn't new ground. There are things that have gone on in this country for years and years and have never been addressed, and they need to be."
It's commendable for Kaepernick to continue to fight for what he believes in. No one is questioning his commitment. What there are questions of is whether or not he will succeed in doing these protests or if things will remain the same.
One thing is for sure, no matter what you feel about Colin Kaepernick, some thing must change in the United States of America.