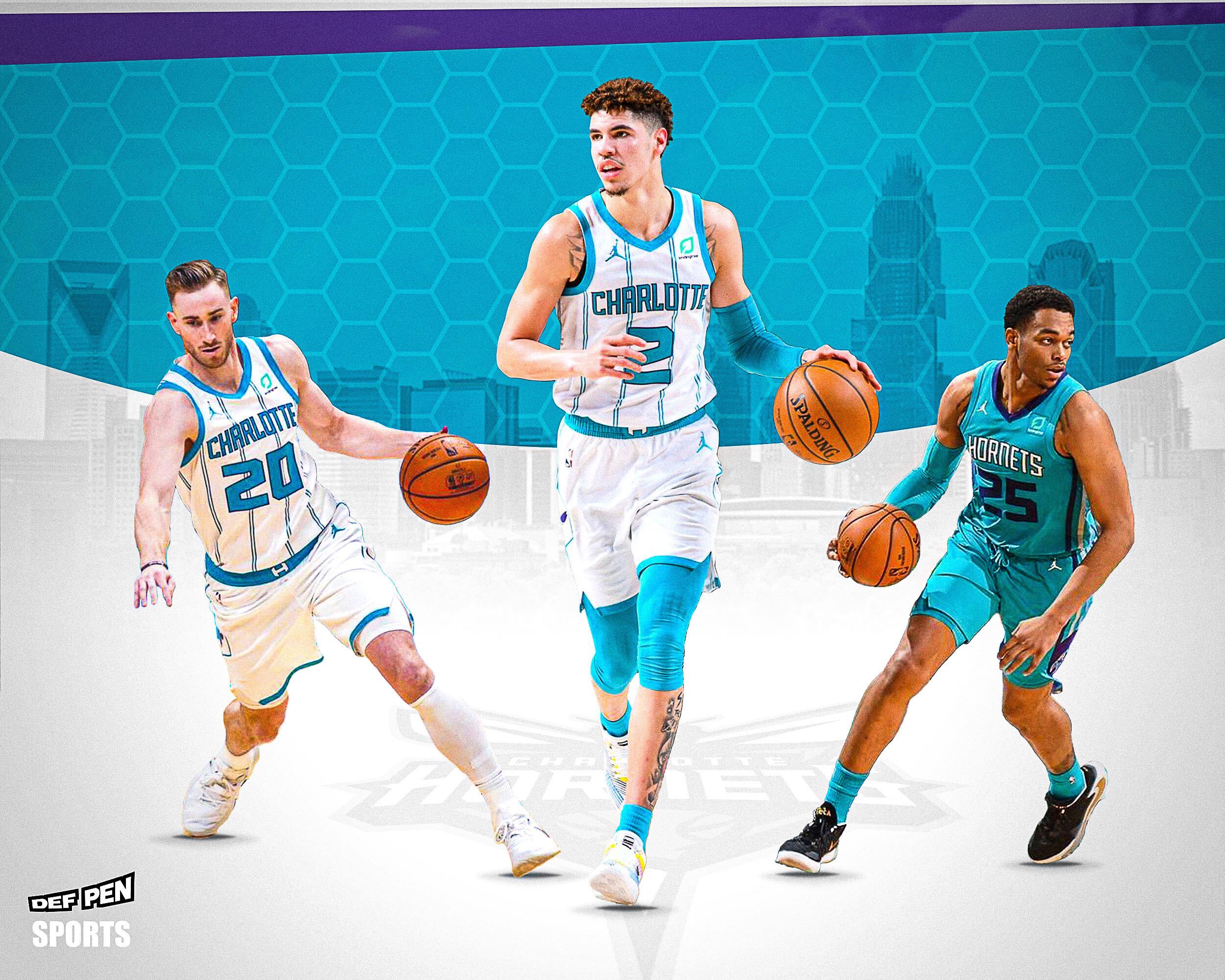 In the summer of 2019, the Charlotte Hornets were a laughingstock. They signed and traded Kemba Walker, the beloved All-Star guard who wanted to stay with the Hornets, to the Boston Celtics in exchange for Terry Rozier. A guard widely viewed as good-not-great, streaky and prone to poor shot selection, whom they immediately inked to a three-year, $56.7 million deal.
The Hornets were left with a roster bereft of talent, with a combined $76.9 million annually tied up in Rozier, Nicolas Batum, Bismack Biyombo and Cody Zeller. They looked to be in for years of a long slog of a rebuild.
One season later, the Hornets are fun. They're a feisty bunch in the race for a play-in spot.
The Hornets accelerated their rebuild by nailing their draft picks. They selected PJ Washington, a remarkably well-rounded stretch-"four," with the 12th pick in 2019; LaMelo Ball, who looks to be the best player in the 2020 draft class, with the third pick; and acquired Devonte' Graham, the 34th pick, on draft day in 2018. Another key to the Hornets' rebuild: taking a chance on Gordon Hayward. Hayward's four-year, $120 contract was widely mocked at the time, but he's looked terrific. Charlotte didn't have much to lose with the contract (who else were they realistically going to sign?), and Hayward was coming off a season where he played at a near-All-Star level when healthy.
As the No. 1 option on the Hornets, Hayward has had more space to work out the kinks and get his confidence back — a luxury he didn't have in Boston while playing next to All-Stars Jayson Tatum and Kemba Walker, plus budding star Jaylen Brown. Hayward never seemed totally sure where he stood in the pecking order in Boston. That's not something he has to worry about in Charlotte. There's no ambiguity; he's the guy. As a Hornet, Hayward is averaging a career-high 22.2 points per game, to go along with 5.1 rebounds, 3.7 assists and 1.2 steals per game. he's also averaging the most shot attempts of his career (16.2) and nearly in the illustrious 50/40/90 club, shooting 49.3% from the field, 40.9% from 3-point range and a career-best 93.1% from the foul line.
The final step for Hayward in his return to stardom should be getting to the rim more frequently. While his 4.5 free-throw attempts per game are a step up from his averages as a Celtic, you'd like to see him get up to six per game, which was the norm for him as an All-Star-caliber player for the Utah Jazz earlier in his career.
The Exciting Offense
The Hornets' offense hasn't been particularly effective so far this season; they rank 21st in offensive rating and next-to-last in points per possession in the half-court, according to Synergy Sports. But their offense has been among the most fun to watch in the NBA, and the results should start to come as the players mature and get used to one another. After all, the Hornets are the third-youngest team in the NBA, with an average age of 24.4.
Coach James Borrego has the Hornets playing fun basketball. They attack opponents from all angles with lineups full of triple-threat players who can shoot, pass or attack closeouts. The ball movement has been tremendous, and as a result, the Hornets lead the NBA in assists per game at 28.6, which, if it holds throughout the season, will be the highest mark for a team since 1993.
One play Borrego has implemented is the "Spain" pick and roll, a play in which the screener's defender is screened by another player. Here's an example. Notice how Graham's screen opens up the paint for Ball.
The Hornets run so much Spain, and I love it. pic.twitter.com/eC6CotosBF

— David Morrow (@_DavidMorrow) January 15, 2021
The Hornets also frequently run double drag (two screens for the ball-handler in semi-transition, typically with one screener rolling to the rim and the other popping out to the perimeter) and Chicago action (a pindown for the player in the corner, who receives a handoff upon coming off the screen).
For all of these plays, the Hornets have multiple options. Sometimes the second screener in a double drag or a Spain pick and roll slips the screen and heads to the rim early or ghosts it and pops out to the perimeter, surprising the defense. It's that sort of creativity that has been so impressive about the Hornets' offense this season.
Another action the Hornets go to often is this ball screen slip pindown, where the screener (usually Biyombo) rescreens into a pindown screen for a shooter to come off of for an open catch-and-shoot 3.
The Hornets love this simple but effective action where the ball screener rescreens into a pindown. pic.twitter.com/Nke7X1j8KF
— David Morrow (@_DavidMorrow) January 14, 2021
The Guard Rotation
The Hornets have a three-man guard rotation consisting of Rozier, Graham and Ball. Because the Hornets have three starting-caliber, triple-threat guards, they're able to stagger and almost always have one or two guards capable of running the offense on the floor (along with point-forward Hayward).
Terry Rozier
Rozier is enjoying the best season of his career, averaging 19.8 points, 4.1 rebounds, 2.7 assists and 1.4 steals per game while shooting a scorching 44.3% from 3-point range on 7.6 attempts per game. Rozier has been excellent on jump shots (47.2%) and runners (58.3%) this season, per Synergy, but is shooting only 55% around the rim, according to Cleaning The Glass, which is solid for him, but not great compared to the rest of the league.
Rozier has shown flashes of being an elite finisher, however. He's gotten much better at using his 6-foot-8 wingspan to finish around or over defenders.
Terry Rozier has been so good in this game. What an impressive finish. pic.twitter.com/BIlxcOGJGD

— David Morrow (@_DavidMorrow) January 17, 2021
On the other side of the ball, Rozier is still often a subpar defender, sometimes seeming confused about where he should be. He has moments, however, when he's able to see a pass coming and leap into the passing lane for a deflection or steal. This next clip shows one of those moments, plus is another example of Rozier's arm-extension finishing.
Terry Rozier has been damn good this year. He shows great anticipation jumping the passing lane for the steal and then goes all the way to the other end by himself, finishes impressively. pic.twitter.com/BnyMejV8pi

— David Morrow (@_DavidMorrow) January 15, 2021
LaMelo Ball
Ball has been tremendous for the Hornets. He constantly keeps his head on a swivel and possesses the rare ability to flick pinpoint outlet passes across the court on a whim. He's one reason the Hornets rank sixth in transition points per possession this season.
Ball has also proven himself a pick-and-roll maestro of rare skill for a rookie, able to hit the roll man on a dime or make the appropriate skip pass as the defense rotates.
LaMelo-PJ PnRs are awesome. Washington slips, Anunoby and Boucher blitz LaMelo, he looks at Washington while executing a nice jump pass to Bridges, which fakes out Stanley Johnson. Bridges makes the right pass to Washington as Johnson scrambles to get to him. pic.twitter.com/SnPxi9gFsW

— David Morrow (@_DavidMorrow) January 15, 2021
Ball is already one of the best passers in the league. The way he slips this next pass in there is special.
What a perfectly timed pass from LaMelo Ball. Martin didn't catch Burke off guard at all with this cut and had like half a step on him. And LaMelo is able to place that pass in there perfectly. Really impressive. pic.twitter.com/IFAoJJ7vKm

— David Morrow (@_DavidMorrow) January 15, 2021
Devonte' Graham
Graham broke out last season for the Hornets after playing fewer than 15 minutes a game as a rookie. In his sophomore campaign, Graham averaged 18.2 points and 7.5 assists per game while shooting 37.3% from 3-point range. Graham is a specialization player, a classic example of the "spark plug" role. He's not going to help you on defense, so the hope is that his offensive impact outweighs his defensive liability. He's struggled to meet that expectation this season, struggling to find his shot and shooting a putrid 31.5% from the field.
However, Graham still provides value for the Hornets as another player who has to be guarded on the perimeter off the catch or dribble and who can attack closeouts and find open teammates as the defense scrambles to rotate. The Hornets have outscored opponents by 46 points while Graham is on the court this season. The team's next-best player by plus-minus this season is Miles Bridges at plus-18. Graham, despite his poor shooting numbers, has been a part of the Hornets' most successful lineups.
Graham also has excelled as a distributor this season; his assist to turnover ratio of 5.29 ranks second in the NBA.
Small Ball
The Hornets' biggest weakness this season is at the center position. Starting center Cody Zeller fractured his hand in the first game of the season, leaving Biyombo as the only true center on the roster (aside from perhaps Vernon Carey Jr., whom the Hornets drafted in the second round this season and who has barely played this season).
Biyombo is a fine paint defender but is awful in space, and on offense, is average or below-average when it comes to his hands, footwork and touch around the rim. When he's in the game, things often go well for the other team. Here's a quick example: Watch how easily the Toronto Raptors pick on Biyombo in the pick and roll in these back-to-back possessions.
The Raptors are finding so much success by putting Bismack Biyombo in the PnR. He plays down on Fred VanVleet here, and gets a 3 buried in his eye. And then… pic.twitter.com/wGDwabvyk0

— David Morrow (@_DavidMorrow) January 18, 2021
A minute later, the Raptors go back to the FVV PnR, targeting Biyombo. This time, the Raptors switch to protect against the pull-up 3, but VanVleet burn Biyombo off the dribble. And once again, open 3 for Toronto is the end result. pic.twitter.com/LaB0HwbWoh

— David Morrow (@_DavidMorrow) January 18, 2021
It's not great. The Hornets have been outscored by 49 points with Biyombo on the floor this season, the worst mark of any Charlotte player by 14 points.
The answer Borrego has found: Washington at center. Washington is only 6-foot-7, but he's one of the most well-rounded players in the NBA. As a center, he can effectively set screens, roll or pop after screening, post up, and spot up or shoot off the dribble from 3-point range.
Same thing. PJ Washington's shooting ability gives Charlotte so many options. pic.twitter.com/dmbrtx1cyX

— David Morrow (@_DavidMorrow) January 15, 2021
As a result of the Hornets' dearth of big-man options and Washington's adroitness at the "five," the second-year player has spent 58% of his minutes this season at the center position after spending only 12% of his time there as a rookie.
The Washington-at-center lineups have been Charlotte's best and most exciting. Graham-Rozier-Bridges-Hayward-Washington has been Charlotte's best lineup this season at plus-19 in 28 minutes. The Hornets' second-, third- and fourth-best lineups by total plus-minus also feature Washington at the "five."
With all five of their players on the court needing to be respected from outside, the paint opens up, enabling players to meander into the lane for easy layups or, as in this next clip, kick the ball out to an open shooter if the defense collapses.
More Spain, except PJ Washington ghosts the second screen and drains the C&S 3. pic.twitter.com/izqmUOsBSc

— David Morrow (@_DavidMorrow) January 15, 2021
This next clip is a perfect example of how good these five-out lineups are. The Hornets run a simple pick and roll in which Bridges slips to the rim and Ball bullets a pass to him. Bridges gets a wide-open dunk because there's no one in the paint to help (and because the Knicks do a terrible job of guarding the pick and roll). Why? Because Mitchell Robinson, a tremendously skilled rim protector, is stuck outside worrying about Washington's shooting ability.
This is poorly defended by the Knicks, but it's also a great example of how much playing 5-out can do for you. The Knicks do a bad job of defending the PnR, Bridges slips, and Mitchell Robinson, an elite shot-blocker, is out on the perimeter with PJ Washington. pic.twitter.com/5WIWCXqzbD

— David Morrow (@_DavidMorrow) January 12, 2021
The Hornets run the exact same play against the Knicks a minute later and get the same result.
The Hornets go back to the same play literally a minute later. Zero adjustments by the Knicks, same result. pic.twitter.com/xnrAjI3biT

— David Morrow (@_DavidMorrow) January 12, 2021
Washington's ability to shoot or attack closeouts puts pressure on defenses and is the key to unlocking Charlotte's offense.
Same thing. PJ Washington's shooting ability gives Charlotte so many options. pic.twitter.com/dmbrtx1cyX

— David Morrow (@_DavidMorrow) January 15, 2021
Plus, Washington often gets open 3s just by fading out to the perimeter at the right time or being the trail man to start a possession, as in this next clip.
Hawks gotta KYP. This is way too good of a look to give PJ Washington. pic.twitter.com/ezxdiIB7UK

— David Morrow (@_DavidMorrow) January 13, 2021
Something else important to note about Washington is that he can't be given the "soft" label that's slapped onto a lot of big men who shoot 3s. Washington is willing and able to bang down low and has impressive touch around the rim.
PJ Washington is a really, really, really good player. He can shoot and pass the ball, is a smart defender and then can also take a defender into the post and punish him one-on-one, like here. pic.twitter.com/69uVc8lxWR

— David Morrow (@_DavidMorrow) January 12, 2021
These smaller lineups also give the Hornets an opportunity to have guards screen for wings, fellow guards or Washington. These inverted pick and rolls are somewhat uncommon and can confuse the defense.
Here's a pick and roll in which Ball, the guard, screens for the wing, Hayward.
Oooh, LaMelo as a roll man for Hayward has the potential to be a lotttt of fun. pic.twitter.com/8ZHOT5Unp3

— David Morrow (@_DavidMorrow) January 14, 2021
Here's another example, this time with Washington as the ball-handler. Washington's comfort getting into the stepback 3 is impressive, despite the miss.
Same thing. PJ Washington's shooting ability gives Charlotte so many options. pic.twitter.com/dmbrtx1cyX

— David Morrow (@_DavidMorrow) January 15, 2021
Ball as a roll man has the potential to be a powerful tool for the Hornets. It works well because once Hayward makes the pass, Ball, an elite passer, is suddenly barreling to the rim, which isn't a situation the defense wants to be in since Ball is going to find an open teammate more often than not when the help comes.
Running The Break
While the Hornets have been inefficient in half-court settings, they've thrived in transition and rank third in fast-break points per game. Ball's rare adeptness as an outlet passer gets the Hornets easy buckets in transition.
LaMelo Ball. Quarterback. Sheesh. This is so impressive and such a rare and useful skill. pic.twitter.com/ZCc5xQdoMV

— David Morrow (@_DavidMorrow) January 12, 2021
LaMelo Ball. Quarterback. Part 2. pic.twitter.com/pAN04awzsK

— David Morrow (@_DavidMorrow) January 12, 2021
Hayward, too, is a skilled outlet passer, and Graham and Rozier help out by pushing the pace with the ball in their hands. In this clip, Rozier gets the rebound, explodes past Fred VanVleet thanks to his topflight explosiveness and makes a nice pass to Biyombo.
The Hornets get two points here purely because of Terry Rozier. Elite burst to blow by Fred VanVleet here, and then the casual drop-off to Bismack Biyombo. pic.twitter.com/UrovzMdIDR

— David Morrow (@_DavidMorrow) January 17, 2021
In this next clip, we can see Charlotte's dedication to getting out in transition. Bridges grabs the rebound and immediately looks ahead to find Ball. Hayward sprints ahead and Ball rewards him. Easy bucket.
Part of Charlotte's success this season is due to its success in transition. The Hornets rank third in fast-break points. pic.twitter.com/hlDXqaGKiw

— David Morrow (@_DavidMorrow) January 13, 2021
The Defense
The Hornets' defense has been more successful than their offense. However, just as the offensive numbers feel bound to improve, the defensive numbers seem likely to somewhat dip. Charlotte ranks 11th in defensive rating so far and seventh in opposing points per possession. The Hornets prioritize defending the paint, allowing the third-most 3-point attempts in the league. That's a strategy that has worked for a lot of teams in the regular season (the Milwaukee Bucks of last season are a good example), but a lot of the 3s the Hornets give up are good looks, which is scary. They tend to give up clean looks from outside especially when they're in zone defense, which they run 22.7% of the time, according to Synergy. And that proclivity for allowing opponents to shoot 3s has been a major factor in several of the Hornets' losses this season.
Opposing teams are shooting only 34.5% from 3 against the Hornets so far, and that number is likely to go up.
Outside of the regression to the mean that should occur shooting-wise, a reason to be slightly skeptical of the Hornets' defense is that they play guys like Rozier and Ball — who haven't been consistently good defenders — a lot of minutes, along with Devonte' Graham, who can be picked on in mismatches due to his small stature.
Still, the Hornets' defense has overall been a bright spot. They've been especially effective guarding the pick and roll, holding opposing pick-and-roll ball-handlers to 0.709 points per possession, the best mark in the league, and roll men to 1.04 points per possession, the seventh-best mark.
Overall, there's a lot to like about the Charlotte Hornets. There's also a lot to improve on, as there is for every young team. But to go from arguably the worst position of any NBA team to a bright, young, fun team a year and a half later is borderline miraculous. The players, coaching staff and front office deserve all the credit they're going to get as this team makes its ascent from fun to good.