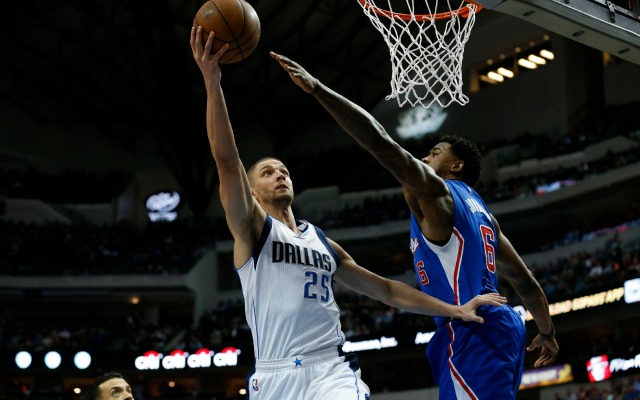 Chandler Parsons and DeAndre Jordan were almost teammates. And then they weren't. In what will now be remembered as the emoji-filled, hostage-like highlight of this NBA free agency, things didn't go at all according to plan for Parsons and the Dallas Mavericks.
After Jordan agreed to sign with Dallas last week, the Los Angeles Clippers landed themselves another meeting, and another opportunity to re-sign Jordan. A united and reportedly emotional front from Chris Paul, Doc Rivers, Steve Ballmer, and Blake Griffin at Jordan's home in Houston was enough to sway Jordan back to LA, leaving the Dallas Mavericks in the dust and without yet another major free agent signing.
Parsons had best-center-in-the-league praise for DeAndre when he thought they would be teammates. As you might expect, he's now singing a different tune to ESPN's Tim MacMahon:
"This is something that I've never seen in my career, and I know that it doesn't happen very often," Parsons told ESPN.com on Thursday. "When a man gives you his word and an organization his word, especially when that organization put in so much effort and I walked him through this process and was very, very open and willing to work with him, it's just very unethical and disrespectful."
There was bold confidence coming out of the Mavericks camp that Jordan would have a chance to be the primary guy and be the impact player of the immediate future for the franchise. Parsons thinks he knowingly backed out of that opportunity:
"It's a lot of pressure," said Parsons, who had discussed with Jordan plans to play the rest of their careers together. "Maybe he got nervous about being a franchise player and having the pressure of leading a team. He's very comfortable in L.A. He can play behind Chris Paul, play behind Blake Griffin. That's what I thought he didn't want. Throughout the process, that's what he told me he didn't want. He wanted to take the next step in his career. He wanted to be the man on his team and build something special.
"He wasn't ready to be a franchise player. He was scared," Parsons said. "He was scared to take the next step in his career. There was no other reason other than that he was comfortable and he has friendships there. How you make a business decision like that is beyond me. How you ignore an owner like Mark who is in your hometown just waiting for a chance to talk to you is beyond me.
With more time to think about that kind of responsibility, it's perfectly possible that Jordan sort of came to his senses and realized how good he has it with the Clippers from a basketball standpoint.
"I don't think he made a mistake. I think he'll be good in L.A. He's got a good team, he's got a great point guard, he's got Blake, but I think he could have been a superstar in Dallas. He could have been the man in Dallas. Never in a million years did I think that this was even a possibility.

"I'll still be friends with him, but I can't get over the way that he's put our entire franchise in jeopardy. It's normal to get cold feet. It's normal to get second thoughts, but you don't back out of a commitment of this much magnitude this late in the game and just leave us high and dry."
They may still be friends, but this clearly hurt Parsons as much as it hurt the Mavericks franchise.
"The kind of guy that he is, the kind of guy I thought he is, would never do something like that," Parsons said. "That's tough for me to swallow, just from the fact that I know how excited Mark was. I know how invested Mark has been throughout this whole process. That's what I don't get.
This had to be the most shocking for Parsons, Mark Cuban, and the Mavs personnel, who had every reason to believe that Jordan was headed to Dallas along with their other new signee Wesley Matthews. Now they find themselves compensating for what they thought they'd have. No question that this creates grounds for another healthy Western Conference rivalry next season.