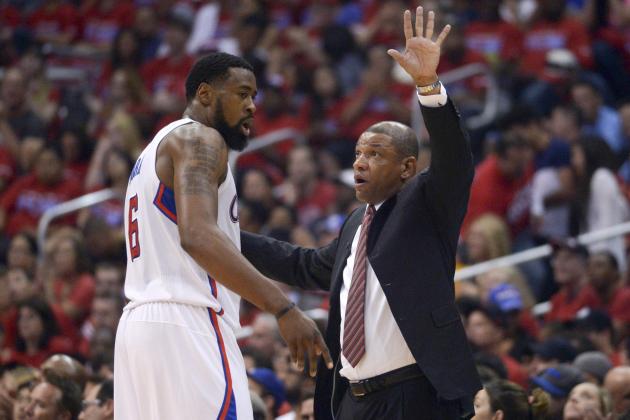 The NBA's free agency by far has to the best with all the rumors and drama going around, but there's one person who is certainly not enjoying it Mavericks owner Mark Cuban.
Rumors started to fly earlier today that free agent DeAndre Jordan was starting to have second thoughts on joining the Mavericks, and even discussed it with Clippers Head Coach Doc Rivers.
Rivers flew out with Jordan's close friend Blake Griffin and other Clippers teammates to convince the center to back out of the Mavericks agreement to re-sign with the Clippers.
According to Adrian Wojnarowski it turns out the Clippers meeting was short and sweet.
Yahoo Source: Clippers, DeAndre Jordan meeting was short. It was clear he was returning to them. Then they started to play cards.

— Adrian Wojnarowski (@WojYahooNBA) July 9, 2015
Jordan backing out of the deal is one of the more memorable choices in free agent history, and hurts the Mavericks so late in free agency with most of the impact free agents already reaching agreements with teams.
With Jordan returning the Clippers bring back a talented starting lineup, and look to fill out their roster to bring some depth to the team. Either team Jordan chose he makes them more dangerous, but I think the Clippers saved their season as Jordan would've been a big loss as they had nowhere to turn with little cap space to work with.
If you're Doc Rivers you're thankful Jordan made the call and if you're Mavericks owner Mark Cuban the obvious feeling of betrayal is happening as Jordan would not answer Cuban's phone calls.
It's an obvious time to rejoice if you're a Clippers fan as Jordan is the difference for a championship run for either team he chose.
UPDATE:
DeAndre Jordan has re-signed with the Clippers for a 4-year max deal. Following from the Los Angeles Clippers and Ken Berger of CBS Sports.
Home is where your is. #WelcomeHomeDJ pic.twitter.com/Ov0RoRKMDL

— LA Clippers (@LAClippers) July 9, 2015
DeAndre Jordan signs a 4-year, $87.7m deal with Clippers, with a player option after the third year, league source tells @CBSSports.

— Ken Berger (@KBergCBS) July 9, 2015