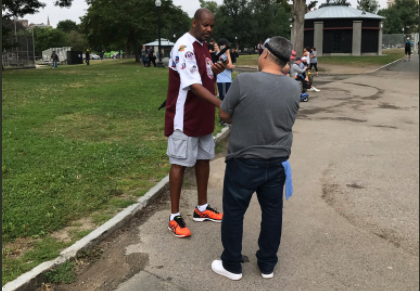 Cedric Maxwell is a Boston Celtics legend. He played for the C's from 1977 until 1985, winning the Finals MVP award in 1981.
But Maxwell is continuing his legend status in Boston in a new way. On Saturday, white nationalists and the alt-right organized a rally in Boston, following similar events in Charlottesville, Virginia which resulted in violence. But the rally was outshined by thousands of counter-protesters preaching against the racist ideology of the other group.
Among those counter-protesters was Maxwell who spoke about encouraging tolerance over ignorance:
Here's former Celtics player Cedric Maxwell, turning down invite from rally organizer to speak. He's going to March with counter protesters. pic.twitter.com/ywviQ6u2Hb

— Evan Allen (@EvanMAllen) August 19, 2017
His message is "tolerance, not ignorance."

— Evan Allen (@EvanMAllen) August 19, 2017
Maxwell says he lives right on the common. "How do you leave something right in your front yard?"

— Evan Allen (@EvanMAllen) August 19, 2017
Maxwell joins a long list of athletes speaking out about the recent surge of white supremacist movements in the country. It is an especially crucial message from someone who played in Boston, a city with a long history of and reputation for tolerating racism, in the 70's and 80's. While Maxwell may not have been an incredibly vocal member of the counter-protest, his actions spoke for him as he joined many others in fighting against oppression and racism.