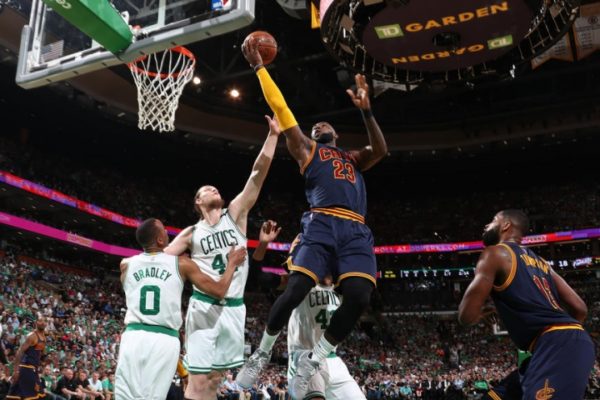 The Cavs steamrolled over the Celtics tonight and claimed their Game 1 road victory by thirteen points, 117-104. They have improved to 9-0 in this year's playoffs as well. This was the Celtics' first home loss since Game 2 of the Eastern Conference First Round against the Bulls. Although it may not look like a blowout, the Cavs lead by as much as 28 points while the Celtics had a futile late-game surge. The Celtics never lead at any point of the game as Isaiah Thomas got outscored by Tristan Thompson. LeBron casually posted numbers of 38 points, 9 rebounds, 7 assists, and 2 steals on 58.3% shooting. This was his fifth consecutive playoff game with at least 35 points and he has scored at least 30 points in eight of his last nine games. Kevin Love also had a stellar performance. He scored his playoff career high of 32 points while also contributing with 12 rebounds. He did this on 56.2% shooting while making 6/9 three-pointers. Kyrie struggled this game and only scored 11 points on 36.4% shooting. Both Jae Crowder and Avery Bradley led the Celtics in scoring with 21 a piece. The Kelly Olynyk hype also seems to have died down as he only scored 2 points on 16.7% shooting. The Celtics finished the game with 14 turnovers and were outrebounded 32-27. Thomas and Horford will have to bring more to the table in Game 2 if they hope to travel to Cleveland with the series tied.
LeBron James got it going early as he posted a stellar first quarter stat line of 15 points, 3 rebounds, 2 assists, and a steal on 7/8 shooting from the field. The Celtics missed eleven of their first fourteen shot attempts. After the first quarter, the Cavs showed no signs of being rusty after an extended break due to sweeping the Toronto Raptors and the Celtics' previous series lasting 7 games. The Celtics did not fair nearly as well as the Cavs dominated the paint.
LeBron James with the drive and he gets the reverse to fall! pic.twitter.com/UlHN8Yc7mu

— Def Pen Hoops (@DefPenHoops) May 18, 2017
The second quarter went even worse for Boston. They trailed 60-39 at the half as LeBron finished with 23 points on 10-15 shooting. The Cavs shot 56% for the entire first half while the Celtics couldn't get it together as their leader Isaiah Thomas struggled at finding his rhythm. Thomas had only scored 5 points before the last minute of the second quarter until he went on a personal 5-0 run to finish the half with 10 points.
LeBron hits Kyrie with a beautiful wrap around pass and he lobs one up to Tristan Thompson for the alley-oop slam! #Cavs with a big lead ? pic.twitter.com/ZLCh1UptI9

— Def Pen Hoops (@DefPenHoops) May 18, 2017
The Celtics second half went better than their first but it was simply not enough due to the deficit they faced early on. The Celtics head coach Brad Stevens spoke after the game and said the following.
'You can't dig yourself in a big hole like that against them."
The Celtics closed the third quarter on an 11-3 run, but like their other efforts this game, that ultimately failed as well. The Cavs replenished the lead back to twenty points early on in the fourth quarter to put this game out of reach. It did not matter what defensive schemes or matchups they threw at LeBron, he simply picked them all apart. The Celtics seemed to have switched on almost all of the Cavs' screens which led to them having unfavorable defensive assignments. If you're struggling to both defend well and make three-pointers at a high rate, you don't stand much of a chance against this team.
Marcus Smart comes soaring in for the putback slam!#Celtics pic.twitter.com/bs4rgm7Rbq

— Def Pen Hoops (@DefPenHoops) May 18, 2017
Since Game 5 of the 2016 NBA Finals, the Cavs have won a franchise record twelve consecutive playoff games. Game 2 is on Friday night. Let's see what the Celtics can do in their upcoming matchup, their third most important of the season.
Tyronn Lue went on to speak on LeBron during the post game interview.
"He's playing at a high level. And that's the reason why we're riding him so much. When LeBron's playing at that level other guys just have to be solid and we have a good chance to win."
LeBron shared his opinions on how he thought his team played today after the game.
LeBron James: "I don't even think we played that great tonight."

Well, That's a scary thought. pic.twitter.com/zyvB3oRKfm

— Def Pen Hoops (@DefPenHoops) May 18, 2017