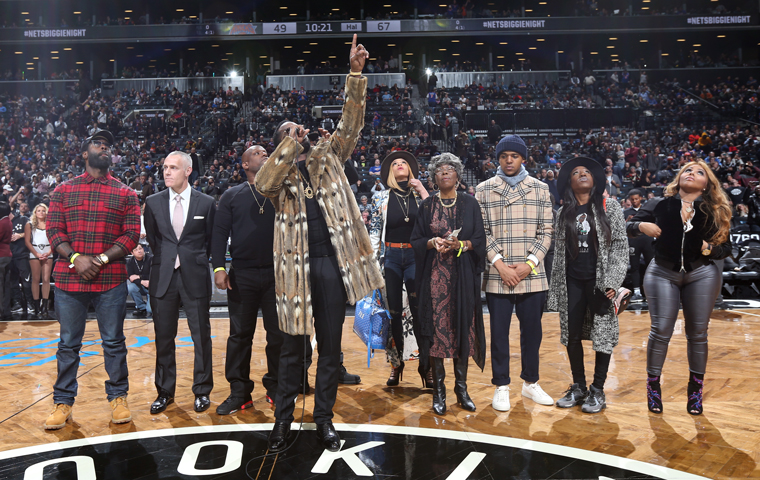 Voletta Wallace attended her first professional basketball game last night when the New York Knicks faced off with the Brooklyn Nets. Ms. Wallace is, of course, the mother of the late rap superstar, the Notorious B.I.G. and attended the game on the 20 year anniversary of her son's death. The Brooklyn Nets honored the legend with their own 'Nets Biggie Night' which saw a host of people come out to honor the historic rapper on Sunday night (March 12th). It was not only a special night for Biggie, but it also saw the Nets get their first home win in 2017.
Among those in attendance, besides Biggie's mother and Diddy, included Faith Evans, Lil Kim and a big contingent of Biggie's family including Biggie's children.
"This is very, very surreal. Very surreal," Wallace told SB Nation's Kristian Winfield. "Had he been alive, he would have been elated."
Take a look at the festivities below including a pregame speech from Ms. Voletta Wallace, a halftime speech from Diddy and Biggie even getting his own banner in Barclays.
"Brooklyn, we did it!"

– #BiggieSmalls' mother prior to the start of tonight's @BrooklynNets game pic.twitter.com/mGdLJzBgpe

— YES Network (@YESNetwork) March 12, 2017
.@diddy giving words center court for The Notorious BIG. #NetsBiggieNight pic.twitter.com/avpD9Z7ZZV

— Brooklyn Nets (@BrooklynNets) March 12, 2017
.@diddy giving words center court for The Notorious BIG. #NetsBiggieNight pic.twitter.com/avpD9Z7ZZV

— Brooklyn Nets (@BrooklynNets) March 12, 2017
I cant believe this just happened!! #wemissyouBIG GOD IS THE GREATEST BIG FOREVER!!! Thank you @BrooklynNets!! pic.twitter.com/25gxlt9jam

— Sean Diddy Combs (@diddy) March 13, 2017
Nice moment at Barclays Center for Biggie Night: Biggie's mom, Voletta Wallace, sitting courtside with P. Diddy: pic.twitter.com/yxU8E88Gw3

— Ian Begley (@IanBegley) March 12, 2017
Sean "Puffy" Combs with Voletta Wallace, Notorious B.I.G.'s mother, at halftime of the Nets' Biggie Night at pic.twitter.com/JqAv9UPLJB

— Ohm Youngmisuk (@NotoriousOHM) March 12, 2017