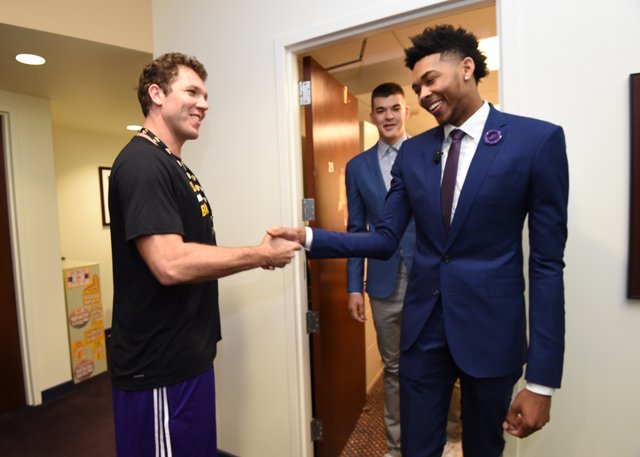 Brandon Ingram is being viewed by some to be the next great Los Angeles Lakers hope. The rookie wingman has the skills, size and scoring ability to be a bonafide star in the NBA. If all goes according to plan, the Lakers and their fans hope so as well. But Lakers coach Luke Walton isn't quite ready to throw Ingram into the fire.
Last season, the Lakers had high hopes in their then-rookie point guard D'Angelo Russell. Former head coach Byron Scott didn't quite echo those sentiments and Russell started the season on the bench. One season later under a new coach, with a Hall of Fame distraction now retired, the Lakers are going to once again bench a rookie to start the season. Brandon Ingram will begin the season on the bench, presumably behind the combination of Luol Deng and Julius Randle.
Following from Mark Medina of the Los Angeles Daily News.
Despite praising rookie forward Brandon Ingram for his playmaking and versatility, Walton said "we're not going to throw him into the starting lineup right away" out of concern how he handles a grueling 82-game schedule.

"You develop the young core by rewarding them when they play well," Walton said. "If there's 10 games left in the season and out of the playoffs and there's some vets that played long minutes all season, maybe you play all your young guys to finish out the season. But when you're going through the season, you're not doing anyone any favors just by playing young guys so they can play if they're not out there playing the right way."
Ingram coming off the bench to begin his career is a great thing for him. This Lakers team isn't contending for an NBA championship or even the playoffs anytime soon and many people, including Shaquille O'Neal, know it. There's no need to rush anything, especially a good thing like Ingram, if there's other means for him to grow. If veterans like Deng or a fellow young player who has deserved the time like Julius Randle, Ingram is going to have to fight for his spot. Much like Russell last year, the veteran will get the start but eventually the new breed will get those minutes. But only when the time is right.
Ingram has all the makings of a future star but don't push it yet. Let him develop and then see where he is after year one. Maybe he can one day turn into his idol and the player many expect him to be like, Kevin Durant.