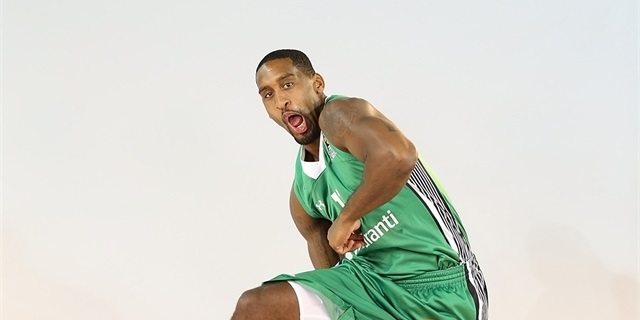 Brad Wanamaker will be playing with the Oklahoma City Thunder in the NBA Summer League. I expect him to be one of the top players in Summer League due to his skill and his huge edge in experience from his overseas career.
Basically, his last name should be changed to Brad Gonnamaker, because he's gonna make you want him on your team after his Summer League performance. (OK, I'm sorry.) (I promise that's the only pun I'll make based on his last name.) (If you stopped reading now, I wouldn't blame you.) (No one would blame you).
Wanamaker is a 6-foot-4, 210-pound point guard. He played four years at the University of Pittsburgh and then went undrafted in the 2011 NBA draft.
After going undrafted, Wanamaker pursued a career in Europe. In seven seasons overseas he has played in four different countries – Italy, France, Germany and Turkey – and has played for six different teams.
Wanamaker truly took Europe by storm in the 2013-14 season, when he played with Giorgio Testi Pistoia and averaged 16.2 points and 4.7 assists per game on 44 percent shooting from three-point range. After that season, Wanamaker earned a move to Brose Bamberg in Germany where he played in the German BBL and Eurocup.
In the 2014-15 season, Wanamaker averaged 13.1 points and 5.2 assists per game as Bamberg won the 2015 BBL title, and Wanamaker was named BBL Finals MVP.

In the following season, Bamberg moved into Euroleague and Wanamaker got a chance to showcase his skills on the highest stage of European club basketball.
In Euroleague play, Wanamaker led Bamberg in scoring, assists and steals as he averaged 12.2 points, 4 assists, 4.1 rebounds and 1.3 steals per game and shot 36 percent from three-point land on a then-career-high average of 3.17 three-point attempts per game. He also led Bamberg to the BBL title again, and was named the BBL MVP and the BBL Best Offensive Player.
Bamberg was where Wanamaker truly broke out as a star in European basketball, and that earned him a nice payday and the opportunity to play under David Blatt at Darussafaka Dogus Istanbul (Dacka) for the following Euroleague season. (Although, Wanamaker nearly signed with the Sixers in the 2016 offseason).
With Dacka, Wanamaker averaged 16.7 points, 4.7 assists and 1.5 steals per game while shooting a Euroleague career-high 39 percent from downtown on a career-high 4.26 three-point field goal attempts per game. Wanamaker was named to the All-Euroleague Second Team due to his incredible performance and helped Dacka reach the Euroleague playoffs for the first time in the club's history.
One of the main reasons NBA teams are interested in Wanamaker is because he has an NBA-ready body; he's 6-foot-4 and 210 pounds. For comparison, Russell Westbrook is 6-foot-3 and weighs 200-pounds.
Not only does Wanamaker have solid size for the point guard position, he also has NBA speed and quickness.
Here, we see Wanamaker catch the ball in the backcourt and then accelerate, change directions to split the pick-and-roll, and then get all the way to the rim and finish the and-one dunk.
After the size and athleticism, it's the skill that comes into question. As previously stated, Wanamaker is a good three-point shooter (remember, he shot 39-percent from deep in the past Euroleague season). A lot of his looks for Dacka came off-the-dribble in isolation…
…and off-the-dribble after using a ball screen.
He's very comfortable shooting in these scenarios – more comfortable than he is off the catch. Wanamaker has flashed that catch-and-shoot ability in the past but it definitely needs work and plenty of repetitions for him to be able to use it as a threat at the NBA level.
Wanamaker is a good isolation scorer in general. It's not just the three-point pull-ups, he also has a solid midrange pull-up game in both isolation sets and in pick-and-roll sets.
He has a step-back jumper in his bag of tricks as well.
I know the midrange game is dying due to its proven inefficiency (the Houston Rockets definitely wouldn't approve of Wanamaker's style), but with Wanamaker most likely destined to be a backup guard in the NBA, his midrange game is definitely an asset. Having a guard who can score in a variety of ways come off the bench is a fantastic tool for teams to be able to work with.
Wanamaker is an exceptional finisher due to his ability to use his body to draw contact and create separation.
He also has quality touch around the rim, even when moving at full speed.
Scoring isn't the only skill Wanamaker has on the offensive end, he's an above-average passer as well. His strong isolation skills, along with his size and speed, really let him get into the teeth of the opponent's defense and then find the open man.
He's got great court vision in general…
but he isn't a good passer out of the pick-and-roll. He tends to look for his own offense when using ball screens and tends to overlook the roll man. Wanamaker gets away with this in Europe, but NBA teams will have better defensive schemes, and he will be facing better one-on-one defenders, especially bigs who can switch out to the perimeter. If he continues to overlook the roll man in the NBA he will struggle to get minutes.
I also haven't seen Wanamaker flash the ability to throw the ball over the pick-and-roll when the help on the roll man comes from the weak-side wing or corner. Now, this could be because teams don't help on the roll man since they know Wanamaker doesn't look at him that often, but again, this could hurt him in the NBA. If Wanamaker isn't comfortable making that PnR read and throwing that pass, he will become a one-dimensional player in the pick-and-roll, and that may very well send him back to Europe, despite how skilled he is.
I believe Wanamaker is a clear-cut NBA player who will find success here if he comes over, so I don't want to leave on that negative note. The last thing I will discuss on Wanamaker is that he is a good defender, and I expect that to transfer over to the NBA. It starts with what I've already mentioned: His size and speed. Wanamaker's physical prowess means most guards won't overpower him, with the exception of the guys who overpower everybody like John Wall and Westbrook.
Wanamaker will probably be a back-up, which means he'll mainly go up against backup guards like Shaun Livingston, Patty Mills, Marcus Smart and others. He should be able to stick with these guys without much of an issue, making it very easy for Wanamaker to be a contributing role player in the NBA.
That is Wanamaker's floor in the NBA, while his ceiling is becoming a bottom-end starter or top-end back-ups like Reggie Jackson or Jordan Clarkson.