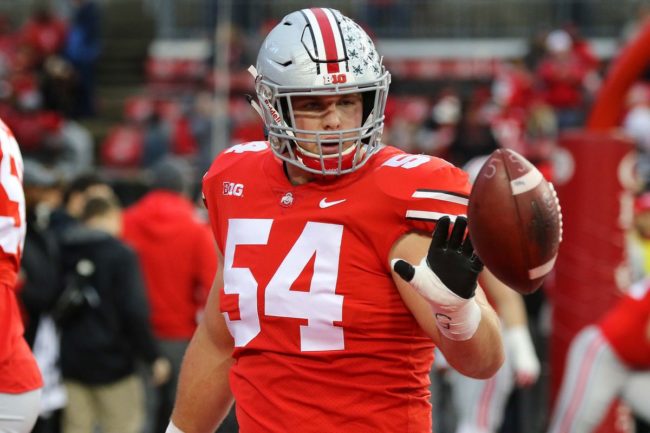 Ohio State offensive lineman Billy Price suffered an incomplete tear of his left pectoral muscle at the NFL scouting combine. Ian Rapoport shared the news of the injury on Twitter.
Ohio St offensive lineman Billy Price suffered a partially torn pec while doing the bench press yesterday, sources tell @TomPelissero and me. The MRI results came in this morning, and it's not clear is surgery is required. Price is one of the draft's top O-linemen.

— Ian Rapoport (@RapSheet) March 2, 2018
Price is a two-time All-American and was projected to go in the first round of the NFL Draft. While at the bench press, Price said he felt a little pop on after his third rep and immediately stopped. Indianapolis Colts doctors and trainers then looked at him, and he received his MRI results Friday morning.
Despite reports that he could miss time, Price is confident that he will be good to go once training camp rolls around.
"Looking at the MRI results, we were able to see a little bit of an issue, nothing that's going to force me to miss time at all. I'll be fine for the season going forward."
Price started 55 straight games for Ohio State. He says the only injury he has ever gone through in his entire career was a minor MCL sprain. It does not seem that Price will need any surgery.
This is good news for Price and anyone who thought about drafting him. It is possible that this injury could scare some teams and that Price falls out of the first round. However, Price has a healthy track record and is a tough guy. If no surgery is required then I do not see the problem in drafting him.