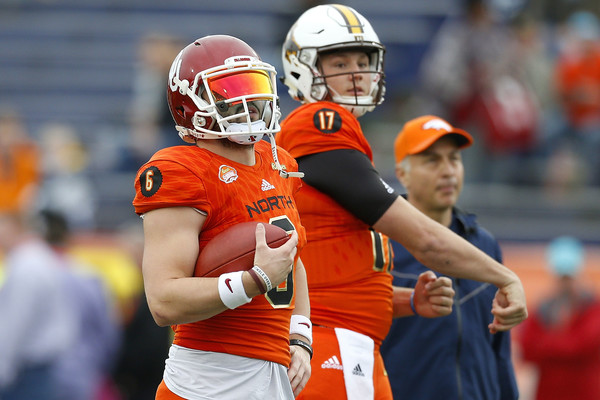 1.) Cleveland Browns: Josh Allen, QB, Wyoming 
The Browns can't keep passing on quarterbacks. Especially looking down the college pipeline where a clear-cut franchise-changing prospect is lacking for the next year or two (Jacob Eason is the X-factor).  The desire to draft the best player available works well, when a franchise signal caller is in place. The Browns haven't had one of those since Bernie Kosar. It's not from a lack of trying. The Browns have tried 24 men at the position since 1999. There are many reasons why Penn State running back Saquon Barkley would be attractive at the number one spot. When we look back at the 2018 quarterback class Allen could be the most successful. He just isn't the sexiest. The Browns have tried sexy, they get the guy this time. Allen is big, strong-armed, strong enough to play in bad weather, and he has some nasty to him after being under-recruited out of high school.
 2.) New York Giants: Sam Darnold, QB, USC
Where the Browns have been without a franchise quarterback, the Giants have been steady and successful at quarterback. Eli Manning has manned the spot for the last decade and brought the Giants two Super Bowl wins. After 2017, however, it's time to move on. Manning was benched late last season so that the Giants could take a look at the quarterbacks on the roster before closing out the last two games as the starter. Manning could use a new scene and a team looking for an experienced starter could give him that, but this is the Giants' chance to add some sexy to the position. Darnold is an exciting playmaking signal caller that will drive fans and coaches crazy with the chances he takes, but he will hit his share and he will miss his share. That's what makes him perfect for the New York market and perfect combination with current Giants' receiver Odell Beckham. Darnold is the least ready to play among the top three quarterbacks and could have used another year in college and could use a year of seasoning on an NFL bench, but with Manning scheduled to make 22 million over the next two seasons, the Giants may look to jettison the 37-year-old quarterback, forcing Darnold into action.
3.) Indianapolis: Saquon Barkley, RB, Penn State 
This may be the easiest selection of the first round. Barkley is considered by many as the best non-quarterback player in this year's draft and the Colts have a quarterback in Andrew Luck who is coming off a shoulder injury. The remedy for that is getting offensive line help and grabbing a bell cow running back. Enter Barkley who was a preseason Heisman candidate. Barkley can do everything. He can block, run between the tackles, outside the tackles and catch screens. The Colts could reenter contention adding a reliable runner to the offense. Luck has only played with a 1,00–yard rusher, Frank Gore in 2016.
4.) Cleveland – from Houston: Bradley Chubb, DE, NC State
Now the Browns can get the best player available. Two years in a row they get the top defensive end the draft has to offer. Chubb and Myles Garrett give the Browns the makings of a solid foundation for their defense. Chubb is a powerful and athletic pass rusher with a relentless motor.
5.) Denver Broncos: Josh Rosen, QB, UCLA 
The Broncos scoop up the final of the trio of elite quarterback prospects from this year's class. Rosen is mentally ready to play. He won't turn the ball over as he only had 26 interceptions in his 30 games at UCLA. Physically he may have work to do as he's been known to be injured in college. Rosen also slender with 218 pounds wrapped around a 6-foot 4-inch frame. If Rosen is able to shake injuries, the Broncos could have a Jared Goff clone at the helm of an otherwise complete roster. The only way the Broncos could look for a more veteran player at the position with a fast turnaround in mind.
6.) Buffalo Bills: via New York Jets (Trade for picks 22 and 23) Baker Mayfield, QB, Oklahoma
The Jets have a need at the position, but there are three clear elite talents at the top of this class. The Jets decide Mayfield isn't worth missing out on improving the offensive line, so the Jets prey on the desperation of the Bills and pick up more picks as Bills get the quarterback they hope can bring some excitement to the fanbase. Mayfield has the moxie and accuracy, but his size, arm strength and ability to translate to the NFL game are question marks. Mayfield could be successful in a Sean Payton like offense, but he may need time to develop.
7.) Tampa Bay Buccaneers: Minkah Fitzpatrick S Alabama
 The Buccaneers face three former MVPs twice a year. Any help in their secondary they can find is welcomed. Fitzpatrick is the best available defensive back and he brings versatility. He can play safety, corner and in the nickel making him a natural fit for any scheme or coverage.
8.) Chicago Bears: Quenton Nelson, G, Notre Dame
The Bears wanted and got Mitch Trubisky in last year's draft. Now they have to protect their investment. Many Bears' fans may be calling for a number one receiver namely, Alabama's Calvin Ridley. If the Bears select Ridley this high, they will be on their way to disappointment. Ridley may never be an elite number one receiver and there are options in free agency and later in the draft that could have a similar impact. Nelson could slide right in and be an All-Pro for the next 10 years after the Bears released Josh Sitton.
9.)San Fransisco 49ers: Roquan Smith, LB, Georgia
 The 49ers drafted Reuben Foster last season, but after an offseason arrest, the 49ers could afford to add more talent to the linebacking corp just in case he's availability comes into question. Smith would also elevate the 49ers fast-improving defense and would preferably form a linebacker duo like the one Patrick Willis and Navarro Bowman formed to lead the 49ers to a super in 2012. Smith has few weaknesses and runs sideline to sideline as a modern-day middle linebacker.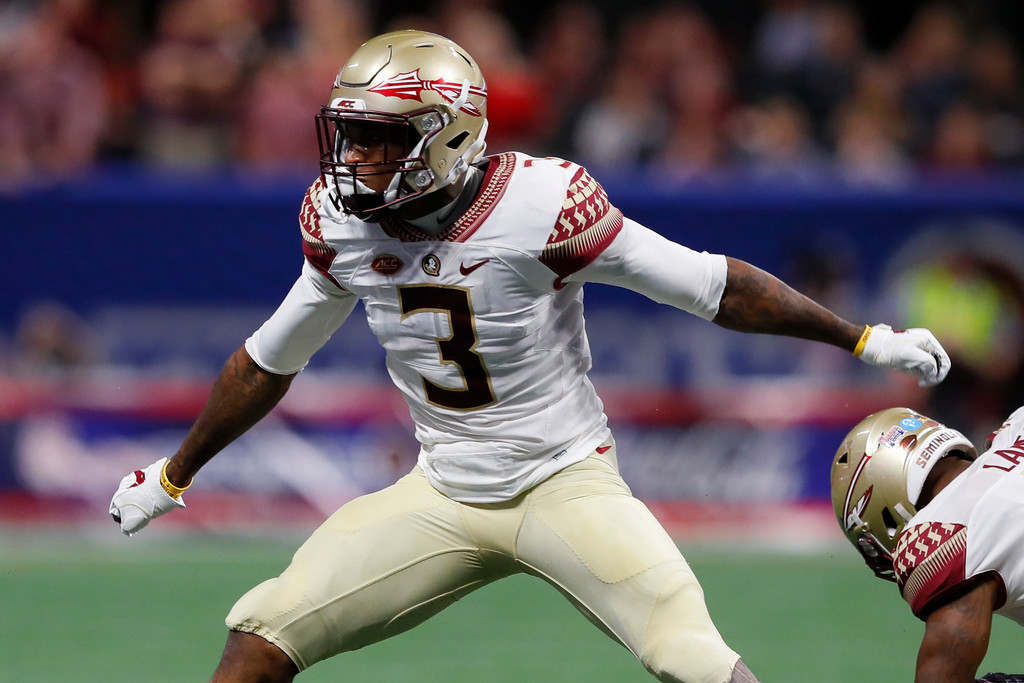 10.) Oakland Raiders: Derwin James, S, Florida State 
James may be the most physically talented player in the draft. He falls due to team needs and the driven-up value of the quarterback position. If he reaches the Raiders it makes perfect sense. Reggie Nelson is 34 years old and is a free agent. James gives the Raiders and John Gruden a 'grinder' that can move around as a deep center field safety to an in-the-box linebacker hybrid. James could be teetering on becoming a linebacker full-time later in his career if he gets any bigger, but his speed could make and athleticism could make him a pro bowler at either position.
11.) Miami Dolphins: Tremaine Edmunds, LB, Virginia Tech
The Dolphins linebacking core was bad last season and the season before. Edmunds eats up space on ball carriers with his length and speed.
12.) Cincinnati Bengals: Maurice Hurst, DT, Michigan
Geno Atkins is knocking on the door of 30 years old and the Bengals don't have much more than him on the defensive line. They're going to need to add some new live bodies to the rotation and Hurst fits the build. Hurst is an athletic two-gap player with a motor. Marvin Lewis should tape Hurst to Akins and let him learn from his twin.
13.) Washington Redskins: Calvin Ridley, WR, Alabama 
The Redskins have entered 'win-now territory'and with Alex Smith in the fold, the Redskins need an infusion of youth at the wide receiver spot. A one-year experiment with Terrelle Pryor ended with him on injured reserve and even when healthy he isn't a true number one option. Ridley would be too good to pass up and this point. Ridley will walk into the NFL as a polished route runner with good speed.
14.) Green Bay Packers: Denzel Ward, CB, Ohio State
The Packers are built around Aaron Rodgers and could easily go for a lineman like Oklahoma's Orlando Brown, but they have to find some defensive playmakers. Ward could help out right away in nickel and eventually slide into one of the outside slots as his teammate Marshon Lattimore. Ward has similar ball skills, size and athletic ability. He isn't as experienced due to the wealth of defensive backfield talent that featured three first-round picks in 2017. Ward isn't any less talented than any of those players.
15.) Arizona Cardinals: Mason Rudolph, QB, Oklahoma State
This is way too high for Rudolph who in my opinion is at best an early third round talent. The Cardinals are staring life without Carson Palmer right in the face and need somebody to have hope in at the position. Rudolph is more physically gifted than the former Oklahoma State quarterbacks before him and could develop into a solid starter over time. He could face a steep learning curve coming from Mike Gundy's air raid offense. If the Cardinals are willing to take some of the principals from the air raid Rudolph could be lighting in a bottle like Kurt Warner was when he led the Cardinals to the super bowl in 2009.
16.) Baltimore Ravens: Derrius Guice, RB, LSU 
The Ravens haven't been the Ravens the past few seasons without a clear-cut option at running back. They'll get back to their lineage with this pick by taking what was once considered the crown jewel runner in Derrius Guice. Guice compares favorably to Ezekiel Elliott skill and size wise. He may not possess the elite game-breaking ability but he could be a bell cow for Joe Flacco to hand to and play more like he did early in his career. Guice toiled away at LSU behind a young offensive line and a shaky quarterback situation. He'll be happy to run behind some NFL caliber talent in Baltimore. Could be a rookie of the year candidate wherever he lands.
17.) Los Angeles Chargers: Orlando Brown, OT, Oklahoma
The Chargers have an aging quarterback in Phillip Rivers. As he gears up for one last run, his blindside will need to be secured. The Chargers have Russell Okung and Joe Barksdale manning the two tackle positions and neither is dominant or overly reliable. Brown slides in and upgrades either spot with his massive 6 foot 8 inch from and ability to move his feet in pass protection and the girth to maul in the run game.
18.) Seattle Seahawks: Mike McGlinchey, OT, Notre Dame 
The Seahawks have needed offensive line help since Pete Carroll took over. Now, that the defense is aging and the team transitions to a more offensive-led group protection for Russell Wilson is needed. McGlinchey would be an instant starter and upgrade from day one.
19.) Dallas Cowboys: Courtland Sutton, WR, SMU
Dez Bryant isn't the electric talent he once was. Terrance Williams isn't a number one and the Cowboys could potentially lose the talented Brice Butler before he truly got the opportunity to break out. Sutton is a big, deep threat with game-breaking ability and could be an ideal replacement for Bryant. Sutton will need some seasoning and time to develop into an NFL route runner, but the physical tools pop off the tape.
20.) Detroit Lions: Vita Vea, DT, Washington
New Lions' head coach Matt Patricia is a defensive coach. The Patriots played almost a decade with an anchor in the center of their defense with Vince Wilfork, something the Lions have lacked since Ndamukong Suh left for South Beach. Vita Vea is that. He is athletic for a big man, but he's going to plug a hole and it's going to force two blockers and he's going to be good at it. Getting Vea this late would be a bargain and a well-appreciated one for the new head man in Detroit.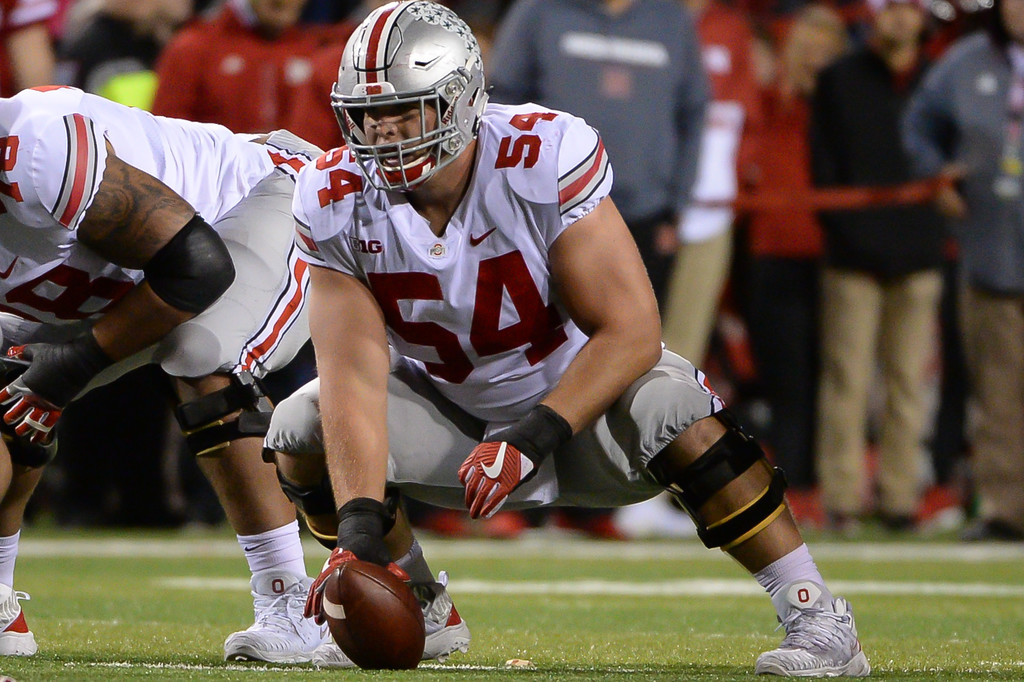 21.) New York Jets- Via Buffalo Bills: Billy Price, C/G, Ohio State 
The first of back to back selections the Jets pick up when the Bills traded up to grab Baker Mayfield. Almost a decade ago the Jets grabbed an Ohio State center in Nick Mangold and built their team from there. Jets could kickoff a similar rebuild with this pick. Price can play guard and center. He was an All-American at both.
22.) New York Jets via- Buffalo Bills- Via Kansas City Chiefs:  Joshua Jackson, CB, Iowa  
The Jets got two cornerstones in their secondary in last season's draft. This year they add another in Joshua Jackson. Jackson has a knack for the ball, despite not being the elite athlete Denzel Ward or Minkah Fitzpatrick is. He totaled seven interceptions last season. Jackson could provide the Jets with the ball hawk to make the big plays. Jets didn't reach for a quarterback but they were able to flip a high pick (In this mock that is) for two solid starters.
23.) Los Angeles Rams: Kolton Miller, OT, UCLA
The Rams have enough talent and cap space that they can now draft based on potential and in search of depth. They also have the ability to allow players to develop. Taking Miller here gives them a big-time talent, that may not have to play right away as the Rams have a veteran Andrew Whitworth entrenched at the left tackle spot. Miller could develop into a starting left tackle in a year or two when Whitworth either prices out or calls it quits.
24.) Carolina Panthers: Equanimeous St. Brown, WR, Notre Dame 
"Get Cam Newton, somebody, to throw the ball to." says every football fan ever. Brown had a subpar season, but it was mostly due to the shaky at best quarterback situation at Notre Dame. Brown is big, fast catches the ball with his hands and is already a solid route runner. He would immediately be a matchup problem and take some pressure off the aging and rehabbing Greg Olson.
25.) Tennessee Titans: Marcus Davenport, DE/OLB, UTSA
Davenport is raw, but looking at his physical traits suggests his upside is immense. The production hasn't been excellent, but it's improved every season as he had with 10 sacks combined in his first two college seasons before exploding with 8.5 as a senior.  Davenport has plenty of length and athleticism to be a starting caliber end in the NFL. The Titans could use some pass rush help as seen in the AFC Divisional game when Tom Brady stood for what seemed like hours in the pocket. Parring Davenport with a veteran like Derrick Morgan and Brian Orakpo could be helpful to the raw prospect's development.
26.) Atlanta Falcons: Taven Bryan, DT, Florida
The Falcons obvious need is at offensive guard, but by sheer numbers, the defensive line will be in order for a rehaul. The Falcons could lose Dontari Poe who played on a one-year deal last season. Poe will most likely not be as reasonable with his price this time around. The Falcons will only have Grady Jarrett and Jack Crawford under contract for next season. Bryan has the kind nastiness and athletic gifts Dan Quinn covets. The Falcons will look to address the guard and slot receiver spots later in the draft.
27.) New Orleans Saints: Rashaan Evans, LB, Alabama
The Saints solidified two levels of their defense with the draft what could go down as one of the best classes in league history. Now the final piece is the linebacking core that had a mixed bag of players playing the role last season. Rashaan Evans comes as a speedy linebacker that can help out in the passing game as well as the run game.
28.) Pittsburgh Steelers: Mike Hughes, CB, Central Florida 
The Steelers got Joe Haden to start last season and was playing well until he got injured. Now that he's trying to return from an injury there's a spot open for a younger option. Hughes showed up at UCF and jumped onto the NFL's radar in one season at the school. He will bring some return ability early in his career. He has a nose for the football and could bring the Steelers some much-needed help defending nemesis Tom Brady.
29.) Jacksonville Jaguars: Lamar Jackson, QB/ATH, Louisville 
The Jaguars have just given Blake Bortles an extension, why would they draft a quarterback? Bortles showed flashes in the playoffs this season and was rewarded with a new shiny three-year deal. That means nothing in the NFL and drafting a quarterback is just as possible today as it was last week. Bortles turns the ball over, a lot. He's had at least 13 interceptions ever season of his career. Jackson may never be a star passer. But he provides a few things, competition for Bortles and an electric playmaker when the ball is given to him. If Jackson isn't ready to play in year one, Doug Marrone and this staff could get creative with ways to get the ball in Jackson's hands. For Bortles, competition could be the key to surviving as a starter. At the very least Jackson could be a firestarter for Bortles.
30.) Minnesota Vikings: Jaire Alexander, CB, Lousiville
The Vikings need a younger nickel as Terrance Newman can't play much longer, can he? Alexander brings some swagger and kick return ability to an already loaded defense.
31.) New England Patriots:  Sony Michel, RB, Georgia 
Dion Lewis is on his way out. Sony Michel could be for Tom Brady what Alvin Kamara was for Drew Brees last season. Michel is what a typical Patriots' back is, but all in one package. In the past, the Patriots have brought in different backs to fill specific roles. Michel brings power, elusiveness and pass-catching ability.
32.) Philadelphia Eagles: Da'Ron Payne, DT, Alabama 
The Eagles have depth on their defensive front. Beau Allen is a free agent and could opt for the classic champions ransom players earn by being on a championship team. Da'Ron Payne could come and serve as a young rotational player early in his career.