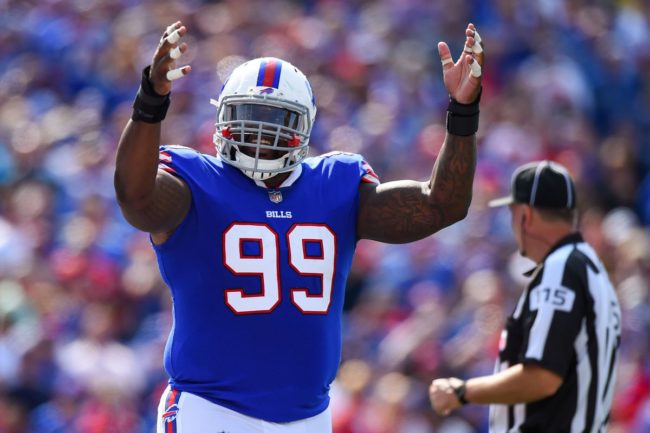 If the Jacksonville Jaguars defensive front wasn't scary enough, the added a big-time reinforcement Friday evening. Marcell Dareus is on his way to Jacksonville after the Bills struck a trade with the Jaguars. A 2018 6th round draft choice will head to Buffalo in exchange.
Adam Schefter of ESPN had the details:
In exchange for Marcell Dareus, Buffalo is receiving 2018 sixth-round pick that can go to fifth-round pick based on performance, per source.

— Adam Schefter (@AdamSchefter) October 27, 2017
Dareus' character concerns and hefty contract made the price tag shockingly low for his services. Dareus now gets to reunite with his former coach Doug Marrone who previously coached in Buffalo prior to landing with the Jags. Jacksonville is the only team in the NFL that has recorded 10 sacks in two separate games this year.
Buffalo gets to add to their trove of draft picks for the upcoming offseason. The Bills have two selections in the first three rounds of the 2018 Draft. The Bills also whip out Dareus' contract for the most part who was on the books through 2021. Buffalo will endure cap hits this year and next year before the slate gets erased for good in 2019. Cordy Glenn is also a big name on the Bills trade block to watch out for.