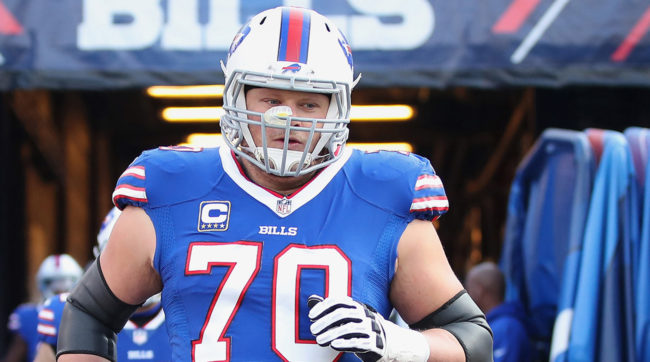 Buffalo Bills center Eric Wood will retire from the NFL after he was diagnosed with a neck injury during his end-of-season physical. Adam Schefter reported the news on Twitter.
Bills' center Eric Wood has suffered a career-ending neck injury, as @ScoutFantasy reported. Big blow to Buffalo's offensive line.

— Adam Schefter (@AdamSchefter) January 26, 2018
Bills' center Eric Wood's career-ending neck injury is partly due to wear and tear, but one source characterized it as a "complicated medical situation."

— Adam Schefter (@AdamSchefter) January 26, 2018
Wood shared the news of his diagnosis and retirement on Twitter.
I was diagnosed with a neck injury as part of my season-ending physical with the Bills. After consultation with Dr. Cappuccino and other physicians, I was informed that I was no longer cleared to play football, even with surgery or further treatment.

— Eric Wood (@EWood70) January 26, 2018
I appreciate and thank everyone for their thoughts, concerns and prayers, and I will shed more light on the situation at a press conference on Monday at the team facility.

— Eric Wood (@EWood70) January 26, 2018
Wood, 31, has spent his entire career with the Bills. He was picked by the Bills in the first round of the 2009 NFL Draft and has played in  120 games since. Wood was selected to the Pro Bowl in 2015 and has been a huge part of the Bills recent success. He was rewarded for his efforts with a two-year contract extension this past August.
Bills guard Richie Incognito chimed in on his friend's injury.
"He's had a lot to do with my career, especially lately in Buffalo. When I found out I was going to go for the interview with the [team-owning] Pegulas, E-Wood was one of the first [people] I told. But, yeah, he's been instrumental in me coming back in the league and re-establishing myself. E-Wood provided that friendly face in the locker room and that kind of cover for me to be myself. He's really instrumental in all my success I've had the last couple years."
Wood is a huge loss for the Bills. He played a big part in helping get the Bills to the playoffs for the first time since 1999. Ryan Groy seems to be the next man up for the Bills.