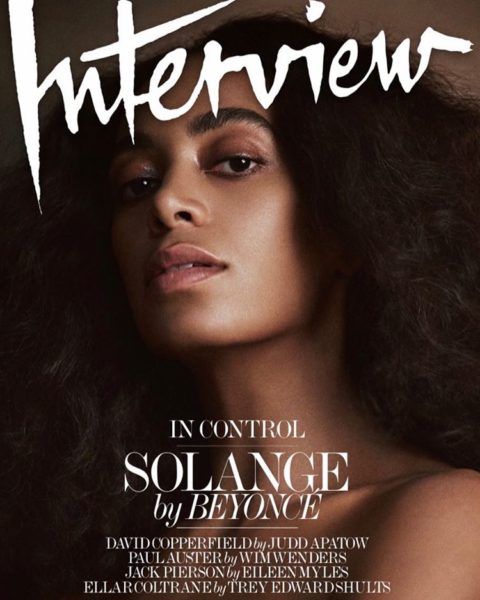 As of 2017, and long before we've reached this year, the Knowles family has went on to become a household name. When it comes to Solange, one that marches to the beat of her own drum, the singer recently release her A Seat at the Table album that has received much praise all across the board.
Today, still riding the wave of the new LP, the singer's Interview Magazine cover has been unveiled. Furthermore, and a bit more interesting, the singer shared that she selected her superstar sister, Beyonce, to conduct her interview for the cover issue. Touching on everything from how she grew up, to various aspects of her latest album, the interview gives us much more insight into who Solange is as a person.
BEYONCÉ: What does the song title "Cranes in the Sky" mean?

SOLANGE: "Cranes in the Sky" is actually a song that I wrote eight years ago. It's the only song on the album that I wrote independently of the record, and it was a really rough time. I know you remember that time. I was just coming out of my relationship with Julez's father. We were junior high school sweethearts, and so much of your identity in junior high is built on who you're with. You see the world through the lens of how you identify and have been identified at that time. So I really had to take a look at myself, outside of being a mother and a wife, and internalize all of these emotions that I had been feeling through that transition. I was working through a lot of challenges at every angle of my life, and a lot of self-doubt, a lot of pity-partying. And I think every woman in her twenties has been there—where it feels like no matter what you are doing to fight through the thing that is holding you back, nothing can fill that void. I used to write and record a lot in Miami during that time, when there was a real estate boom in America, and developers were developing all of this new property. There was a new condo going up every ten feet. You recorded a lot there as well, and I think we experienced Miami as a place of refuge and peace. We weren't out there wilin' out and partying. I remember looking up and seeing all of these cranes in the sky. They were so heavy and such an eyesore, and not what I identified with peace and refuge. I remember thinking of it as an analogy for my transition—this idea of building up, up, up that was going on in our country at the time, all of this excessive building, and not really dealing with what was in front of us. And we all know how that ended. That crashed and burned. It was a catastrophe. And that line came to me because it felt so indicative of what was going on in my life as well. And, eight years later, it's really interesting that now, here we are again, not seeing what's happening in our country, not wanting to put into perspective all of these ugly things that are staring us in the face.
Insightful and full on inspiration, you can catch the full spread and entire full interview between the sisters, here.