The NBA-Twitter world has been in disarray since the Finals ended. From Dennis Rodman making diplomatic visits to North Korea to our annual discussion of how good Nikola Jokic is, we've been in full offseason mode. I thought I'd do my part to soothe tensions by making a completely pointless list of the best young players in the game. Up next, the New York Knicks' Kristaps Porzingis.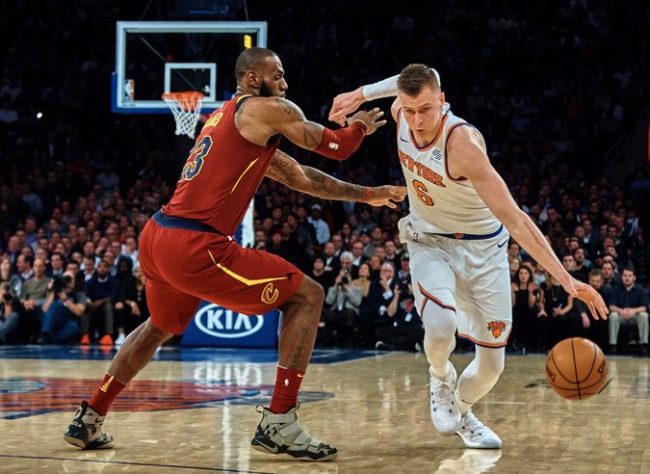 A promising season was cut brutally short for the Knicks' Kristaps Porzingis. Can the 'Zinger find a way to get back on track?
A few notes to consider:
Playoff potential (or performance) is weighed heavily. Players who have a major weakness to be exploited will be docked accordingly, at least until it's somewhat rectified.
The list is a ranking based on projecting the players going forward, not a ranking of how good the players are right now.
I haven't included anyone from the upcoming draft class. I have too much self-respect to watch college basketball, never mind summer league.
This is a list of the best talent under 23. The best. All of these guys are really good. If I happen to put one guy over your favorite player, it's not that I hate your favorite player or team. Please try to remember this before you set fire to my Twitter mentions calling me an idiot (though you certainly might be right in a more general sense).
The cutoff point, age-wise, was anyone still listed as 23 or under via Basketball-Reference.
Up next, the league's up-and-coming centers. Or Unicorns, as they're more commonly known.
Number Five: Kristaps Porzingis
Porzingis really is a unicorn. Blessed with size, length, defensive instincts and unlimited range, the Latvian bomber made a believer out of every sneering New Yorker who booed him on draft night in 2015. Knicks' fans have of course learned their lesson:
Same kid who didn't like the #Knicks pick of Kristaps Porzingis also doesn't like the Kevin Knox selection pic.twitter.com/qpotXrSowU

— Def Pen Hoops (@DefPenHoops) June 22, 2018
Though his numbers were dropping off before he went down with an injury in February (more on that later), Porzingis (22.7/6.6/2.4) was in the middle of a career year. Let's have a closer look at what Porzingis brings on both sides of the ball.
Offense
Porzingis' ability to spot up and get his shot off on anybody is deadly. If you freeze-frame on some of his 3s, it looks like he's an office worker tossing a memo into a trash can. His release point is that high. Observe how quickly Anthony Davis closes out on this corner 3. Porzingis barely jumps but still gets the shot off over Davis' fingertips:
Porzingis isn't just a perimeter-bound curiosity. He can put the ball on the floor and attack closeouts. His back-to-the-basket game is as good as it gets. Let him catch the ball deep or, worse still, give him a mismatch against a guard, and you might as well walk to the scorers' table and forfeit the points. Even when solid defense forces him further from the basket, Porzingis is stronger than he looks:
Porzingis scored 0.96 points per possession on post-ups last season (73rd percentile on the fourth-highest volume in the league). He's an above-average passer for his position, capable of hitting backdoor cutters with better accuracy than you might expect. This is an extremely valuable skill, given the attention Porzingis commands close to the basket. Though less than ideal, the big fella can even run some pick-and-roll in a pinch:
Defense
Rim-protection numbers must always be taken with a grain of salt. A host of factors are difficult to quantify and account for. For what it's worth, Porzingis had the best defensive-field-goal percentage at the rim in the league last season (at least 10 games played and five shots defended per game). Opponents shot just 49.2 percent on 5.2 shots per game with the 'Zinger defending the basket.
It's not difficult to see why. Clean looks are hard to come by. There aren't many guys who can get over quickly enough to block Giannis Antetokounmpo, especially from the weak side. But the thing to really watch for this clip is how Giannis' body language changes as he spins and sees Porzingis close the distance:
Intimidation is as crucial to defending the rim as blocking shots. Porzingis has it in spades.
Injury Concerns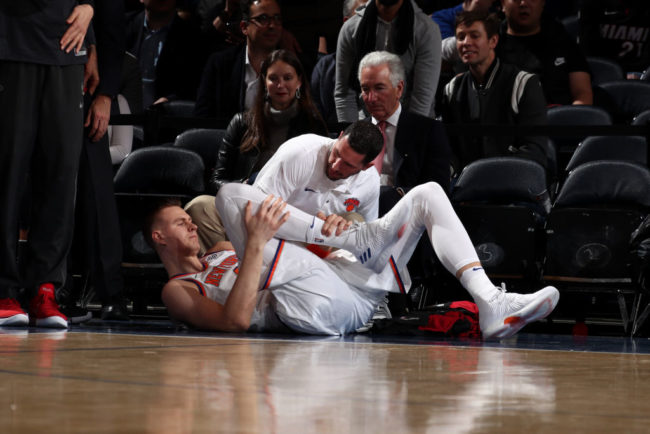 Per basketball-reference, only six players 7-foot-3 or taller have played beyond their 500th game in the NBA (Zydrunas Ilgauskas, Rik Smits, Mark Eaton, Shawn Bradley, Randy Breuer and Manute Bol). A slew of potentially all-time guys that size suffered from debilitating injuries that ultimately cut their careers short (Yao Ming, Ralph Sampson and more). Porzingis was already facing durability questions heading into year three.
Porzingis went down with a torn ACL on the eighth of February. The Knicks' season was already dead and buried, but it was a depressing state of affairs nonetheless.
An ACL tear is scary enough on a reasonably sized player. The track record for reasonably sized humans is spotty at best. On a 7-foot-3 human pogo-stick, those concerns are amplified to an uncomfortable degree.
Glass Half-Full
Here's the best-case scenario. The Knicks will be bad this season. Really bad. Snaring another high lottery pick to pair with Porzingis, Ntilikina, Knox and Mitchell Robinson is undoubtedly a good thing in the long run. If the optimists are right, and Porzingis returns to full health, of course.
It's possible the 'Zinger sits the entire season. If he does return, the pressure will be minimal. Even the most myopic fans have tweaked on to one simple truth: sometimes, it's OK to be bad. Porzingis should be able to play his way back into form in relative peace.
If enough of the Knicks' young guys pop, the team might be able to swing for a big free agent or two in the summer of 2019. Though Ntilikina is slated as the point guard of the future, the thought of Porzingis sharing the floor with Kyrie Irving is tantalizing. Porzingis hasn't played with a starting-quality point guard to date.
Kyrie is a much better facilitator than his reputation suggests. Porzingis has the potential to roll and pop with the best of them (the numbers are a little unkind due to the aforementioned dearth of quality guard play). A starting lineup with the kind of shot creation and shooting Porzingis and Irving provide could challenge for the best offense in the league.
One can dream.