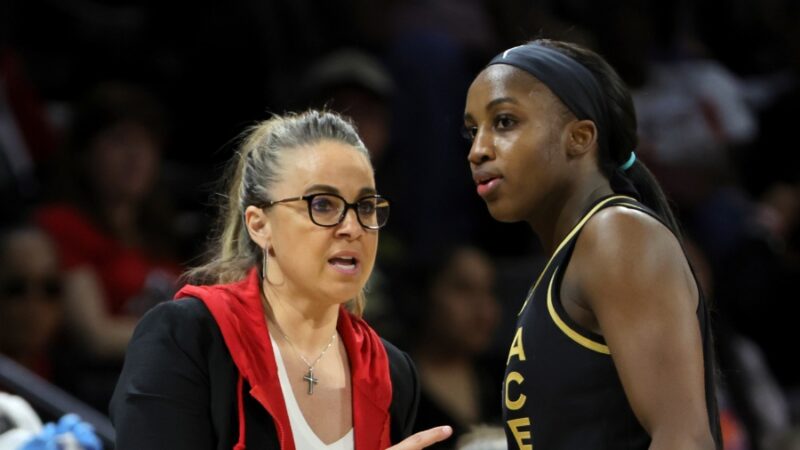 Las Vegas Aces head coach Becky Hammon has been named as the 2022 WNBA Coach of the Year, after leading the team to a first seed in the standings and a 26-10 record in her first season coaching in the league.
Add @WNBA ????? ?? ??? ???? to @BeckyHammon's debut season as Aces Head Coach!

#1 overall record
#1 in scoring & offensive efficiency
2nd best winning percentage ever by a rookie H.C.
Franchise record for wins in a season
All-Star H.C.
Commissioner's Cup Champ ? pic.twitter.com/9g08o0Dy7u

— Las Vegas Aces (@LVAces) August 26, 2022
Hammon joins Sandy Brondello (2014) and Suzie McConnell-Serio (2004) as the only three former WNBA players to win the award and she is the only one that does it in her debut season as a WNBA head coach.
Before joining the Aces, she spent eight years as an assistant to Gregg Popovich with the San Antonio Spurs where she became the first woman to head coach in the NBA Summer League, the first woman in an NBA All-Star coaching staff, and the first woman to serve as a head coach in an NBA regular season game after Popovich was ejected in the second quarter of a game against the Los Angeles Lakers.
Hammon won the award with 27 votes from a panel of 56 sportswriters and broadcasters. Tanisha Wright from the Atlanta Dream finished in second place with 18 votes and James Wade from the Chicago Sky came in third place with eight votes.
Vickie Johnson (Dallas Wings), Vanessa Nygaard (Phoenix Suns), and Mike Thibault (Washington Mystics) all received one vote.
Now, the Aces will prepare to face the Seattle Storm in the WNBA Semifinals on Sunday.