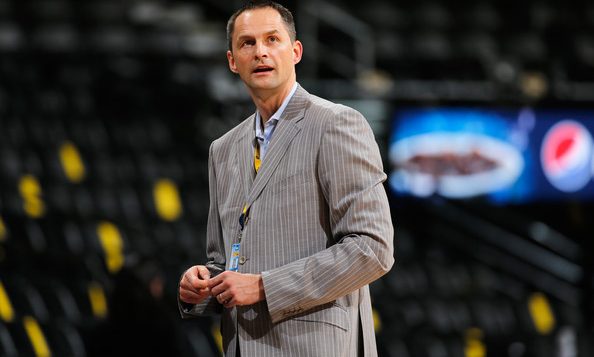 While the Denver Nuggets fell short of the playoffs and finished as the 9th seed in the Western Conference, they have one of the brightest futures in the NBA. The Nuggets have a solid young core comprised of Jamal Murray, Nikola Jokic, Gary Harris, and Emmanuel Mudiay to build around and should become a real threat out West sooner rather than later.
There are some key free agent decisions Denver will also have to make this offseason but before any of that can happen, they need to make sure that a solid front office is in place as the foundation for their success.
After the Milwaukee Bucks pursued Assistant General Manager Arturas Karnisovas relentlessly, Nuggets Owner Josh Kroenke countered quickly and promoted him to their GM role according to Adrian Wojnarowski of The Vertical:
Sources: In an aggressive move to secure Denver's front office, Josh Kroenke has preempted Milwaukee's bid to hire Arturas Karnisovas as GM.

— Adrian Wojnarowski (@WojVerticalNBA) June 14, 2017
Karnisovas was under heavy pursuit from Milwaukee and him remaining in Denver will give the Nuggets continuity moving forward. Along with the promotion of Arturas Karnisovas, Tim Connelly will go from his General Manager role to being the President of Basketball Operations:
Kroenke has promoted GM Tim Connelly to President of Basketball Operations and Karnisovas to General Manager, sources tell @TheVertical. https://t.co/o0HCflRrTH

— Adrian Wojnarowski (@WojVerticalNBA) June 14, 2017
Karnisovas and Connelly both joined the Denver Nuggets front office a few years ago in 2013 and have made great strides over the last couple seasons. Karnisovas specifically has been a highly coveted front office piece as he was pursued by the Brooklyn Nets last summer and now the Milwaukee Bucks before taking the GM role in Denver.
Now that the biggest parts of the Nuggets front office have been sorted out, they can turn their attention to building towards a bright future starting with an important offseason.