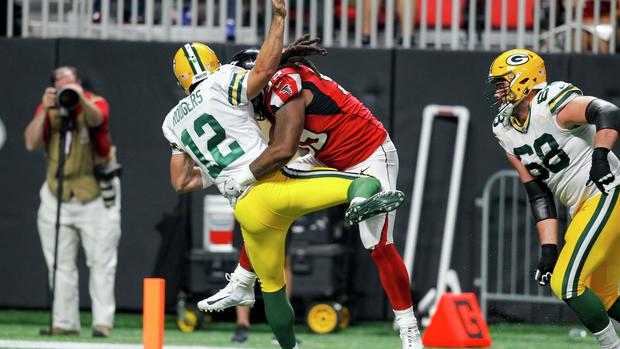 Here we are in week two of the NFL regular season. Offenses are playing poorly, ratings are down, and while people have theories as to why, no one really has the exact answer. Obviously, there are theories and some blame the natural disasters as to why ratings are down. Or could it be people are protesting the NFL and joining Colin Kaepernick after he took a knee?
Wow. Week 2 of Sunday Night Football had lowest ratings since 2008. Likely a few factors, but can't ignore pushback over NFL protests.

— Britt McHenry (@BrittMcHenry) September 18, 2017
Today, I review major injuries, week two awards, best/worst plays from the weekend, current divisional standings, and other news around the league.
Let's get started.
NFL Week Two Injuries
One could argue more valuable players hit the deck in week two than in week one. Click here for the latest update on injuries from last weekend. In addition, Vic Beasley Jr. received his MRI results yesterday. He will miss nearly a month with a slight hamstring tear.
Falcons' LB Vic Beasley has a slight hamstring tear and is expected to be out about one month, as @ZachKleinWSB said.

— Adam Schefter (@AdamSchefter) September 18, 2017
Stay tuned for news on other players as many injury updates will be released this afternoon.
Week Two Awards
Offensive Player of the Week: Trevor Siemian – QB – Denver Broncos
This weeks offensive player of the week award goes to Denver Broncos quarterback Trevor Siemian. While it would be an overreaction to say after this week's performance he is a top quarterback in this league, he did play extremely well against a very good team in the Dallas Cowboys.
Have a Day, @TrevorSiemian!#BroncosCountry #DALvsDEN pic.twitter.com/Z5pGQfjDwX

— NFL (@NFL) September 18, 2017
Defensive Player of the Week: Chris Jones – DL – Kansas City Chiefs
He dominated the field of play on Sunday. Jones finished with 3 sacks, 1 interception, 1 pass defended against, 2 forced fumbles, and 4 total tackles. This man was licking his chops.
CHRIS JONES. 3 SACKS AND AN INT.

That's a big, bad man on a mission. pic.twitter.com/RFbQBrbXQa

— Kansas City Chiefs (@Chiefs) September 17, 2017
He really seems like a fun, humble guy. Here is a video of him post-game describing what he was thinking after his interception.
Chris Jones is amazing pic.twitter.com/TH3HkgZh1J

— Arrowhead Pride (@ArrowheadPride) September 17, 2017
Offensive Honorable Mentions:
Tom Brady – QB – New England Patriots (30/39 passing for 447 yards and 3 touchdowns)
Michael Crabtree – WR – Oakland Raiders (6 receptions for 80 yards and 3 touchdowns)
Rob Gronkowski – TE – New England Patriots (6 receptions for 116 yards and 1 touchdown)
Defensive Honorable Mentions:
Von Miller – OLB – Denver Broncos (2 sacks, 2 QB hits, 12 QB pressures, 8 QB hurries via Pro Football Focus)
Julius Peppers – DE – Carolina Panthers (2 sacks, 6 tackles, 1 tackle for loss)
Best/Worst Plays from the Weekend
Here, you can get your fill on the good and bad plays from this past weekend. I'll give you a hint, some of them involve leapfrogging. Seriously – how does a human being jump that high?
Prepare to be amazed.
Best
Here is a name you should familiarize yourself with – Duke Johnson Jr. On Sunday, he reeled in an incredible one-handed grab for a third down conversion.
.@DukeJohnson_8… are you kidding?!? #Browns #CLEvsBAL pic.twitter.com/nDZ09TwEdy

— NFL (@NFL) September 17, 2017
For the second week in a row, Travis Kelce is on the receiving end of a shovel pass. This time he leaps over a defender to find the end zone.
FINAL: The @Chiefs are 2-0! #ChiefsKingdom pic.twitter.com/yTGLv6FZ6H

— NFL (@NFL) September 17, 2017
Finally, Todd Gurley. This man is back and he is ready to ball. Better keep your head up when you bring the wood to him.
?? @TG3II is jumping over humans! ?? #LARams pic.twitter.com/TlkZKhM2Sb

— NFL (@NFL) September 17, 2017
Are you serious @TG3II?! ?

Todd Gurley leapfrogs the defender before reaching in for a @RamsNFL touchdown ???#OnlyInTheNFL pic.twitter.com/xjU3AbSmbk

— NFL UK (@NFLUK) September 18, 2017
Not only did he do it once…but TWICE!
Worst
This may not be an NFL player, but boy did she take a hit. Have some feel, cameraman.
Biggest hit of the week @LacesOutShow pic.twitter.com/Cf7G71ziNA

— Barstool Sports (@barstoolsports) September 17, 2017
On a serious note, this was the worst play of the week. It's a lack of hustle on his part. He should have put his head down and run after the defender.
I think Rod Marinelli would have graded this as a "loaf" for Ezekiel Elliott. pic.twitter.com/MC2QiYhBga

— Marcus Mosher (@Marcus_Mosher) September 18, 2017
Because he didn't hustle after the interception, people are questioning "if he quit, or not". You never want those questions to arise in your locker room – let alone about a superstar star caliber player.
Outfit of the Weekend
What a change of pace this topic is, right? It's pretty much a weekly competition between Antonio Brown and Cam Newton. Those boys have some serious swag. Chalk a W up for Newton this week, though.
Postgame with @CameronNewton ? #KeepPounding pic.twitter.com/bnBUZqLxcG

— NFL (@NFL) September 17, 2017
Think you can top that one, Antonio?
Updated Divisional Standings
At the end of each week, we will take a look at the divisional standings around the league. Here is what they look like after the week two is in the books.
AFC East
Miami Dolphins (1-0)
Buffalo Bills (1-1)
New England Patriots (1-1)
New York Jets (0-2)
AFC West
Denver Broncos (2-0)
Oakland Raiders (2-0)
Kansas City Chiefs (2-0)
Los Angeles Chargers (0-2)
AFC North
Baltimore Ravens (2-0)
Pittsburgh Steelers (2-0)
Cincinnati Bengals (0-2)
Cleveland Browns (0-2)
AFC South
Tennessee Titans (1-1)
Jacksonville Jaguars (1-1)
Houston Texans (1-1)
Indianapolis Colts (0-2)
NFC East
Philadelphia Eagles (1-1)
Dallas Cowboys (1-1)
Washington Redskins (1-1)
New York Giants (0-2)
NFC West
Seattle Seahawks (1-1)
Arizona Cardinals (1-1)
Los Angeles Rams (1-1)
San Francisco 49ers (0-2)
NFC North
Detroit Lions (2-0)
Minnesota Vikings (1-1)
Green Bay Packers (1-1)
Chicago Bears (0-2)
NFC South
Atlanta Falcons (2-0)
Carolina Panthers (2-0)
Tampa Bay Buccaneers (1-0)
New Orleans Saints (0-2)
Which teams remain undefeated?
10 undefeated teams remain… pic.twitter.com/XV5EYKokvr

— NFL (@NFL) September 19, 2017
News Around the NFL
Broken Records
This week was filled with career accomplishments. Joe Thomas, Antonio Gates, and Aaron Rodgers all surpassed major milestones in their career. Joe Thomas set the record for most consecutive snaps without missing a game, Antonio Gates set the record for receiving touchdowns by a tight end, and Aaron Rodgers is the fastest quarterback to hit 300 passing touchdowns.
Joe Thomas has played in 162 straight games (11 seasons) and over 10,000 consecutive snaps and counting. Here is a video the Cleveland Browns dedicated to Joe Thomas.
11 seasons.
162 games.
10,000 consecutive snaps (and counting).

Congratulations, @JoeThomas73! pic.twitter.com/jJNraidVR5

— Cleveland Browns (@Browns) September 17, 2017
Antonio Gates caught his 112th touchdown on Sunday which passes Tony Gonzalez for the most receiving touchdowns by a tight end in NFL history.
History is made.@AntonioGates85 has the most TD receptions by a tight end in @NFLhistory. #Chargers pic.twitter.com/66QUj8dZZf

— NFL (@NFL) September 17, 2017
Here it is: Antonio Gates passes Tony Gonzalez for most TDs by a tight end in NFL history with his 112th career TD. pic.twitter.com/31ueP4qiQ4

— NFL Update (@MySportsUpdate) September 17, 2017
On Sunday night, against the Atlanta Falcons, Aaron Rodgers threw his 300th career NFL touchdown. Only 11 NFL quarterbacks have thrown for over 300 touchdowns, and he surpassed this number in fewer games than any other quarterback in league history.
The fastest to reach 300 passing TDs in @NFLhistory…

??? @AaronRodgers12 #GoPackGo pic.twitter.com/OSXxwBojuq

— NFL (@NFL) September 18, 2017
Cincinnati fires OC Ken Zampese
It's week three and the Cincinnati Bengals have yet to score a touchdown. This led to the firing of their offensive coordinator Ken Zampese.
The #Bengals are expected to fire OC Ken Zampese, sources say. After two games without a touchdown, Zampese is out.

— Ian Rapoport (@RapSheet) September 15, 2017
The Bengals quarterback coach, Bill Lazor will assume offensive coordinator responsibilities immediately.
Andrew Luck Out Week 3 vs Browns
For the third consecutive week, Andrew Luck is sidelined while he recovers from his shoulder surgery.
Chuck Pagano confirms Andrew Luck is OUT for #CLEvsIND. pic.twitter.com/7N6lHWeTHi

— Indianapolis Colts (@Colts) September 18, 2017
There is a chance that Luck doesn't play again this season. Would you play behind that atrocious offensive line? It's likely that Chuck Pagano sits Luck for the remainder of the season, allowing him to fully recover and get a top-five draft pick.
Thanks for stopping in. See you next week for the week three recap of the NFL regular season.