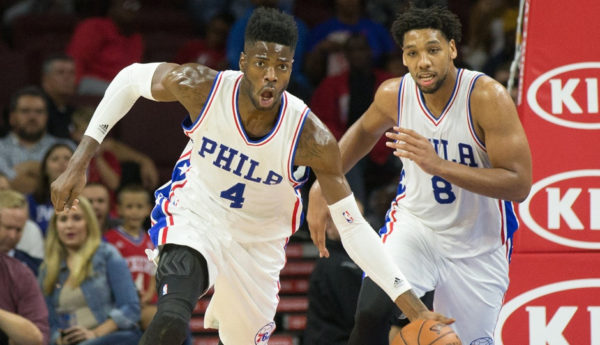 The Philadelphia 76ers clearly wanted to be in the main news along with the NBA Finals yesterday. They are beginning to make moves, shopping nearly everyone on their roster that's worth trading.
The two most notable are Nerlens Noel and Jahlil Okafor, both big men, two different styles of play. It seems that the Sixers aren't discriminating and are trying to trade both with the intention of keeping one. Smart business but not the best for their personal morale. Whoever stays, they know that they could've easily been the other player now on another team. Nerlens has been the closest to leaving, being heavily linked to the Atlanta Hawks but according to Philly.com, the two men are being offered to about 15 teams.
This time, the Sixers are shopping Noel and center/power Jahlil Okafor  to "at least 15 teams" to see where they can get the best deal, according to the source.
Again, great business. It all depends on 1. What the best deal is and 2. What do they want in terms of their team chemistry. They have to link this to the upcoming NBA Draft. If they Draft Ben Simmons, who will work with Simmons better, Noel or Okafor? If they trade somebody else from the team how will that affect the makeup of the Sixers starting 5?
There are many questions that the Sixers have to link to these two players, it's all got to make sense.