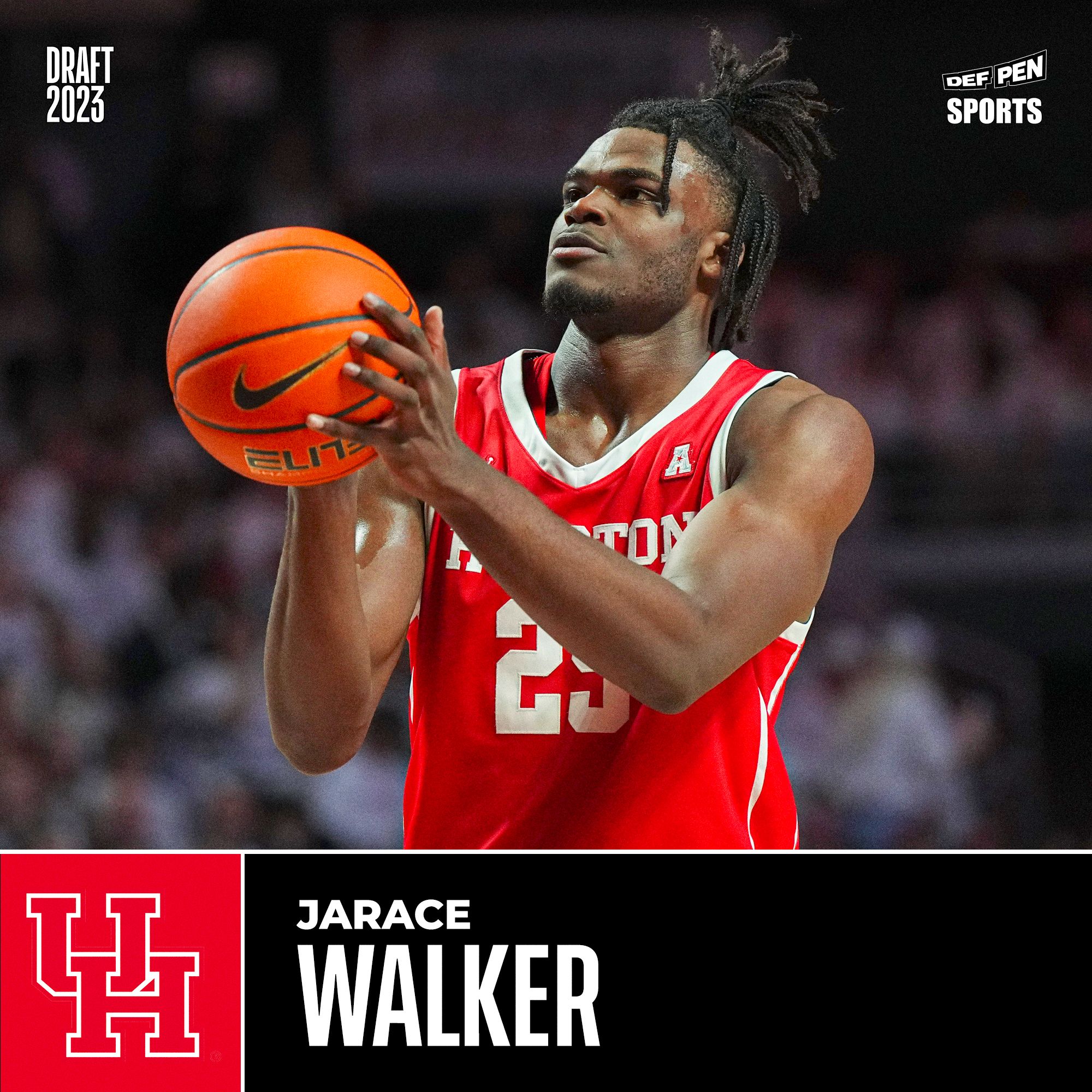 The 2023 NBA Draft is one of the more highly anticipated drafts in the past decade partly because of the talent at the top of the draft. Def Pen Sports will be breaking down 14 of the best NBA prospects that have declared for the draft this year. Jarace Walker is a projected top-10 pick after his lone season at Houston where he fit in seamlessly with a team who was a mainstay in the top 5 this year. Walker has a game that was easily translatable to the college game and will likely earn him immediate playing time in the NBA as well. He's got the body of an NBA veteran too which not many one-and-done freshman can claim. Walker may never be a star putting up 25 points per game, but he is destined for a long career with the gifts and mentality he possesses.
Size
Jarace Walker has outstanding size and length and uses it to his advantage on both ends of the floor. He's able to switch consistently and guard just about anyone in the college game while also being effective around the rim as well. He uses his 7'2″ wingspan when trying to score in the paint and when combined with the strength he possesses at 240 pounds it's an excellent combination that he utilizes well.
That length allows him to jump passing lanes which he does so well while also excelling as a shot blocker where he combines his length with great timing. He's a bit old for a true freshman but even then not many 19 going on 20-year-olds enter the NBA with a body like his. He's likely to hone some of that natural strength once he gets on a professional strength program and could become a force as he begins to hit his physical prime. His size is such a plus for him and will likely lead to him earning playing time early in his career.
Defense and Rebounding
Walker is a tenacious rebounder, averaging nearly seven in his single season at Houston. It was a strength of his coming into school that only reached another level playing for Kelvin Sampson who emphasizes rebounding heavily. Houston has a culture that preaches rebounding and toughness and Walker was a great fit for the program. He averaged two offensive rebounds per game and does a great job of boxing out and is unaffected by contact when battling in the paint. He has such a good competitive level on the boards that is rare for players his age and combines with a high IQ for where to be on defensive rotations and attacking the boards from there. Walker should be an excellent rebounder in the league from the forward position and should be a guy who consistently steals extra possessions for his team.
Defensively Walker is ultra-competitive as a defender and has outstanding switchability with the ability to switch one through five. His strength allows him to guard bigs and he should be able to play some small-ball five in the NBA while also having the ability to switch onto guards. Walker has good lateral quickness and slides his feet effectively while using his length well when switching onto guards.
Weakness: Shooting
Jarace Walker is a very good interior scorer but is a bit inconsistent when moving out toward the three-point line. All things considered, he shot nearly 35% from three this season on nearly three attempts per game. He has improved as a shooter and with his form over the last year or so but needs to continue to improve his consistency. His numbers at Houston would suggest that he has good potential as he continues to improve his game but his free throw numbers don't quite support that. He shot about 66% from the line, a number that will need to improve but also suggests the form improvements weren't quite as good as his numbers from three would suggest. If he can continue to show improvement in this area it will be a huge addition to the potential he has in other areas of his game.
NBA Comparison: Scottie Barnes
Walker shows some similar traits to Scottie Barnes in terms of his strength, length, and passing ability when coming out of school. Walker isn't quite the playmaker that Barnes was coming out of school but does show flashes of good playmaking ability. As for the defensive versatility, he is a dead ringer for Barnes who has excelled since he's been in the league in a multi-faceted role. Walker will likely be more of an energy role player in his first season and may not quite have the impact Barnes did from the jump but could do some similar things if put in the right role. Barnes has struggled from a shooting perspective while Walker to this point has shown a greater ability to keep defenses honest with his jump shot. Walker may ultimately have more upside as a scorer for this reason combined with a touch more athleticism but overall their games definitely have a similar theme to them. Whichever team selects Walker would be more than happy to get similar production to Scottie Barnes in his first two years in the league.