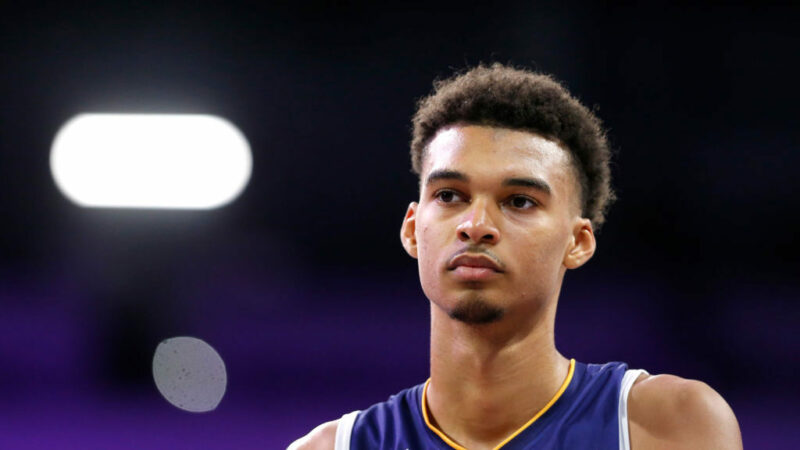 2023 NBA Mock Draft
The 2023 NBA Draft Lottery has finally happened and we now know who has won the rights to select generational talent Victor Wembanyama. While the number one pick was the goal, this draft has plenty of talent and could feature more than one future Hall of Fame player and several future All-Star caliber players. With the order finally set, unlike other mock drafts from Def Pen Sports, this edition of the 2023 NBA Mock Draft will be in the exact order. While trades may occur, this mock will not attempt to predict them but may mention if a team is shopping the selection.
1. San Antonio Spurs- Victor Wembanyama (France) PF/C
Winning the lottery has perhaps given the Spurs and Head Coach Greg Popovich new life near the end of his career. The tanking franchise has landed the right to pick Wembanyama. A generational prospect is still not a sure thing, but if you can't bet on the French big man then you can't bet on anyone.
2. Charlotte Hornets- Brandon Miller (Alabama) SF
The Hornets and the second pick will be a debate until draft night. Does the team take the best player available in Scoot Henderson or draft Brandon Miller because he might fit on the roster better? Henderson would be the first overall pick in a lot of drafts, but the Hornets aren't always known for drafting well.
3. Portland Trail Blazers- Scoot Henderson (G League) PG
Portland has been open about their willingness to trade this pick if they can use it to help build a contender around Damian Lillard. If Henderson is here then the pick is even more valuable. The G League point guard needs to work on his jumper but has plenty of positive attributes heading into the NBA.
4. Houston Rockets- Amen Thompson (Overtime) PG/SG
Amen Thompson is the last of the truly elite-looking prospects in the 2023 NBA Mock Draft. His journey in the NBA could help shape what it means to be a basketball prospect from the Overtime Elite program. Houston needs talent and Thompson has it.
5. Detroit Pistons- Cam Whitmore (Villanova) SF
Detroit lost a lot of games this year and ended up with the fifth overall pick, which may be a disappointment for them. The team does need a top-level forward to pair with the young talent they have on their roster. Whitmore needs some polish but fits well into the roster.
6. Orlando Magic- Ausar Thompson (Overtime) SG/SF
Ausar Thompson is a talented wing and the NBA is always looking to add more of those. While the Magic already have their fair share, the draft is a good time to be greedy. It could be argued that an NBA team never has enough talent when it comes to wing production.
7. Indiana Pacers- Taylor Hendricks (UCF) PF
Hendricks has been all over the first round of some 2023 NBA Mock Draft lists. He has been climbing lately and has been getting more top-ten noise since the draft process began. The Pacers have some draft capital to work with and need to add some talent at the forward spots this offseason.
8. Washington Wizards- Anthony Black (Arkansas) SG
The Wizards and in NBA purgatory most years with them not being good enough to make the Playoffs and not bad enough to land a game-changing prospect. This means they will have to scout well and find a diamond in the "rough" at the bottom of the top ten. Anthony Black could be special one day in the NBA.
9. Utah Jazz- Cason Wallace (Kentucky) PG/SG
Utah has begun its rebuild and has the picks to get the job done. They will need to draft well for that to work out well. Cason Wallace is one of the better defensive prospects in the draft and will impact that side of the NBA court immediately.
10. Dallas Mavericks- Jarace Walker (Houston) PF
Dallas has limited options to make their roster better for the next few years. If they aren't invested in a prospect with this pick, it might be wise to look for a trade package here. Walker is a fairly raw prospect but does have some potential on both sides of the ball.
11. Orlando Magic (Via CHI)- Keyonte George (Baylor) SG
The Magic have a young and promising core that they hope to build around. With the draft capital they have, drafting based on potential is vital for the next few years. Keyonte George is full of potential and could be special in the NBA with some development.
12. Oklahoma City Thunder- Brice Sensabaugh (Ohio State) SF
Oklahoma City seems to be very close to being a constant playoff team that could build into a real contender. Drafting well in the late lottery continues to be a priority. Brice Sensabaugh needs some time to develop on the court and OKC can give him that for at least a few years.
13. Toronto Raptors- Gradey Dick (Kansas) SG/SF
Gradey Dick looks like the best shooter on the 2023 NBA Mock Draft list and that may get him selected higher on the night of the draft. Toronto may need to read the writing on the wall and begin a full rebuild, but until then drafting a great shooter is never a bad idea.
14. New Orleans Pelicans- Nick Smith Jr. (Arkansas) PG/SG
Nick Smith Jr was once considered the best prospect coming out of college basketball but has fallen some after an injury and some questionable play. He needs to land in a place that can afford to let him grow as a player. New Orleans needs some guard depth but has the talent that won't put too much pressure on Smith Jr early in his career.
15. Atlanta Hawks- Jett Howard (Michigan) SG/SF
Jett Howard has an NBA pedigree and knows what to expect when he makes the league. Atlanta needs more talented depth and Howard could fit the bill perfectly. A wing isn't exactly what the team needs, but talent wins out in the draft.
16. Utah Jazz (Via MIN)- Dariq Whitehead (Duke) SG/SF
The Jazz need to draft as much talent as they can with their expanded draft capital over the next few seasons. In this version of the 2023 NBA Mock Draft, Dariq Whitehead falls a bit and the Jazz would need to consider snatching him up with this pick.
17. Los Angeles Lakers- Kris Murray (Iowa) SF/PF
The Lakers will look this offseason to build a contender for the closing parts of Lebron James' career. Rookies won't necessarily help with that, but Kris Murray could impact the future. If he develops as his brother has in Sacramento, he could be a solid roleplayer for the Lakers (or another team) in the future.
18. Miami Heat- GG Jackson (South Carolina) PF/C
GG Jackson is here a year earlier than he originally thought he would be after reclassifying. While he showcased his youth, the talent was there. It may take a year or two for him to get there. The Heat aren't really in the position for a project but have taken them on before despite that.
19. Golden State Warriors- Terquavion Smith (North Carolina State) SG/SF
Teruavion Smith at his best looked like a wing that could take over a game anytime he needed to. Unfortunately at his worst, he looked like a shot-heavy wing that could shoot his team out of the game. The Warriors would be a great landing spot to fine-tune his talent and decision-making for the NBA.
20. Houston Rockets (Via LAC)- Leonard Miller (G League Ignite) SF
Miller has seen his star decline some in the 2023 NBA Mock Draft, but he is still a solid pro prospect that already has some G League experience. The Rockets could use some experience on their roster and free agency may not be a likely place to find that.
21. Brooklyn Nets (Via PHO)- Rayan Rupert (NZ Breakers) SG/SF
The Nets have draft picks, but with them being later in the draft it will take great scouting, development, and maybe some luck to land a future star. Depth can be added during this part of the draft and Rayan Rupert shows plenty of potential as a NBA depth player.
22. Brooklyn Nets-Jordan Hawkins (UConn) SG
Jordan Hawkins had a bump in his stock after the 2023 National Championship but has fallen back down some. The Nets need to take whoever they scout as the best player available with each pick they have in the next two or three years. This will give them time to determine if Mikal Bridges is their franchise player while building more talent.
23. Portland Trail Blazers (Via NYK)- Dereck Lively II (Duke) C
The name of the game for Portland is adding talent however they can. This pick could also get traded, but if not the team should consider drafting Lively II out of Duke. He will likely be a great rim protector one day and Portland could use the defensive boost.
24. Sacramento Kings- Maxwell Lewis (Pepperdine) SF
The Kings are not used to their pick being this late in the draft, but that is a great "problem" to have. Maxwell Lewis was a standout player on a bad Pepperdine team this year but showed some NBA potential in the process. The Kings can take a flyer on his potential and work on his development into a depth player.
25. Memphis Grizzlies- Noah Clowney (Alabama) PF
Memphis has a lot of things to figure out this offseason and unfortunately for them, the draft will be the easiest of the choices they make. On the Def Pen 2023 NBA Mock Draft, Noah Clowney makes it into the first round because of his defensive potential on the court. His fit with Memphis is nearly perfect.
26. Indiana Pacers (Via CLE)- Sidy Cissoko (G League ) SF/PF
The G League Ignite prospect has the experience a team like Indiana could use heading into next season. Scoot Henderson got most of the hype, but Cissoko is still a promising prospect heading into the NBA.
27. Charlotte Hornets (Via DEN)- Emoni Bates (Eastern Michigan) SG/SF
When he was in high school, Emoni Bates was considered a future NBA star, but things haven't quite panned out that way. While he has likely played his way back into the first round, he still has work to do once he gets to the NBA. The Hornets are desperate for talent and can take a chance on Bates at 27.
28. Utah Jazz (Via PHI)- Kobe Bufkin (Michigan) SG
Kobe Bufkin scores well and that alone should get him drafted in the first round. He probably needs some time to develop but could be a solid stash for later in his career. Utah has the picks to spend and can afford to wait.
29. Indiana Pacers (Via BOS)- Jalen Hood-Schifino (Indiana Hoosiers) SG/SF
The Pacers have several first-round picks this year and could look to package them and move up somewhere in the draft or target DeAndre Ayton. Whoever picks here would be getting a steal with the selection of Jalen Hood-Schifino.
30. Los Angeles Clippers (Via MIL)- Bilal Coulibaly (France) SF
Bilal Coulibaly got more looks this season because of his teammate Victor Wembanyama but began earning looks on his own merit. The Clippers need to figure out things with their star players, but stacking depth around them is still vital to success.