The college basketball season is over and it is officially draft season. More specifically, it is 2018 NBA mock draft season.
Every year, players use conference and NCAA tournaments to boost their draft stock. This year was no different as we saw Shai Gilgeous-Alexander and Mo Wagner make big names for themselves. The primary body of work is done, and the auditions are finished now. Players cannot go back and replay games, all that's left is pre-draft workouts and the NBA combine. These are the toppings, but the meat of their evaluation is done.
We have already seen one likely first-rounder announce his intention to go back to school as Daniel Gafford declared his return to Arkansas. Everyone in this 30-man list has either declared for the draft or is undecided yet eligible.
As we head into the pre-draft process, let's take a look at how the first round big board looks at the end of the NCAA season. There has been much shuffling since our previous 2018 NBA mock draft.
2018 NBA Mock Draft
1. Luka Doncic: Wing- Real Madrid
Doncic remains at the top of the draft class. The Slovenian is averaging 15 PPG in Europe while chipping in 5 RPG as well. His 3-point percentage (30.6%) is lower than usual, but his mechanics and 81% free throw shooting offer legitimate promise.
2. DeAndre Ayton: Big- Arizona
Second yet again is the freakish big that is DeAndre Ayton. While Arizona had a disappointing NCAA Tournament appearance, it will not take away from the fact that Ayton was one of the most dominant players in America. His versatile offensive game paired with his absurd athletic abilities gives him an edge over every other big in the draft.
3. Jaren Jackson Jr: Big- Michigan State
The end of the season will go down as a major disappointment for Michigan State and Jaren Jackson. The Spartans lost the Big 10 championship and then didn't make it out of the first weekend in the NCAA Tournament. Despite this, Jaren Jackson is a true impact player on both sides of the ball. Tom Izzo made him less of a focus down the stretch- for whatever reason- as he only played more than 18 minutes once in their last four games. His ability to protect the rim at a high level and make shots out to the 3-point range will be highly revered in the NBA.
4. Mo Bamba: Big- Texas
Mo Bamba and Jaren Jackson swapped places from the previous 2018 NBA Mock Draft. Jackson shows a better ability to create his own offense and score from different spots on the floor. Despite that, Bamba is still the best defensive prospect in the draft with a budding offensive game. Right now he serves as a rim diver, though he has shown the ability to put the ball on the floor as well as make catch-and-shoot threes.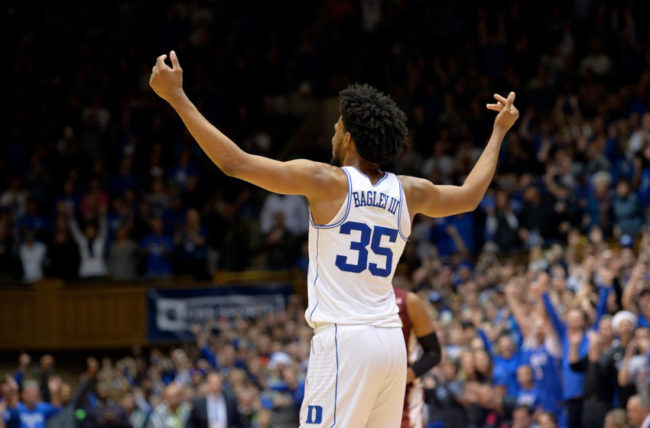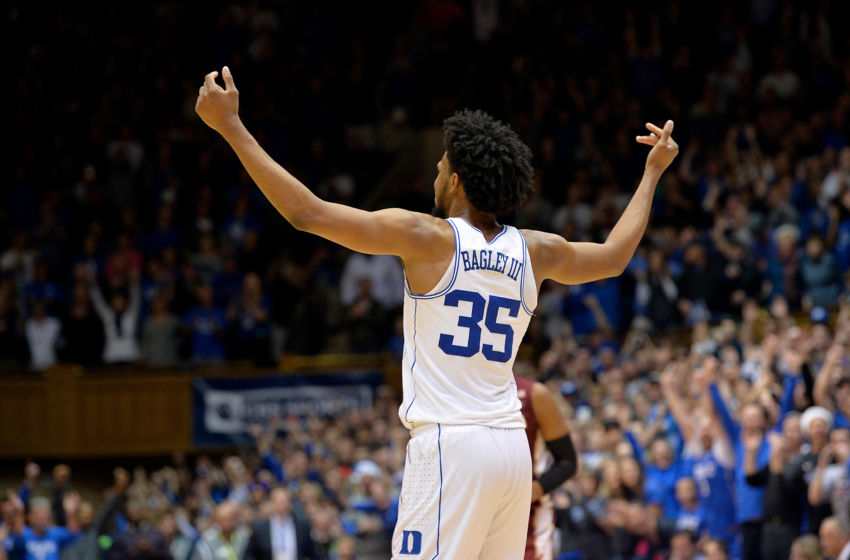 5. Marvin Bagley: Big- Duke
Bagley remains steadfast at fifth. Having already declared for the draft, all that is left for Bagley to do is impress in workouts. He showed tremendous activity and production at Duke but failed to show consistently good defensive instincts. This makes the star freshman a very polarizing prospect.
6. Wendell Carter Jr: Big- Duke
Wendell Carter nearly jumped his Duke teammate Bagley. Carter has shown a legitimate rim-protecting ability while being able to hit shots all around the floor. Fundamentally sound, Carter always finds a body to box out and has smart post footwork. As more film is watched, it would be no surprise to see Carter rise more.
7. Michael Porter Jr: Wing- Missouri
We finally saw Michael Porter Jr in the SEC and NCAA Tournaments. It wasn't pretty, but he was clearly not at full health. You cannot take too much away from two games, but things did look more concerning than hopeful. He gets the benefit of the doubt due to health, but he will need to show his true self during workouts.
8. Mikal Bridges: Wing- Villanova
Fresh off of a National Championship, Mikal Bridges is primed to be a top ten pick. Apart from one game, Bridges was as reliable and steady as he's been all year. The 3-and-D wing isn't one to take over a ballgame, but he is fine playing in his role and he does it better than anyone in the class. Few archetypes are more valuable than an elite shooting and elite defensive wing player in today's NBA.
9. Trae Young: Oklahoma- Lead Guard
The rollercoaster season is finally over for Trae Young, and he has made his draft intentions clear. In December, Young looked like a consensus National Play of the Year; by March, he was a forgotten name. His true game lies somewhere in between. At worst, you get an elite playmaker who can pick out passes on a whim. At best, you get a guy that looks quite similar to Steph Curry.
10. Miles Bridges: Michigan State- Combo Forward
Miles Bridges made his announcement to go to the NBA Draft after two years at Michigan State. His second year did not hurt him, but it did not seem to help him as much as expected. He still looks like a modern-day four in the NBA with good face-up skills and a nice jumpshot. Luckily, the NBA is in need of those. The question lies in how high his ceiling is, and can he defend NBA power forwards at a consistent level.
11. Kevin Knox: Kentucky- Combo Forward
Another combo forward makes the mid/late lottery. Kevin Knox is an interesting prospect in that he has shown flashes of being able to do a bit of everything, yet specializing in nothing. His measurables and athleticism provide optimism in his upside, but he is raw nonetheless. With reports of John Calipari asking him to return to school, he may take a second year and develop further.
12. Collin Sexton: Alabama- Lead Guard
Sexton is the primary (and almost literal) wild card of the lottery. Sexton is a pest at the point of attack on defense but his offense is still quite raw. More of a shotmaker than a pure shooter, and his decision-making is still questionable. Nonetheless, he has used his high-level athleticism to show flashes of being an outstanding self creator and scorer.
13. Shai Gilgeous-Alexander: Kentucky- Lead Guard
The wiry freshman ended the season on a tear, and scouts noticed. Gilgeous-Alexander scored 15 points or more in each of his final eight games, including a 29 point outburst in the SEC Championship game. A long, 6-foot-6 point guard who has NBA-level athleticism will naturally turn heads. Throw in the fact that he shot 40% from deep, and the upside looks massive.
14. Lonnie Walker IV: Miami- Wing
Walker's status in the eyes of scouts is still mostly a mystery. For me, Walker has immense upside and has shown top-level scoring ability. At his best, Walker is a three-level scorer who projects elite creation ability. At worst, he is a raw player who struggles to make shots and relies on his athleticism. The upside of being a scorer in bunches while having elite defensive potential is too much to drop out of the lottery.
15. Rob Williams: Texas A&M- Big
How do you remind people that you're a good player? Have a dominant game in the NCAA tournament in a blowout win over the reigning National Champions. While he only scored 8 points, Williams had 13 rebounds and his mere presence in the paint altered the offense for UNC. His game on offense is still extremely raw, but there is a big market for a paint protecting rim-runner a la Clint Capela.
16. Mitchell Robinson: N/A- Big
Another rim-runner type of big lands here in the middle of the first round. Robinson has benefitted from not playing college basketball, as we are left to assume his upside from high school. On the flip side, we do not know how he will react to higher level athletes and players. Though, a 7-foot-1 mobile big with a 7-foot-4 wingspan is very much an ideal build for a center.
17. De'Andre Hunter: Virginia- Combo Forward
The surprise redshirt freshman has not declared- and may not even declare at all, but he is an outstanding NBA Draft prospect. He was low volume in just about every sense in regard to offense this season. Despite that, he shot about 38% from three and showed the ability to be a smart driver and finish through contact at the rim, scoring 1.269 points per possessions around the basket. He is still a bet on upside, but at 6-foot-8 with a 7-foot-2 wingspan, there looks to be some hints of Kawhi Leonard in his game.
18. Zhaire Smith: Texas Tech- Wing
Zhaire Smith is another surprise freshman who has risen from relative unknown to first-round talent. Smith makes his name on his elite athleticism, high activity level, and major defensive potential. He also shot 45% from deep- albeit at a very low volume. His biggest question is in regard to his creative ability. He isn't much more than a straight-line driver right now and isn't a reliable creator for himself or others. Regardless, his physical tools offer big-time upside.
19. Landry Shamet: Wichita State- Lead Guard
Shamet doesn't have the highest ceiling in the class, but he seems to be a very safe bet. A 6-foot-4 lead guard who rarely makes a bad decision and shoots 44% from three at a very high volume (5.9 3PA per game) has a place in the NBA, and in the first round of this 2018 NBA mock draft.
20. Troy Brown Jr: Oregon- Wing
Troy Brown Jr had held steady near the end of the lottery for most of the season. He never showed the real star ability that you'd like to see from a lottery prospect, but he does possess some serious tools. Brown, at 6-foot-7, can play on the wing as a slasher, guard multiple positions, and has lead guard skills to run some point forward. The issue? He hasn't looked prolific in any particular aspect.
21. Shake Milton: SMU- Lead Guard
Milton is of the same cloth of Landry Shamet. A long (6-foot-5) point guard who shoots 43% from deep. His size and length give him major defensive upside. The quesiton arise in his decision-making ability and if he can be an NBA level decision-maker at the lead guard position.
22. Khyri Thomas: Creighton- Combo Guard
The combo guard has been lingering in the mid-20s for most 2018 NBA mock drafts. Now, he quietly sneaks up as his immediate-impact value becomes apparent. He may not have elite upside, but being able to lock down the point of attack and knock down threes (41% on the season) is immensely valuable. Though, a 6-foot-3 guard who lacks lead guard skills inherently poses a major question.
23. Moritz Wagner: Michigan- Big
The first newcomer to the 2018 NBA mock draft is Mo Wagner. The German big man took America by storm during the NCAA Tournament and became a household name. Wagner is a big man who can knock down the three-ball (39% on the season) and handles the ball at a very high level for a big. He possesses a high IQ and crafty passing skills, often showing off on a flashy pass. He will need to fight through contact better though, as well as show a defensive prowess against opposing centers.
24. Dzanan Musa: Cedevita- Wing
Musa is a pure scorer who can hurt defenses in every way. He is Manu Ginobilli-like in that his shot selection is wild at times, but he has a true knack for scoring. At 6-foot-9, Musa offers great size for an NBA wing to help make up for his average athleticism. Look for Musa to add an immediate scoring punch off of an NBA bench, even if he doesn't offer much more.
25. Jontay Porter: Missouri- Big
Jontay Porter is a big who has shown the ability to do a little bit of everything while not excelling at anything. Porter is lengthy, fluid, smart, and can space the floor. While he has a good foundation, he still looks extremely raw and will need major development during year one in the NBA.
26. Keita Bates-Diop: Ohio State- Combo Forward
The Big-10 Player of the Year is primed for a first-round selection. While he lacks major upside, Bates-Diop is a polished combo forward that can guard a couple of different positions. If he can improve his 36% 3-point clip in the NBA, he can carve out a defined role in the NBA and have a very long career.
27. De'Anthony Melton: USC- Lead Guard
Melton didn't play this season due to eligibility concerns but was a clear do-it-all glue guy in 2016-17. A big lead guard at 6-foot-4, Melton projects as a top-level point of attack defender with long arms and very sharp instincts.
28. Bruce Brown: Miami- Lead Guard
Bruce Brown has taken a tumble down the 2018 NBA mock draft. He did not finish the season due to injury, but he looked quite shaky in the time he did play. Despite that, we know that Brown is an elite athlete who can get to the rim at will. His jumpshot and playmaking abilities are still inconsistent, however, we know he has the ability to do both at a high level.
29. Jalen Brunson: Villanova- Lead Guard
Brunson is the first guard in over 40 years to win the National Player of the Year award and a National Championship. Brunson lacks elite athleticism, so his projection is as a high floor, low ceiling type of player. He has an extremely high IQ and almost never makes a bad decision. With a 40% 3-point rate to pair with it, Brunson looks primed to run an NBA offense.
30. Jacob Evans: Cincinnati- Wing
Evans looks to fit into the 3-and-D role in the NBA despite a dip in 3-point percentage down the final stretch of the season. He may not ever be a legitimate creator at the NBA level, but if he can carve a Robert Covington-type of role at the next level, he can provide serious value to a winning team.