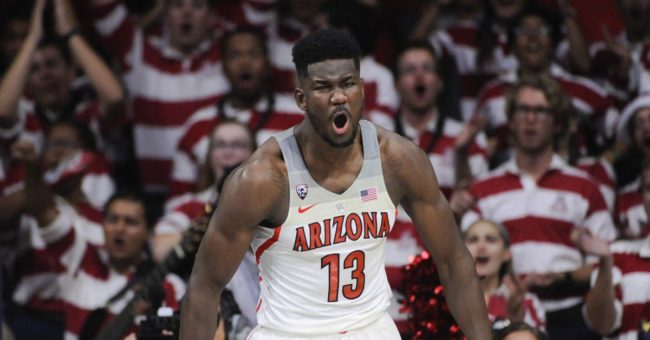 All eyes are on the basketball world now. The 2018 NBA mock draft season is beginning and college basketball is all over prime-time. At this point in the season, though, the top prospects are well-defined and will not change a whole lot.
There is not much change at the top here from our first 2018 NBA mock draft. The late teens and on is where you predict gems and find out where the real value is. These are the guys that keep changing. Who will be that late round steal this year?
It is important to, once again, preface this mock draft by explaining my positional categories. I have not classified the prospects by traditional positions due to the evolution of the game. Instead, I categorized the players into five, more modern, positional roles: Lead guard, combo guard, wing, combo forward, and big.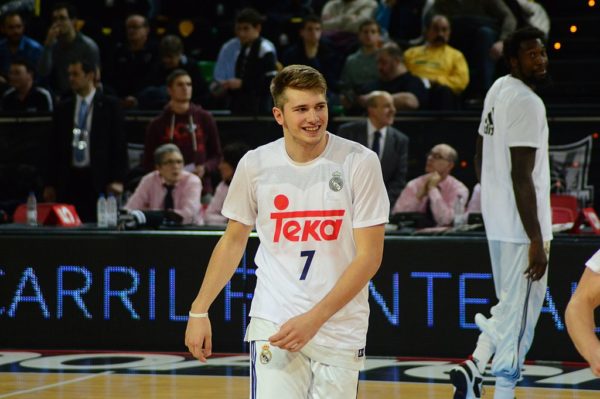 1) Luka Doncic: Real Madrid- Wing
Doncic remains at the top, and it will be a tough task to dethrone him. Doncic is the do-it-all guy with the versatility to be a true franchise centerpiece.
2) DeAndre Ayton: Arizona- Big
DeAndre Ayton is arguably the best post player in the country with an array of scoring tools. His footwork and strength offer incredible upside. Add in the fact that he has legitimate shooting range and you get the most offensively complete big in this draft. While there is still much to be desired on defense, Ayton has shown improvement as the season has progressed.
3) Mohamed Bamba: Texas- Big
Mohamed Bamba remains the best defensive paint presence in college hoops. His insane 7-foot-9 wingspan allow him to alter almost any shot that comes near the paint. Bamba is also showing consistent high-level offense, solidifying him as a truly elite prospect rather than simply a physical project.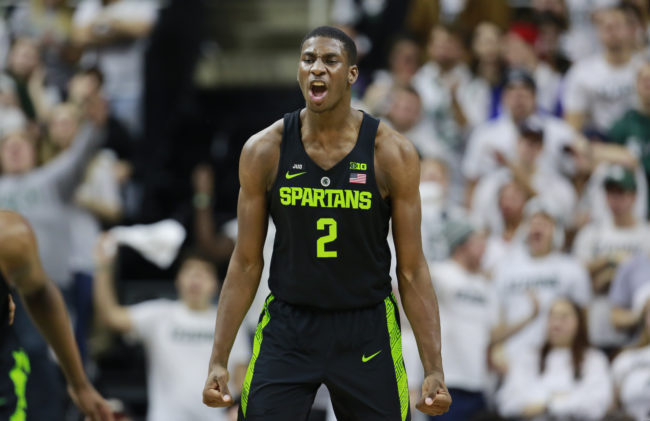 4) Jaren Jackson Jr: Michigan State- Big
Jaren Jackson remains the most underappreciated player of the top ten. The freshman is one of the better post players in the country, showing the ability to use his long arms to get shots up over either shoulder. He also ranks in the 85th percentile in the country for jump shooting, with an adjusted field goal percentage of 57.1% via Synergy. Oh, and he averages 5.9 blocks per 40 minutes.
5) Marvin Bagley III: Duke- Big
Bagley, the most revered prospect in the 2018 NBA Draft, remains at 5th. The Duke star has not improved much as of late but remains consistently productive. His finishing at the rim is tremendous, and he has shown that his jumpshot can be a real weapon. He'll have to improve on defense if he wants to jump any higher.
6) Michael Porter Jr: Missouri- Wing
Michael Porter Jr is yet to play a game this season due to injury, but that may change. Though, Porter recently said that he may return this season. Porter is a three-level scorer who will have to show it, should he return. If he can show high-level defense on both forward positions, Porter will shoot up NBA boards.
7) Mikal Bridges: Villanova- Wing
Mikal Bridges is the first change to this 2018 NBA Mock Draft from the last. Bridges is the dream 3-and-D archetype that NBA teams crave on their wings. He is showing more and more, though, that he can put the ball on the floor and score in that way. It remains to be seen how consistent this will be, but having that extra dimension to his game would be a game-changer.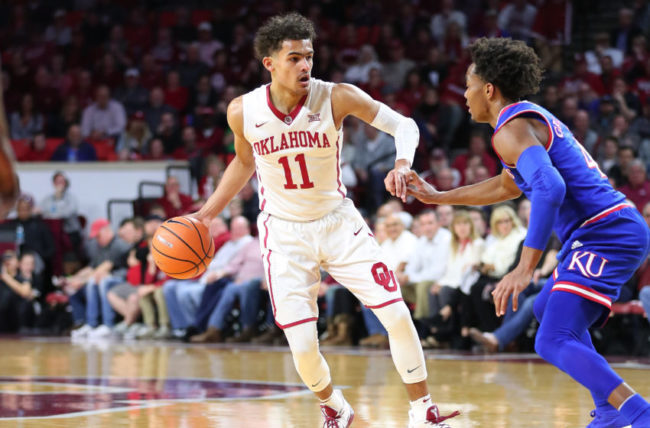 8) Trae Young: Oklahoma- Lead Guard
Trae Young is the most entertaining player in the nation. His ability to shit shots off the dribble from incredibly deep has captivated viewers nationwide. Not to mention he has tremndous passer vision. Sometimes, though, he gets reckless. Young has 5 or more turnover is 12 of his last 13 games. His issues on defense speak for themselves, but it remains to be seen how much of that can be attributed to offensive workload.
9) Wendell Carter Jr: Duke- Big
Wendell Carter is often forgotten about when people think of Duke. Make no mistake, Carter is an elite prospect. Carter is an offensive machine who possesses a budding defensive game with his 7-foot-3 wingspan. The Duke freshman has posted 3 or more blocks in 5 of his last 8 games. Carter is also an incredible jump shooter, as he averages 1.324 points per possession on such plays with an adjusted field goal percentage of 66.2% for all jump shots.
10) Collin Sexton: Alabama- Lead Guard
Collin Sexton has not had the stardom and production that some may have hoped. Despite this, Sexton is still showing positive signs and his intensity is unmatched. Sexton is near unstoppable when attacking the rim, but will need to improve his vision in such situations. Defensively, Sexton is a pest who has made life miserable for players such as Trae Young.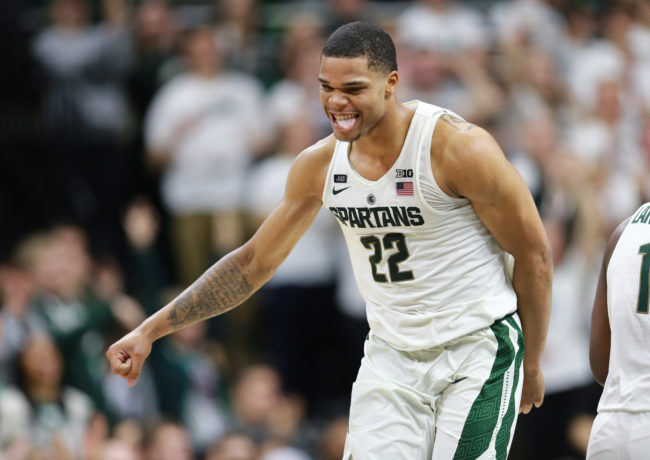 11) Miles Bridges: Michigan State- Combo Forward
Bridges is having an odd year in terms of draft stock. He has been terrific, and is showing many things that scouts have wanted to see. The issue is that he has primarily been playing small forward this year, rather than as the power forward. Th questions remain over his positional fit at the next level on both offense and defense.
12) Lonnie Walker IV: Miami- Wing
Lonnie Walker continues his big return from early-season injury. Apart from an unusually bad game against Boston College, Walker has been lighting it up for the Hurricanes. As long as Walker continues to show high-level two-way prowess, expect him to be in the lottery of any 2018 NBA mock draft.
13) Kevin Knox: Kentucky- Combo Forward
Kevin Knox is extremely up-and-down, even for a freshman. For example, he scored 34 points against West Virginia, then went for 5 points one week later. Knox, too, has positional questions at the NBA level about whether or not he will play on the wing or as a 4-man. His lackluster 3-point shot will limit him in either role.
14) Troy Brown Jr: Oregon- Wing
Troy Brown Jr rounds out the 2018 NBA mock draft lottery yet again. Brown is a swiss-army knife of a player who can do a little bit of everything. He has point guard skills but will play on the wing in the NBA. The biggest key for him will be his 3-point shot. Just under 33% right now, if he can't improve on that, he will find a tough time scoring at the next level.
15) Bruce Brown Jr: Miami- Lead Guard
Bruce Brown Jr had foot surgery and is out for likely the rest of the regular season. Brown isn't having as good of a year as many expected but has still shown flashes and the ability to be an all-around elite prospect. His prospective defense as a lead guard in the NBA is worth the needed offensive development.
16) Rob Williams: Texas A&M- Big
The enormous Rob Williams is quietly having a solid season, although it is not the season many expected. Williams is averaging a near double-double with over 2 blocks per game. He hasn't developed his touch around the rim or any shooting range, so that will keep him from moving up very far.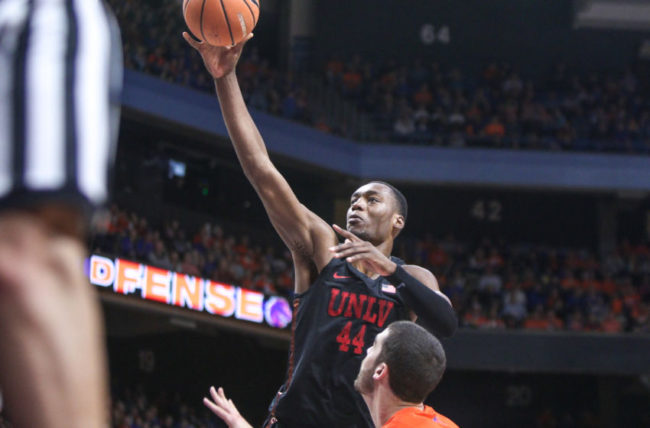 17) Brandon McCoy: UNLV- Big
McCoy is another raw big man who offers top 20 upside. McCoy is just a rim diver and rim protector still, but his additional work on the boards make him worth consideration here. He has the physical tools to be an elite paint presence but will need to develop a higher in-game IQ.
18) Shai Gilgeous-Alexander: Kentucky- Lead Guard
The biggest riser not named Trae Young is Gilgeous-Alexander. The lanky point guard has proven to be a quality point of attack defender while flashing improved passing vision. His next step will be shooting 3-pointers at a higher volume and better percentage, but his upside is too much to ignore.
19) Landry Shamet: Wichita State- Lead Guard
Landry Shamet has cooled after a blazing start but remains in the 20 range for the 2018 NBA mock draft. Despite this cooling, Shamet is still shooting over 45% from deep on almost 6 attempts per game. The 6'4 lead guard also possesses defensive ability that scouts will fall in love with.
20) Chandler Hutchison: Boise State- Wing
Hutchison is a player who keeps rising. The senior wing shows terrific IQ and a serious knack for scoring. His long arms also allow him to be a quality defender. While he doesn't get into these situations often, Hutchison is one of the better ISO scorers in the country with an average of 1 point per possession and an adjusted field goal percentage of 61.5% in ISO situations via Synergy.
21) Daniel Gafford: Arkansas- Big
Daniel Gafford, like Gilgeous-Alexander, is a freshman who has risen from virtual unknown to legitimate first-round talent. Gafford is still incredibly raw, though. He projects as a rim diver and rim protector at the moment but has shown some flashes of being able to put the ball on the ground. With few high-upside candidates left as we get into the twenties, Gafford will be very appealing.
22) Mitchell Robinson: N/A- Big
Mitchell Robinson, who opted out of playing in college is yet another raw, high upside big. Robinson is an incredible athlete at 7-foot-1. His combine performance and measurements could skyrocket him up 2018 NBA mock drafts.
23) Dzanan Musa: Cedevita- Wing
Musa offers a great option as a long-term project. He has the tools to develop into a big-time contributor but also has a floor that will allow him to contribute quickly as a bench scorer. Musa is one of the younger players in the class, so look for him to be an upside option in the 20s.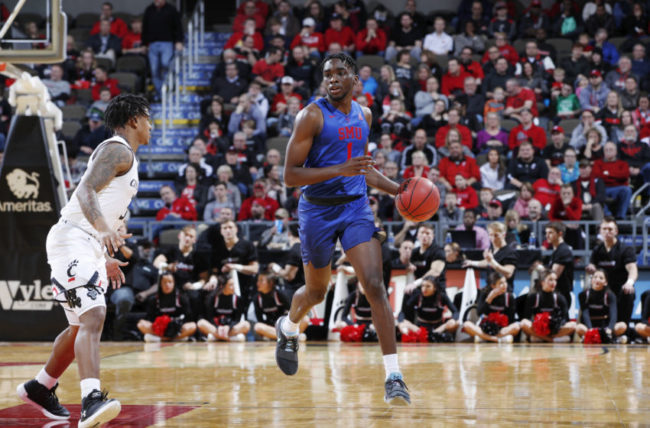 24) Shake Milton: SMU- Lead Guard
Milton remains right at 24 in the 2018 NBA mock draft. The 6-foot-6 lead guard is shooting 43% from deep on the season. Milton hasn't played in February though, as he has missed time due to a hand injury.
25) Khyri Thomas: Creighton- Combo Guard
Thomas is a tremendous two-way player who could be a serious steal for a late first-round team- if they can use him right. His size and skill-set make him somewhat awkward positionally. Too small to be a traditional 2-guard but his skillset is not that of a lead guard. Thomas is in the 92nd percentile in the nation in spot-up possessions, averaging 1.229 points per possession via Synergy. Defensively, he is a bulldog, but he may be forced to guard point guards.
26) Jacob Evans: Cincinnati- Wing
Jacob Evans is an elite 3-point shooter, making the deep shots at a 40% rate. The 6-foot-6 wing player can also defend all guard positions as well as wing players. Evans is another high-floor player will be available for the playoff teams who could use a valuable two-way depth option. The addition of a shot creation game would be a major asset to his skillset.
27) Chimezie Metu: USC- Big
Metu has gotten lost in the midst of USC's collapse. The versatile forward has showed some regression from last year but is still viewed as a prospect with solid upside. The final stretch of the season will be absolutely vital for saving his draft stock.
28) Hamidou Diallo: Kentucky- Wing
Hamidou Diallo is another guy with a descending draft stock. Diallo has really struggled to be a consistent scorer and find his own shots. Even on defense, a point of high upside for Diallo, he has been shaky and inconsistent. His measurables will always be a plus for him, but he will need to show that he can turn that into legit production.
29) Grayson Allen: Duke- Wing
Yet another player with draft stock that is trending the wrong way. Many will argue for Allen dropping out of the first round totally, but it is still well-known that Allen can be a top notch scorer. Finding consistency will be key, but he is a polished player who can help a good team as a low usage role player.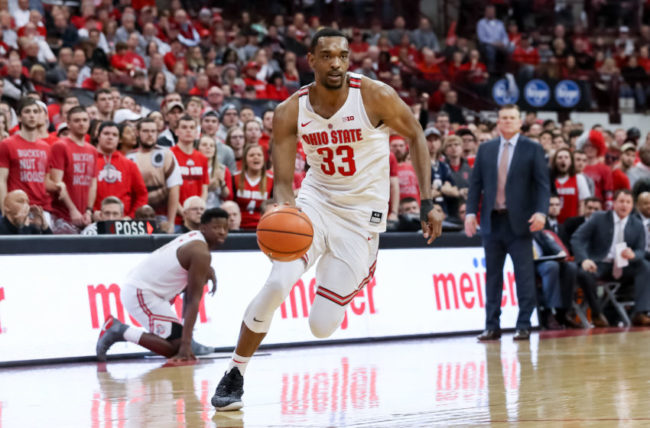 30) Keita Bates-Diop: Ohio State- Wing
With Duval dropping out, Keita Bates-Diop comes in to round out the 2018 NBA mock draft. The 6-foot-7 wing has been crucial to Ohio State's surprise year so far. Bates-Diop is the only player in a major conference who has an AST% of 10 of more, a TRB% of 16 or more, while also scoring over 500 points on the season. This sort of versatility is a hot commodity in the NBA. If he can consistently hit from beyond the arc, he could be a real steal here.