Robert Williams is NBA lottery talent that has gone a bit under the radar in the 2018 NBA Draft. As a Sophomore, Williams averaged 10.4 points per game, 9.2 rebounds and 2.6 blocks for a Texas A&M team that made an unexpected Sweet 16 run in the NCAA tournament. Williams played a large part in the Aggies getting hot late in the regular season. Texas A&M was the SEC tournament runner-up and earned a birth to the Sweet 16 with a dismantling win over college hoops blueblood, UNC. He played out of position at power forward this season as teammate Tyler Davis manned the center spot, forming a nearly unstoppable duo in the frontcourt.
Athleticism
Williams is a very athletic 6'9" frontcourt player with a strong 240 lbs frame. His size and skills lead themselves to be a very effective center in the modern NBA. Despite being on the shorter side for being an ideal NBA center, Williams possesses a 7'6″ wingspan that allows him to defend taller players. He's a high riser that can finish at the basket with authority and runs the floor well for a player his size. He also possesses a strong rebounding prowess at both ends of the floor averaging 2.4 offensive rebounds and 6.9 defensive rebounds which was good for tops in the SEC. Flashes of face-up ability and a blossoming pick, and roll game, Williams is an enticing pick for some defensively challenged teams.
Defense
The two time SEC Defensive Player of The Year, Williams averaged 2.6 blocks, which was good for second best in the SEC. He had a season-high five blocks against South Carolina had four blocks in games against USC, Florida, Kansas, Kentucky, Mississippi State and Prairie View A&M. William's superior length and vertical have helped him anticipate shots and gives him an edge over most players, despite his height. Has strong ability to switch onto defenders and can guard multiple spots on the floor.
Weaknesses
Despite being insanely athletic, he has the tendency to not play with full energy. Often times Williams disappeared into games and let his teammates pick up the slack. He has average shooting mechanics and hasn't developed an outside shot in the two years he was at A&M. William's physical game can allow him to get to the line at a high rate, but he only shot 47% from the stripe. Williams will need to improve his shot mechanics considerably, otherwise, defenders will slack off of him on the defensive end.
NBA Comparison: Clint Capela/Montrezl Harrell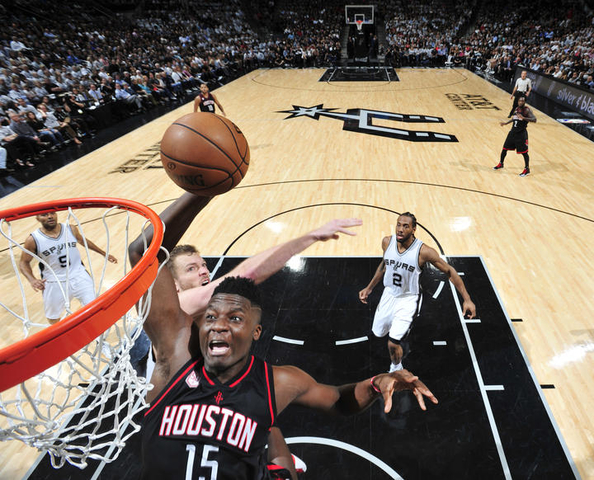 Williams is such an intriguing prospect because he fits the trend of NBA 5s being able to rebound and finish while running the floor well. Athletically, he fits in perfectly in the NBA, but there are going to be questions on whether we'll get the Robert Williams who closed out the SEC Tournament and NCAA tournament on a high note or the Robert Williams who struggled during A&M's midseason slump. Williams has the talent to play like Clint Capela from the Rockets and possesses athleticism similar to the Clipper's Montrezl Harrell. Williams is far from a finished product, but if he lands in the right situation, he'll be able to grow for a few years before he can be an effective NBA starter.