Mitchell Robinson has been a mysterious prospect and a topic of some controversy over the last year. No one knows much about Robinson and how he projects at the next level. His decision to withdraw from the NBA Combine shortly before it began hints that he may be using the mystery to help himself. Already a projected first-round pick, he is in a safe place. As a matter of fact, it is rumored that the Los Angeles Lakers gave him a promise that he would not slip past them with the 26th pick.
Robinson initially committed to play for Western Kentucky, but it never came to fruition. After arriving on campus, Robinson left the squad- only to return again and train with the team. Many believe that he initially left due to his godfather leaving the program last summer. Upon his return, things seemed normal for a couple of weeks until he decided to leave the program for good in September. This saga caused immediate questions about his potential eligibility (or lack thereof) as well as regarding his maturity.
Physical Profile
Mitchell Robinson possesses the ideal body type and athleticism pairing that is desired for NBA centers. At 7-foot-1 with a 7-foot-4 wingspan, it is easy to see the immediate appeal. While he is still quite skinny, Robinson has broad shoulders and a frame that looks like there is room to fill out. With NBA trainers, this should not be much of an issue. Not only are his arms long, but his legs look extremely long, as he recently showed off his ability to reach the basket from past half court while only dribbling the ball once. His stride length and ability to cover ground quickly hints that he could be an elite defender.
In combination with his height and length, Robinson is a terrific athlete. He has quick feet, allowing him to rotate over from the weak side in help defense situations. His quick feet also seem to translate on offense, too. He has a solid handle for his size and looks shifty with the ball in his hands. While he is not on the level of Joel Embiid, he has some ability to put the ball on the floor and create for himself- though it remains to be seen how well he can do it at a higher level. For his size, Robinson is also explosive as an athlete. Unfortunately, we do not have an official vertical measurement but he has always shown an ability to leap high and play well above the rim.
Valuable Skillset
It is clear that Robinson's physical is ideal for a modern-day center. His skillset, though, is also primed for some immediate impact in the NBA. Currently, Robinson projects as a rim-protector defensively and a rim-diver on the other end of the floor. His length and elite athleticism will allow him to burst down the lane off of screens. As a roll man in pick-N-roll situations, he will cause serious problems for opposing defenses.
In addition to his high-level rim diving potential, Robinson does possess the shiftiness and handle to become a productive creator on offense. Having that type of potential forces defenses to respect you further from the basket. We have seen the league shift towards more of a 4-on-the-perimeter with a rim-runner in pick-N-roll possessions. Not different from Clint Capela in Houston or Javale McGee in Golden State, Mitchell Robinson could find that niche and thrive in the right situation.
Weaknesses
The first weakness that pops out is his overall lack of polish on offense. At the moment, he simply relies on his athleticism to produce for him. We never got to see him in a legitimate offense, which only exacerbated the concerns over his ability to create his own offense. He has never shown much ability in the paint to have go-to moves nor have we seen advanced footwork from him. On top of that, he will likely need to improve his shooting mechanics- as his release often looks lower than it should be and is sometimes out in front of him. If he is simply one-dimensional as a rim-diver, his upside will certainly be capped.
Another weakness for Robinson involves the questions about his maturity. After the debacle at Western Kentucky last summer concerns leaked out regarding how Robinson handled the situation. Some believe he simply wasn't ready for college while others believe that he communicated poorly with the team from the moment he arrived on campus. This is not a good sign for a teenager who is about to be out in a professional organization. His total silence since September is also interesting, in that he never decided to clear the air about what exactly happened.
Player Comparison
Hassan Whiteside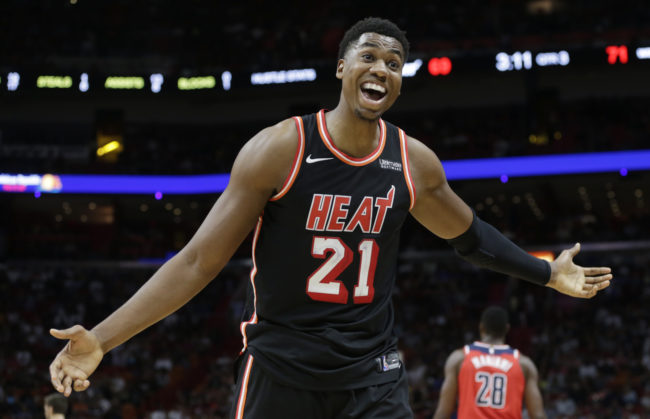 Mitchell Robinson is similar to Heat center Hassan Whiteside on and off the court. Both players are uber-athletic centers that offer elite rim-protecting potential. While Whiteside's wingspan is longer, he was also viewed as a very raw prospect with questions about offensive upside. Robinson, like Whiteside, will need a couple of years to grow into himself as a player in the NBA.
Robinson has the potential to become better-tooled offensively than Whiteside due to his quickness and ball-handling ability. He will also need to bulk up, as his NBA counterpart did, in order to physically compete every night in the NBA. A problem area is the overall lack of maturity that we have seen from both players. We can hope that Robinson will break that reputation, though Whiteside still struggles with such issues today.
Overall, if Robinson can take a Whiteside-like skillset and gear it more towards modern-day needs, he can have a long, productive career.