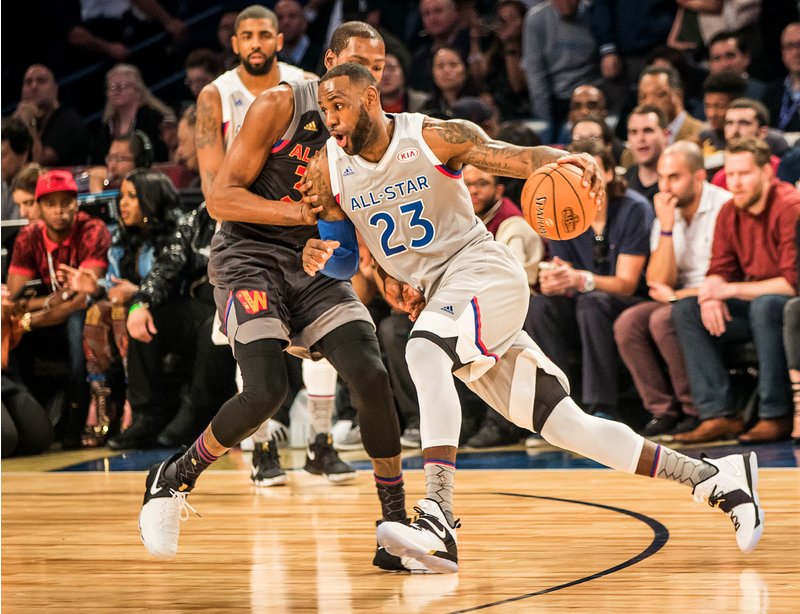 The 2018 NBA All-Star game is quickly approaching. On Thursday, the NBA will announce captains for the All-Star teams. With that date looming, some of the Def Pen team has decided to put together our collaborative All-Star rosters. With the new All-Star format, the captains get to pick their teams. We didn't account for that part; we just selected the players who most deserve to be All-Stars.
Voters: David Morrow, Saahil Pawar, Jackson Frank, Aaron Johnson, Tony East, Daniel Richardson and Zack Geoghegan
Tie-breaker: JD Shaw
G = Guard, F = Forward/Center, WC = Wild Card, U = Unanimous Selection.
2018 NBA All-Star Game
Eastern Conference Roster
Starters
G – Kyrie Irving (U)
G – DeMar DeRozan (U)
F – LeBron James (U)
F – Giannis Antetokounmpo (U)
F – Joel Embiid (U)
Bench
G – Victor Oladipo (U)
G – Bradley Beal
F – Kristaps Porzingis (U)
F – Al Horford
F – Kevin Love
WC – John Wall
WC – Andre Drummond
Honorable mentions
Kyle Lowry, Ben Simmons, Tobias Harris, Kemba Walker, Jayson Tatum, Goran Dragic
Western Conference Roster
Starters
G – Stephen Curry (U)
G – James Harden (U)
F – Kevin Durant (U)
F – Anthony Davis (U)
F – DeMarcus Cousins (U)
Bench
G – Russell Westbrook (U)
G – Damian Lillard
F – Jimmy Butler (U)
F – LaMarcus Aldridge
F – Karl-Anthony Towns
WC – Chris Paul
WC – Paul George
Honorable mentions
Draymond Green, Klay Thompson, Blake Griffin
Some of our writers feel very strongly about some of the choices they made. Here are their arguments:
 Aaron Johnson makes the case for Andre Drummond:
Andre Drummond's resurgence and development have been crucial for the Pistons' turnaround season that has recently taken a turn for the worse with Reggie Jackson suffering an ankle sprain. Drummond is the only player besides DeMarcus Cousins to score 20 points, secure 20 rebounds and dish out five assists in a game. He has done that three times this season. Drummond has taken the vital next step in his development and because of that, he has realigned the path of the Pistons' franchise
David Morrow makes the case for Al Horford:
Al Horford is 100 percent an All-Star. Kyrie Irving has the flash and the points-per-game average, so he gets the majority of the credit. But Horford is the Celtics' leader – the engine that makes the team run. He's one of the most versatile players in the NBA. He can face up and hit 3-pointers, he plays good defense, he knows where to be on the floor, and man can he pass. Horford leads his team – and all NBA centers – in assists per game, with 5.3. He's also shooting 51.9 percent from the field and 42 percent from 3-point range; he's been a model of efficiency. He's ninth in the NBA in plus-minus, among players who have played 10 or more games, at plus-6.8. Horford is one of the better players on both ends of the floor in the NBA, and he remains criminally underrated.
Daniel Richardson makes the case for Russell Westbrook:
As the reigning league MVP, it would absolutely ridiculous to leave Russell Westbrook out of the All-Star game. The Thunder have had a disappointing year as they've tried to integrate Paul George and Carmelo Anthony. Over the last 15 games, however, Westbrook is shooting over 50 percent from the field, grabbing over 10 rebounds, and dishing out a hair under 10 assists (9.9) per game. His 2.1 steals per game are paramount to a top four-rated defense in the league.
Saahil Pawar makes the case for Jimmy Butler:
Currently 10th in the second returns of the fan voting for Western Conference guards behind the likes of Lonzo Ball and Devin Booker, Jimmy Butler has flown largely under the radar as a legit MVP candidate through the first half of the season. He's been the engine for this solid 29-16 Minnesota squad and has found his niche on the wing as a stellar all-around player. Butler's defense has been stifling as usual, and while the Marquette product has seen a slight dip in his scoring average thanks to the likes of Andrew Wiggins and Karl-Anthony Towns, his field goal percentage has increased on fewer shot attempts. No longer the lone offensive threat on his team, Butler has seen his usage dip slightly, but his production remains as top-flight as ever and he is certainly deserving of a fourth-straight All-Star berth with his T-Wolves playing at a high level.
Tony East makes the case for Paul George: 
My most controversial pick here is probably Thunder wing Paul George. While it is correct to look at Paul George's stats and deem them "down" from last year, I think he has been just as good and has earned his slot on the All-Star team. He's scoring over 20 points per game despite ranking third in usage rate among his teammates for much of the season (though he recently passed Carmelo Anthony). He's second on OKC in assists, he's pulling down 5.5 rebounds per game, he's hitting 43 percent of his 3-pointers, and he's doing all the while being a Defensive Player of the Year candidate.
He leads the league is steals and deflections and he shuts down his matchup every night. The fact that he's able to be so productive on offense while exerting so much effort on defense is why Paul George got my final All-Star slot.