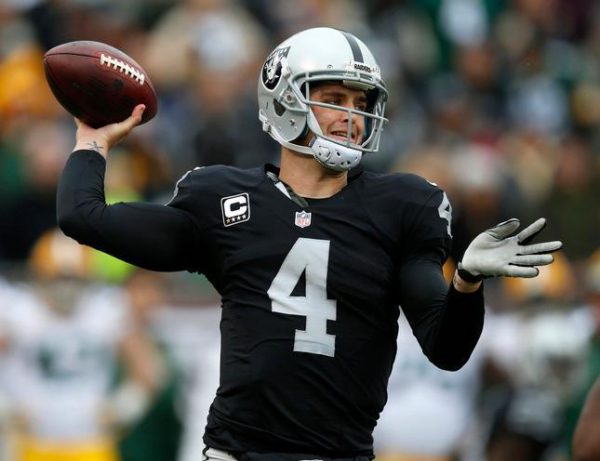 Week 9 of the 2016 NFL season is set to begin. This week the Arizona, Chicago, Cincinnati, Houston, New England, and Washington sit idle on bye weeks. For the other 26 teams I will now attempt to pick the winners of each game based off of the spreads. If you agree of disagree tweet at me @treydaubert to let me know where I'm wrong for my NFL week one predictions. *All spreads are courtesy of oddsshark.com
Thursday Night: Falcons At Buccaneers (TB +4)
I like Tampa Bay in this one. Both teams are coming off of grueling shootouts as I'm guessing there may be some fatigue heading into Thursday night. Two talented backs Jacquizz Rodgers and Tevin Coleman will miss the game due to the short layoff. (Boy do I hate Thursday Night Football!). A divisional game that Tampa Bay seemingly needs to have to remain in the race is too tempting to pass on. Go with the Bucs here.
Bucs defeat Falcons 35-28
Sunday 1 ET: Jaguars At Chiefs (JAC +7)
Nick Foles will be filling in for Alex Smith in this one that could spell trouble for the Chiefs. Jamaal Charles was also placed on IR in what was a hectic week for Kansas City. On the other side Jacksonville has had extra time to prepare after playing last Thursday. Are we foreshadowing an upset? Even if Jacksonville doesn't pull off the upset getting 7 points is too appealing to me. Does Nick Foles beat anyone by more than a touchdown? Jacksonville's defense is under rated featuring two young superstars in Telvin Smith and Jalen Ramsey. Chiefs win but the game turns out to be closer than people think.
Chiefs defeat Jaguars 20-17
Sunday 1 ET: Jets At Dolphins (NYJ +3.5)
The Jets didn't put up a great showing last week defeating the Browns by 3. Miami will be coming off a bye week but, to be completely honest this game could realistically go either way. Both teams are constructed similarly. Both teams make an effort to run the ball while also investing heavily on defensive lineman. I lean slightly towards the Dolphins at this point. Running back Jay Ajayi is coming off of back to back 200 yard rushing performances. The momentum seems to be with Miami.
Dolphins defeat Jets 24-14
Sunday 1 ET: Eagles At Giants (PHI +2.5)
Divisional games are tough to call. Both teams come in at 4-3 and figure to be contenders for an NFC Wildcard berth. I like the Eagles in this one. I wouldn't touch this game but the Eagles seem to be the more consistent team. Philly ranks 2nd in scoring differential and has an impressive 31 point win over Pittsburgh. I can't say anything remotely impressive on the Giants resume besides for a one point win over Dallas week one.
Eagles defeat Giants 21-17
Sunday 1 ET: Cowboys At Browns (CLE +7)
I think this line should be much higher than 7. Dallas currently sits atop the NFC East at 6-1 and are viable Super Bowl contenders. Dak Prescott is also playing for his job and has no intentions of putting up a mediocre showing in Cleveland. Dallas wins big.
Cowboys defeat Browns 28-6
Sunday 1 ET: Steelers At Ravens (PIT +2.5)
This line caught me by surprise. Even though Big Ben probably won't play, there is no question that Pittsburgh has the better roster. Baltimore has lost 4 straight games, maybe they are due. Pittsburgh didn't play terrible with Landry Jones against the Patriots but the Ravens feature a better pass rush with Terrell Suggs and co. The Ravens take it in a close one.
Ravens defeat Steelers 16-13
Sunday 1 ET: Lions At Vikings (DET +6)
The Vikings are going through a surprising coordinator change after Norv Turner resigned. This absolutely will have a negative effect on Sam Bradford who surprisingly hasn't been terrible this season. The Vikings haven't been the same after defenses no longer have to focus their attention on Adrian Peterson. I like the Lions in this one. Say what you want about Detroit but their offense has been explosive at times. Minnesota will likely slow that down but how many points will they score?
Lions defeat Vikings 24-10
Sunday 4:05 ET: Saints At 49ers (SF +4)
Saints only giving up 4? Sounds like an easy pick right? Wrong, the 49ers after losing 6 straight games find a way to top the Saints. New Orleans is coming off an emotional win over Seattle are set to have a let down. 49ers quarterback Colin Kaepernick is now set to start his 3rd straight game and should look more comfortable following a bye week. Chip Kelly given time to prepare is usually a winner. Let's face it the Saints defense ranks near the bottom of the NFL in every category as well.
49ers defeat Saints 27-21
Sunday 4:05 ET: Panthers At Rams (LA +3)
This just seems like the time that Carolina really starts putting things together. Sure Cam Newton won't stop complaining about the officiating but, this team is better than people realize. After a big win over Arizona last week, look for them to make it two in a row over an average Rams team. Following the loss do the Rams go to Jared Goff?
Panthers defeat Rams 34-17
Sunday 4:25 ET: Titans At Chargers (TEN +4)
I have the Chargers in this one for a couple reasons. For starters Ken Wisenhunt, San Diego's offensive coordinator, was the previous Titans head coach last season. He knows the Titans better than anyone. San Diego also ranks 3rd in points per game (28.1). Defensively they have been better since Joey Bosa started to make an impact. There is a reason this line is set at 4. Don't be surprised if the Chargers win by a comfy margin.
Chargers defeat Titans 30-16
Sunday 4:25 ET: Colts At Packers (IND +7)
I don't even know where to start with this game. Both teams classify more as pretenders rather than contenders. Both teams have franchise quarterbacks but not a whole lot else. Indianapolis getting 7 points is good enough for me. Green Bay hasn't shown me the ability to dominate a game yet. Why will this one be any different. Andrew Luck and the Colts still have their moments offensively. Both teams are near the bottom of the NFL in yards per play showing that this game will likely be ugly. Packers win a tight one at home.
Packers defeat Colts 23-18
Sunday Night: Denver At Oakland (DEN +1.5)
The Raiders and Broncos are currently tied for first place in the AFC West. Before the season began I predicted Oakland would win that division. I have to take the Raiders. Derek Carr in my opinion is the MVP thus far and deserves a ton of credit for simply changing the culture in Oakland. I don't like how sloppy they play sometimes breaking in NFL record in accepted penalties a week ago but, there is something special happening in Oakland. Trevor Siemain playing in prime time with first place on the line just doesn't sound right to me. Raiders win and demonstrate control of the league's toughest division.
Raiders defeat Broncos 24-13
Monday Night: Bills At Seahawks (BUF +6.5)
Normally I don't like giving up this many points but Seattle is my pick here. The Seahawks needed a wake up call after losing to the Saints last week. Russell Wilson probably isn't 100 percent but we all know how tough Seattle is to beat at home. After being embarrassed by the Patriots, I can't see Buffalo putting up much of a fight against the Seahawks either.
Seahawks defeat Bills 28-9