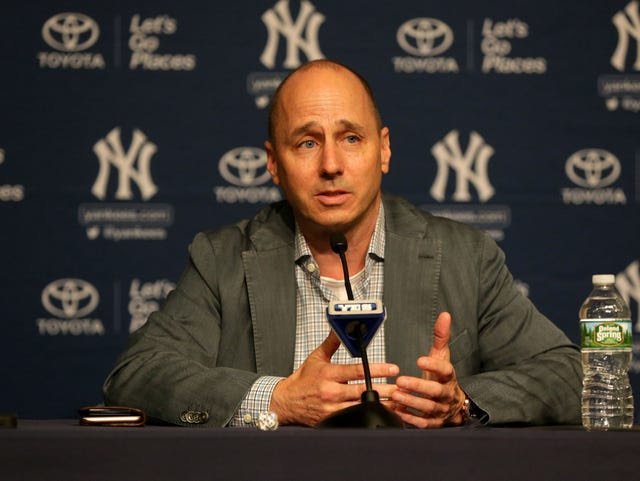 The New York Yankees recently were defeated by the Houston Astros, who advanced to the 2019 World Series to face the Washington Nationals. In the wake of the Yankees season-ending, General Manager Brian Cashman has announced that three players have undergone or will undergo surgery over the course of the offseason. He also went on to list their expected timetables for return; the three players were Aaron Hicks, Luke Voit, and Masahiro Tanaka. MLB dot com writer Bryan Hoch relayed the details on twitter after the press conference with Cashman.
#Yankees injury updates from Brian Cashman:

Masahiro Tanaka had arthroscopic surgery to remove a bone spur in his pitching elbow.

Luke Voit had surgery to address bilateral core muscle injuries.

Aaron Hicks will have Tommy John surgery on Oct. 30. Rehab 8-10 months.

— Bryan Hoch (@BryanHoch) October 24, 2019
Masahiro Tanaka (SP):
Tanaka's 2019 season ends with him going under the knife for arthroscopic surgery to remove bone spurs in his elbow. Anything arm/elbow related for a pitcher is never good, but this surgery leaves Tanaka sidelined only until Spring Training. It is expected that Tanaka will be able to return for Spring Training for the Yankees in 2020. In thirty-two starts in 2019 for the Yankees, Tanaka posted an 11-9 record with a 4.45 ERA, 1.24 WHIP, and 149 punchouts over 182 innings pitched.
Luke Voit (INF):
The 2019 season treated Voit to a sports hernia that limited his season a little bit, still appearing in 118 games. This offseason, though, Voit will undergo surgery to repair core muscle injuries that will not keep him off the field next season. The timetable for his return is scheduled to have him back before the start of 2020 Yankees Spring Training. In his 118 games in 2019, Voit managed a .263/.464/.378 slash line with 21 home runs and 62 RBI for the Yankees.
Aaron Hicks (OF):
After an injury in the 2019 postseason, Hicks is going to be spending some time on the shelf. The initial diagnosis was less severe, as Hicks thought he did not need surgery when he did need surgery. Hicks will undergo Tommy John Surgery for his elbow injury that was sustained in the 2019 ALCS. As it stands now, his surgery is scheduled for October 30th, keeping him out for the following eight to ten months to allow for full rehabilitation. In 2019, Hicks played in 59 games for the Yankees, accruing a .235/.443/.325 slash line with 12 home runs and 36 RBI.
Besides these three injuries, the Yankees offseason also means the official departure of CC Sabathia. After an injury in the ALCS, Sabathia has called it a career, calling it "fitting" that he "threw until I couldn't throw any more" for the Yankees. Cashman held a press conference to relay all of the injuries, dodging questions on closer Aroldis Chapman's contract option situation. Cashman also said that the coaching staff has not all been welcome back yet since he and Aaron Boone have not sat down to talk about anything yet.