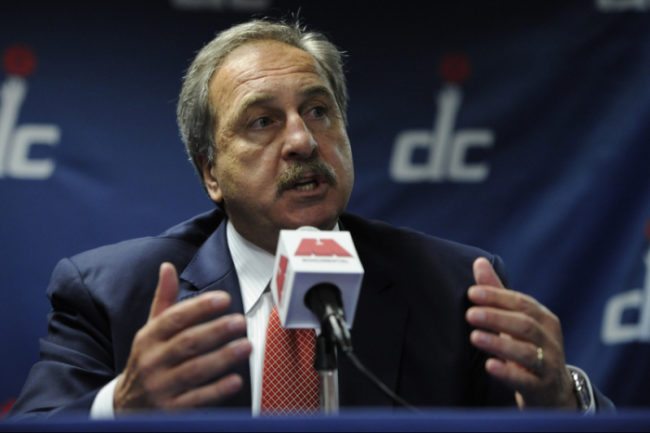 The Washington Wizards have relieved team president Ernie Grunfeld of his duties today after nearly 16 seasons with the team, the team announced on Tuesday:
Official: We have relieved Ernie Grunfeld of his duties as Team President.https://t.co/a811eQj4Ws

— Washington Wizards (@WashWizards) April 2, 2019

Washington has underperformed yet again after bringing Grunfeld back on a contract extension and having expectations of another playoff appearance this season. At just 32-46 currently, the Wizards sit near the bottom of the Eastern Conference and have basically already been eliminated from postseason contention, as the Orlando Magic and Miami Heat have created a sizable gap between themselves and the Wizards in the standings.
Grunfield failed to lead the Wizards to over 50 wins in his time as president, yet only four executives have held the position as long as Grunfeld had, each of whom has experienced much more team success during their respective tenures. Dallas' Donnie Nelson, Boston's Danny Ainge, Miami's Pat Riley, and San Antonio's R.C. Buford have each won at least one championship during their time as team president, a stark contrast from what Grunfeld accomplished.
In a statement, majority owner Ted Leonsis emphasized the team's recent losing ways as the deciding factor to relieve Grunfeld:
"We did not meet our stated goals of qualifying for the playoffs this season and, despite playing with injuries to several key players, we have a culture of accountability and a responsibility of managing to positive outcomes."

"I wish to thank Ernie for his service to the Washington Wizards. He and his family have been great leaders in our community and have worked tirelessly to make us a top NBA franchise."
Senior vice president of basketball operations Tommy Sheppard will handle basketball matters, reporting to Leonsis. This will precede a search for a new head of basketball operations in the offseason, which will include Sheppard as a candidate.