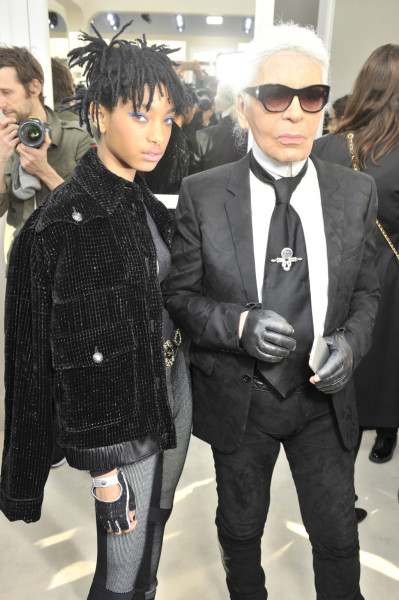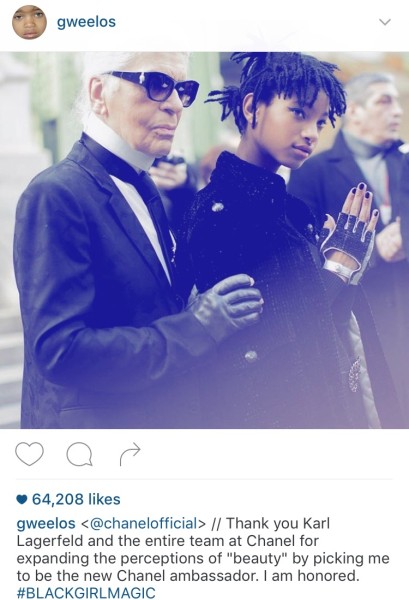 During Paris Fashion Week, Willow Smith announced on Instagram that she is the new face of French fashion house Chanel– CHANEL. Not only is she the youngest ambassador to have been brought onboard, but she's also the only black one. I researched this; I scoured the internet to find a single black woman who carried the duties as the face of Chanel. The closest I could find was Rihanna, who could've been an ambassador if Dior hadn't nabbed her first.
Not only is this news big for Willow, who is only 15, but it's pretty huge for Chanel. Will and Jada's kids are anything but your average teens. They are continuously on everyone's lips for being a little less conventional in how they express themselves. They proudly claim themselves as misfits. You have to admit they have a grand perspective on life. When a major fashion house like Chanel taps an individual like Willow Smith to represent the brand, it means that they are moving in a more innovative direction. Chanel is ready to tack on more to its identity. If this perpetuates the inclusion of black excellence in fashion, then I'm all for it. We all should be.
In an industry where black models are bringing their own makeup to shows because makeup artists are unprepared (for lack of better words), and where popular brands like H&M believe campaigns featuring solely white women evokes a more "positive image," Willow Smith being selected as the new face of Chanel is pretty damn groundbreaking. It's exciting for one of the most respected fashion pioneers to make such a bold move.
Following Willow Smith's Instagram.

Willow said, herself, in the caption of the photo announcing the news on Instagram, "Thank you Karl Lagerfeld and the entire team at Chanel for expanding the perceptions of "beauty" by picking me to be the new Chanel ambassador."
Tagging the photo with #BLACKGIRLMAGIC, Willow is well aware of what this means for the fashion community as well as Blacks in the industry. Here's hoping that this is a ripple leading to a wave of diversity in fashion.