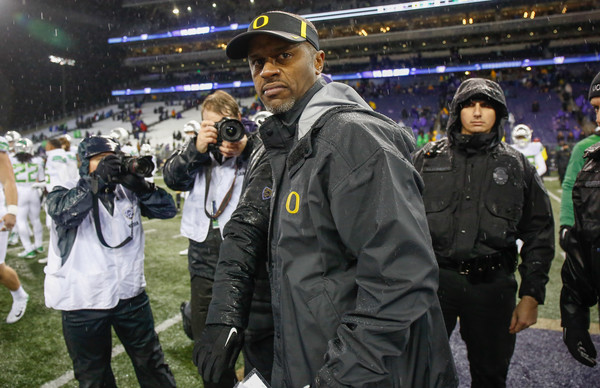 Oregon football head coach Willie Taggart is heading to Tallahassee.
It has been nearly a year since Oregon last needed a heach coach. Now, the Ducks are on the quest for a new head coach for their football team as Willie Taggart is heading to Florida State. Taggart has been at Oregon for only one season, with a result of a 7-5 record heading to the Las Vegas Bowl to play the Boise State Broncos.
With the recent departure of Jimbo Fisher to Texas A&M, the Seminoles were in desperate need of a new head coach. Taggart was the man for the job as he will owe a buyout of $4.5 million. Throughout his career, Taggart is accountable for his 47-50 overall coaching record throughout Western Kentucky and South Florida. Heading into Tallahassee, he looks to bring the Seminoles back on track after a disastrous 2017 season. The main problem with the season was the injury of star QB Deondre Francois. The team began ranked 3rd in the nation. With their talented roster, Taggart should be the perfect fit for head coach.
According to oregonlive.com, there is no timeline for the search, said Rob Mullens. He is the first head coach in 75 years to last only one single season in Oregon. Oregon Ducks recruit Elijah Winston didn't like the way that Taggart left the program, which was apparently without warning.
I didn't know it would've been handled so ugly. Respect the decision 100% but leaving us clueless was messed up.

— ?-Dub™? (@EWinston34) December 5, 2017
You cannot simply leave the program without any warning to the players, especially the recruits, who were willing to play for him. With this head coaching change, it could definitely lead to some de-commitments. Especially since this came out of the blue, in which Winston said "clueless," will most certainly lead to some head scratching. The Ducks are now on the hunt yet again for a head coach in Eugene.