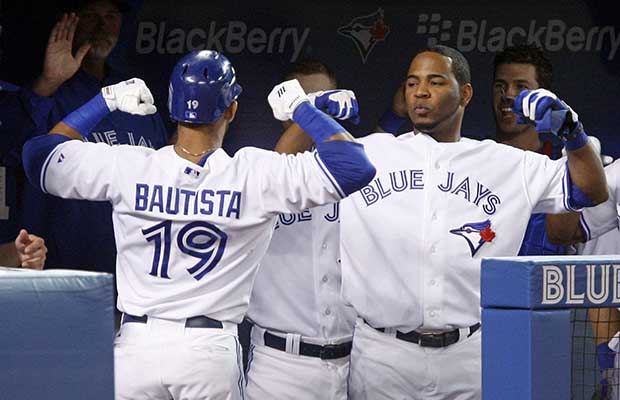 There were a lot of winners at the Trade Deadline this season, with a lot of big names changing teams and finding new homes. But to me, the biggest winners of the deadline were the Toronto Blue Jays. The same Blue Jays who hold a record of 55-52 and are currently 5 and a half games behind the New York Yankees for first place in the American League East. They have acquired two of the best players at their respective positions in shortstop Troy Tulowitzki, and a much needed ace starting pitcher in David Price, who made his debut against the Minnesota Twins yesterday and dominated. He threw eight innings, gave up just three hits, one run, and struck out 11 hitters. The Jays won the game 5-1. Price is now 8-0 in his career at the Rogers' Centre.
All I have to say is this: It will be an extremely interesting race down the stretch for the division. The Blue Jays cannot be overlooked because they have by far the best offense in the Major Leagues and now they've added a great pitcher in Price.
People make it seem like a 5 and a half game lead is impossible to overcome. There are still nearly two months left in the 2015 regular season. That is more than enough time for the Blue Jays to make a run in a division that I feel can still be had. The Yankees are nothing to sneeze at, as their lineup has been led by designated hitter Alex Rodriguez and first baseman Mark Teixeira, and they have both had had remarkable comeback seasons. Teixeira is on pace to hit more home runs this season than he ever has and he's hitting .266. At age 35 when his last few seasons have been so plagued by injuries as well. Rodriguez has turned in a great season thus far coming off his suspension, hitting .277 with 24 home runs and 61 runs batted in at 40 years old. Along with Brett Gardner and Jacoby Ellsbury, this lineup has been strong. Their bullpen has been one of the best in the Major Leagues.
But the Toronto Blue Jays are LETHAL offensively. Third baseman Josh Donaldson was an early MVP candidate, he hit yet another home run in yesterday's game. He's in a lineup which consists of Jose Bautista, Edwin Encarnacion, and now Tulowitzki. Those are a few of the scariest power threats in the league, and they have five players who have 100 or more hits this season. I'm aware that pitching is incredibly important, but if you can score runs at will, a solid pitching staff will suffice. Adding Price was the best move of the deadline in my opinion, and joining a rotation with solid veterans like Mark Buehrle, knuckleballer R.A. Dickey, and Marco Estrada, along with a younger arm like Drew Hutchinson, is absolutely huge. Toronto's bullpen is still an issue, but I'm talking about getting to the playoffs.
The American League, especially the teams in the East, need to take notice of what the already dangerous Blue Jays have done in the last week, and realize that they are coming. There's a difference between getting over-excited about moves that teams have made, and just recognizing the significance of them. The Yankees cannot afford to take their foot off the gas pedal, because if they do, they will find themselves on the outside looking in.