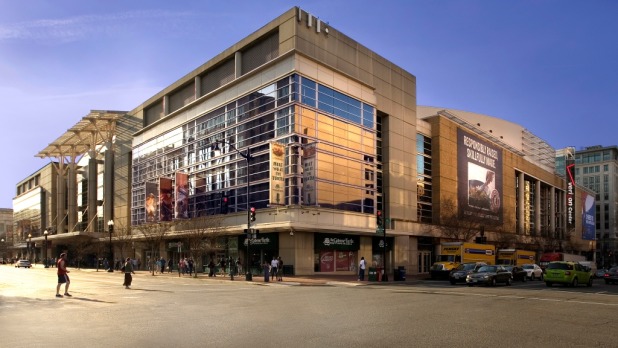 Washington D.C.'s Verizon Center, which hosts the Wizards, Capitals, Mystics, Valor and Georgetown Men's Basketball Team, has a new name now. From the official release via Monumental Sports & Entertainment:
"Capital One is one of the most influential local businesses in our region over the last two decades, so we couldn't be more pleased to partner with another homegrown company to create more incredible memories for sports fans, music fans, families and friends all across our region," said Ted Leonsis, Founder, Majority Owner and CEO of Monumental Sports and Entertainment. "Capital One shares our deep commitment to both economic and philanthropic investment in the larger Washington, D.C. community and we look forward to working closely with them. We are also proud today to be announcing a significant investment by Monumental Sports and Entertainment to continue improving the arena experience for every fan who comes through our doors. We want every fan's experience at Capital One Arena to be monumental."
Leonsis is also the majority owner of the Wizards.
As part of its continued commitment to provide the best fan experience in the country, Monumental Sports and Entertainment today also announces a separate, independent $40 million investment in Capital One Arena. Capital One Arena is one of the few privately-owned arenas in the country, and throughout its ownership, MSE has made over $100 million in investments to ensure the arena remains a best-in-class facility. The announcement today of this new investment is a further down payment on that commitment.
…
This summer, MSE also plans to move to a new point of sale system — which will be a great first step toward faster lines and additional payment options for fans, as well as better analytics and data that will allow MSE to better tailor the arena experience to each fan. The new point of sale system will also enable MSE to offer Capital One cardholders automated discounts on food, beverage, merchandise and more.

This is all part of MSE's continued commitment to ensure that Capital One Arena remains a premiere destination in the country for sports and entertainment.