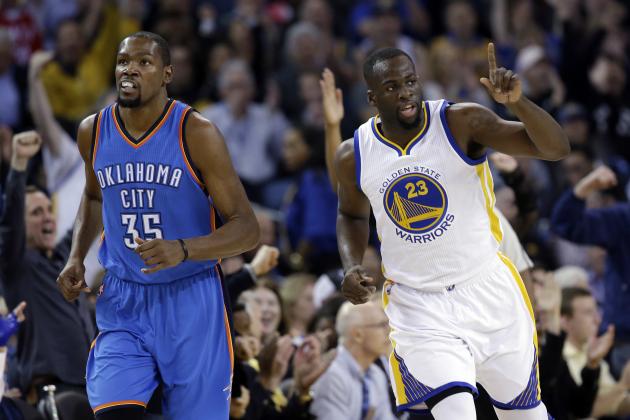 The Golden State Warriors bounced back from a 3-1 series deficit to defeat Kevin Durant and the Oklahoma City Thunder in seven games. Now that free agent-to-be Kevin Durant has been eliminated from the playoffs, the biggest storyline is where he will sign this offseason. The most likely scenario is that Durant re-signs with the Thunder for either one more year, or two more years with a player option for the second season. Many teams(probably every team) is interested in signing Durant. That includes the team that he just lost to. The Thunder feel that Golden State is a legitimate threat to snag Durant, reports ESPN's Marc J. Spears:
Oklahoma City has been understandably nervous about Durant's free agency for a while. The Warriors' infatuation with him is a real concern to the Thunder, a source said, but could he sign in the Bay Area after this? Oklahoma City brought Durant within one win of a second Finals trip in franchise history. Donovan coached the franchise to 65 wins as an NBA rookie head coach despite the loss of assistant coach Monty Williams after the death of his wife, Ingrid, and a lengthy absence from assistant coach Maurice Cheeks following hip surgery. Still, the Thunder stunned the higher-seeded San Antonio Spurs in the second round of the playoffs.

…

No, Oklahoma City doesn't exude the same sexiness and off-the-court fun that the Bay Area, Manhattan, Hollywood, South Beach and his hometown of Washington, D.C., offer. But, from a basketball standpoint, which is most important, Durant loves the direction the Thunder are currently heading and may not have a better option. Thunder brass is expected to push this positive direction to Durant among the reasons to re-sign in free agency.
Spears brings up some good points. The Thunder's success this postseason will make it immensely difficult for Durant to walk away from OKC. The most vital thing that the Thunder did in this series is prove to Durant that they can contend. Going to seven games with perhaps the best team in basketball history is nothing to sniff at. The team's success under rookie head coach Donovan, the emergence of budding star Steven Adams, the steady brilliance of Serge Ibaka, and of course the explosive superstar in the backcourt(and no, I'm not referring to Dion Waiters) will be enough to make Durant take a long, hard look at staying in OKC –for another year, or more.