Texas versus California. Beards versus goatees. Budding challengers versus presumptive champions. Narratives to bust versus expectations to meet. Houston Rockets versus Golden State Warriors.
Despite a season full of surprises, these two teams have been the two best through injuries, losing stretches and doubtful media members. So, meeting in the Western Conference Finals became more of an inevitability than a possibility. What is not inevitable is this series' chances of being great. Plenty of smart people think the Warriors will dispatch the Rockets with ease and they certainly have the talent and experience to do so.
The Warriors have two players who are better than anyone on the Rockets roster. They also have two other players that are better than anyone not named James Harden and Chris Paul. The Rockets, however, have made themselves a matchup darling. Their team was uniquely chosen to play this Warriors club, boasting the defensive versatility to compete and defend Golden State at all five positions.
It is likely every single one of the Warriors top three scorers will see some combination of Harden, Paul, P.J. Tucker, Trevor Ariza, Luc Mbah a Moute, Clint Capela and Eric Gordon. The Warriors incessant screening and the Rockets' willingness to switch everything allows this to be the case. Their propensity for running their guards through a maze of screens will be extremely important for not only the Warriors' success, but the Rockets' as well.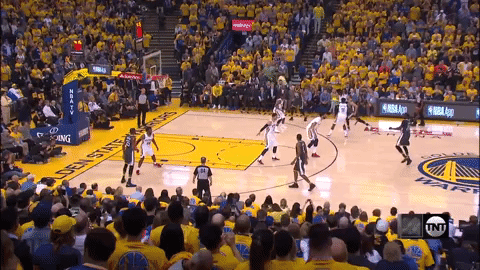 If the Warriors find they can easily get loose on these plays, it should be a quick series. If the Rockets commit to smartly switching on these type of plays instead of having one guy chase the elusive shooters, it should be easier to stop.
The Rockets' switching will also be crucial in terms of their standout big man, Capela. He has always been superb at switching on to smaller guards but the Warriors are another story. His defensive possessions on Durant, Curry and Thompson will be crucial in every single game. This may be why playing Nene will be an impossibility for the Rockets.
Nene is awful at switching on to guards and so the Rockets may choose to go ultra small this series to avoid trotting him out on the court. Tucker and Mbah a Moute could both play spot minutes at the center position against the Warriors. It only takes about seven and a half good players to win a tough series. The Rockets have that, even without Nene.
The Rockets also have a play that will be difficult for the Warriors to guard. They run a Spain pick and roll with Harden, Paul and Capela. No team has found success guarding this play so far. This play entails Paul or Harden screening Capela's man while Capela screens either Harden or Paul's man which usually results in a dunk, a three or a blow by. The Warriors will need to figure out a way to competently guard this play.
It feels like half of the Rockets plays in the playoffs have been Spain PNRs with CP3/Harden/Capela and they have been so successful #Rockets pic.twitter.com/GDcB2X8wwj

— Justin Jett (@JustinJett_) April 26, 2018
Turnovers could also prove to be important in this series. Turnovers are perhaps the Warriors' lone weakness. They turn it over at a significantly higher rate than the Rockets. So far in the playoffs, the Warriors have turned it over 37 more times than the Rockets, despite playing the exact same amount of games.
Harden's control over the basketball is a big reason for the Rockets' low turnover numbers. He is averaging his lowest turnover percentage since his rookie year in the playoffs and the fewest amount of turnovers per game since coming to Houston. As a unit, the Rockets have turned the ball over nearly four times fewer per game than the Warriors. This could prove to be a huge determining factor in a few of these games.
The Rockets' decision to be less stringent about their 3-pointers, layups and free throws mantra has also been a large reason for their dominance in the playoffs. Paul shot just 21.8 percent of his total shots from 10 to 16 feet in the regular season and that number has jumped to 32.2 percent in the playoffs. Last year, the Spurs flummoxed the Rockets because they allowed their bigs to simply sink down into the paint, ceding the midrange, which the Rockets scarcely took advantage of.
Paul is taking advantage of that space and, to some extent, so is Harden. He has been much more willing to go to his floater in the postseason, using the space the bigs give him and then lofting a shot over their heads at close range. Last year, this was not as big of a weapon but it's much improved for Harden this season. So improved that he is shooting 50 percent on driving floaters in the playoffs. Expect to see this utilized plenty against the Warriors.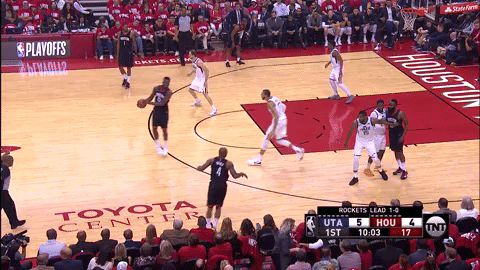 That last great question in this series is how the big man battle will play out. Capela has an opportunity to devastate every Warriors big man as they do not have one on their roster as talented as him. The best guess one could have is that Steve Kerr will trot out JaVale McGee simply for his size. That size could bother both Capela and the driving guards, but McGee often gets into foul trouble in a hurry.
If Capela could then outplay any Jordan Bell, Zaza Pachulia or Kevon Looney matchup, the Warriors will find it difficult to not simply play their "Hamptons 5" lineup with Draymond Green at the center position. This series has the opportunity to go very small very quickly with Capela being the only true big man seeing significant minutes.
The Rockets have the matchup options they sought to acquire in the offseason; they have two of the best ball handlers and scorers in the game; they have the best center. However, the Warriors have the better team, quite possibly the best team ever. They also have ludicrous scoring, an unbeatable crowd and four future Hall of Famers. The Rockets will hang tough, but the Warriors are simply too good and too all-time great.
Prediction: Warriors in 7.