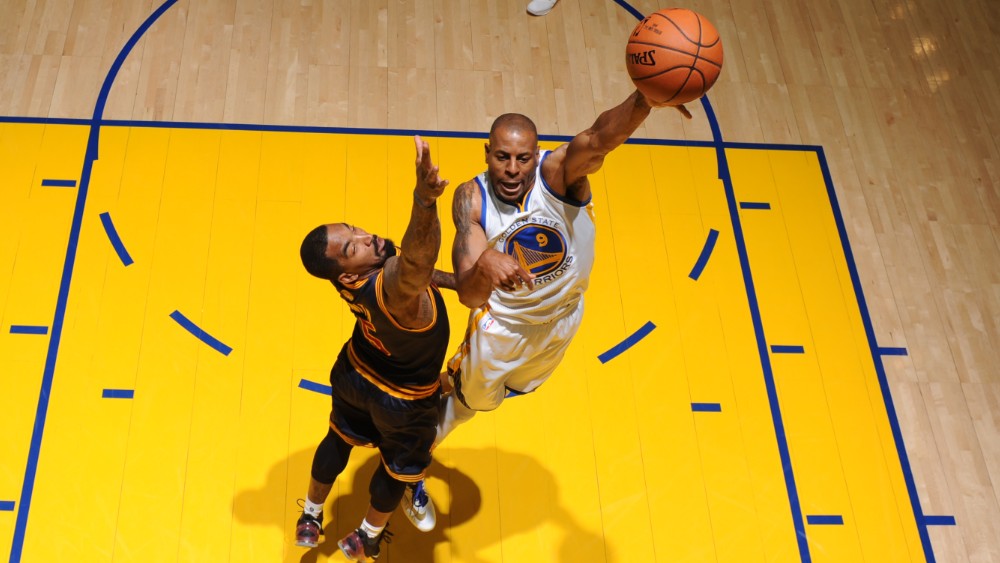 The Warriors bench came out to plllaayaaayyy. The Usual Suspects in Oracle were noticeably absent, but at least for today, none of that mattered. Golden State's "Big Three" of Andre Iguodala, Shaun Livingston, and Leandro Barbosa carried their team on both sides of the ball to conclude Thursday night's matchup, 104-89. One have one more game here in The Bay Area before the series heads out to Cleveland.
The Splash Brothers dried up in Game 1, shooting a combined 8-27. While Klay Thompson did add his usual lockdown defense, Stephen Curry couldn't salvage his performance on his way to 5 turnovers. Draymond Green fell out of his slump with a full 16/11/7 statline, including 4 steals in his team-high 40 minutes tonight. Andrew Bogut neared a postseason personal high with 10 points in his otherwise standard contribution. Playoff Harrison Barnes was back in regular fashion going 6-10 for 13 while being tasked part-time with the workload of defending LeBron James.
As the box score tells, that didn't exactly go as planned. While James did come up one assist shy of a triple-double (Reminding us of his one man team approach in last year's Finals), The Warriors did a fantastic job in limiting his effectiveness via a Green/Barnes/Iguodala/Livingston cocktail. Last year's Warriors team urged LeBron to take over the game himself to limit his superior playmaking skills, which seems to have worked thus far despite his impressive efforts. As predicted, the now-healthy duo of Kyrie Irving and Kevin Love finished the night ride alongside James with 26 and 17, respectively. Unfortunately for the Cavs, the point support couldn't be found elsewhere. Excluding Tristan Thompson's 10, the entire rotation only added 13 among the 5 men who saw routine minutes. That type of input clearly isn't sustainable as tonight's final score was evidence.
The Dubs flat-out played better in Game 1. So often you could find Cavalier players standing around on offense waiting for the set to develop rather than making cuts off the ball like the Warriors so often do. With a combination of elite defense, playmaking, and basketball IQ, Golden State didn't face much competition Thursday night. Tune in Sunday at 8 p.m. EST for Game 2.
Check out Andre Iguodala: Fastest hands in the West below
Andre Iguodala with back-to-back steals! #DubNation
(via @clippittv)pic.twitter.com/8P4w3LU0wx

— NBA On Def Pen (@NBAOnDefPen) June 3, 2016