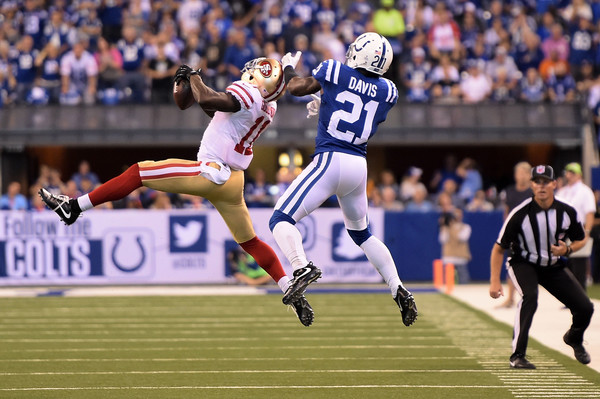 Indianapolis Colts cornerback Vontae Davis was ruled out of Sundays matchup against the Houston Texans. The Colts announced that Davis did not travel with the team for non-injury related reasons.
#INDvsHOU Update: Vontae Davis is listed as out for Sunday's game at Houston (Non-Injury Related). He will not make the trip with the team.

— Indianapolis Colts (@Colts) November 4, 2017
Okay, no big deal right? Well it turns out that Davis did not travel with the team due to a lingering groin injury that caused him to miss the first 4 weeks of the season.
#Colts CB Vontae Davis' absence is not disciplinary. Sounds like, after the groin, he needs some time to get himself back to feeling normal.

— Ian Rapoport (@RapSheet) November 4, 2017
So the question is, if Davis' groin is in fact keeping him out Sunday, why would the Colts report otherwise? One explanation is that the Colts were illegally concealing the injury. Davis was on the trading block just before the trade deadline and an injury would have hurt the pro bowlers value.
#Cowboys Are Close to acquire Vontae Davis from #Colts they just made a deal with #Bears but are trying to move more pieces
— Ian Rapoport (@RapSheetttt) October 31, 2017
Of course Davis could have been ruled good to go by the teams doctors and decided to scratch himself because he personally doesn't feel right.
Should the NFL investigate Davis' scratch and determine that the Colts were concealing his injury the team could face fines, suspensions of involved parties, and/or loss of draft picks depending on how severe the violation is deemed.