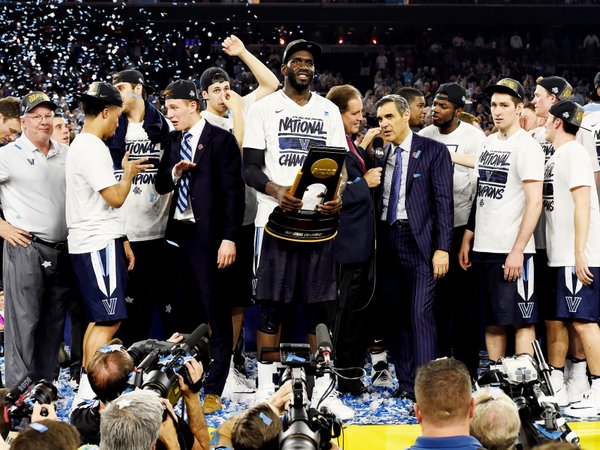 The 2016 NCAA Tournament came down to the final buzzer between the North Carolina Tar Heels and Villanova Wildcats. A game that featured two teams with contrasting style battled for the majority of the night and while UNC dominated on the glass, it was Villanova's shooting that won the game.
It was a far cry from the team's Final Four wins, which both were double-digit victories over solid opponents. Many anticipated a close contest in the National Championship matchup but no one was ready for this game.
Nova had a chance to win the NCAA Championship for the first time since 1985 when their legendary head coach Rollie Massimino led the eight seed Wildcats to the National Championship in a win over the powerhouse Georgetown Hoyas. Both Massimino and his star from that team, Ed Pickney were in attendance in support of Villanova along with former Nova guard Kyle Lowry to support his old school and old coach, Jay Wright. UNC had its fair share of big names in the stands supporting UNC including Michael Jordan, Vince Carter, Harrison Barnes, Kendall Marshall, Brandan Wright, Danny Green, Wayne Ellington and James Michael McAdoo. Thankfully, both of these teams put on a show but the ending would disappoint the Tar Heels legends.
UNC was led by point guard Marcus Paige and he hit big shot after big shot late for the Tar Heels. He led the game with 21 points, shooting 7-17 from the field and 4-7 from three-point range with six assists and five rebounds. Fellow senior Brice Johnson scored 14 points for UNC shooting 6-10 from the field and he grabbed eight rebounds on the night and Sophomore guard Joel Berry scored 20 points on 7-12 shooting including a perfect 4-4 from three-point range.
For Villanova, Sophomore Phil Booth came up huge early on for the Wildcats leading the team with 20 points on 6-7 shooting and hitting all six of his free throw attempts, both game-highs. Wildcats senior leader Ryan Arcidiacono scored 16 points shooting 6-9 from the field but it was unheralded hero Kris Jenkins who saved the day for the Wildcats. Jenkins scored 14 points on the night, shooting 6-11 from the field and of course, he hit the big shot for Villanova.