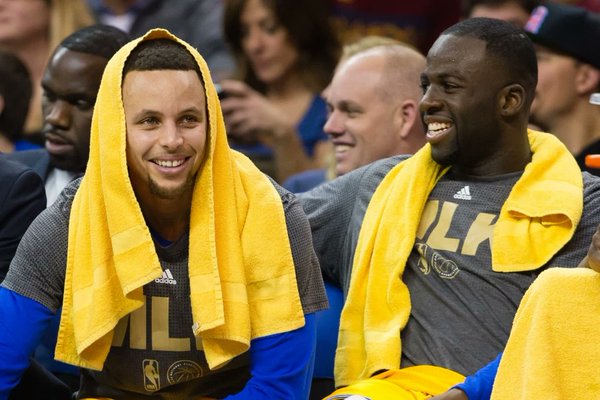 The Golden State Warriors are one win away from setting the NBA record for most wins in an NBA season. Stephen Curry is approaching 400 made three's in one regular season and closing in on a repeat performance as the NBA's MVP. Draymond Green has put up double-digit triple-doubles this season and he's expected to join Curry one on of the All-NBA teams this season.
So who knew a pair of baseball players would beat the Warriors stars in a simple game of PIG.
That's exactly what happened when the Los Angeles Angels visited the Golden State Warriors earlier today to take in their practice. Mike Trout, Albert Pujols, Joe Smith and Cliff Pennington were in attendance today as the Warriors got looser for their season finale tomorrow.
What's up @warriors? Thanks for the invite! #Angels #DubNation pic.twitter.com/jYzOr9Nj0z

— Angels (@Angels) April 12, 2016
After practice ended the stars exchanged some pleasantries.
Real recognize real. pic.twitter.com/GaQgGHet1y

— Angels (@Angels) April 12, 2016
@StephenCurry30 with @MikeTrout and @AlbertPujoIs pic.twitter.com/jmtzpSxyRy

— Laura Anthony (@LauraAnthony7) April 12, 2016
But it was time to ball and the Baseball guys showed early on they weren't to be messed with.
That would be Albert Pujols missing, Mile Trout dunking. Just another day at @warriors practice. #Angels #KTVU pic.twitter.com/GOP6qyqBOf

— Scott Reiss KTVU (@StanfordVoice) April 12, 2016
In a game of PIG, Mike Trout handled not only his teammates Cliff Pennington and Joe Smith but he also beat Draymond Green.
.@MikeTrout going up… pic.twitter.com/hlPKUPTBLv

— Angels (@Angels) April 12, 2016
Draymond Green played PIG with Mike Trout, Joe Smith and Cliff Pennington. Trout won. pic.twitter.com/OmusTju5Sf

— Jimmy Durkin (@Jimmy_Durkin) April 12, 2016
Finally it was Stephen Curry's turn and he fared just as well as his teammate when he lost to Angels reliever Joe Smith in PIG.
Hopefully tomorrow's game against the Memphis Grizzlies ends better for the Dubs.