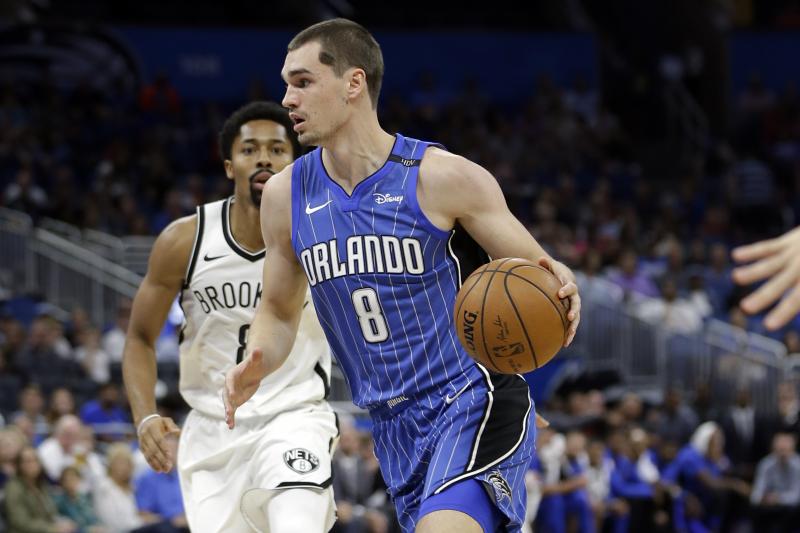 A losing team's best outlet to find success is the draft. High draft pick after high draft pick, the hope is a team eventually strikes gold, culminating enough talent to build a winner.
Only so much ground can be made on the competition through free agency. The likelihood of a losing team having the right mixture of solid management, coaching, talent and money to attract a star is low.
Because of this, many losing teams will use their excess cap space to throw bloated offer sheets at overvalued restricted free agents. This can work out, of course. A player being overvalued today, after four seasons in the NBA, doesn't mean he will be overvalued tomorrow. If that combination of solid management, coaching and talent is present, a once-overvalued free agent could surely grow into a player worth his income or more.
There is a risk in that game, however. Bloated contracts can kill a team. If the player you signed for $25 million a year doesn't live up to it, you have to make up for that elsewhere.
This is where value signings come into play.
Looking for bargains on the free-agency market is not only reserved for teams trying to make up for bad signings. Every team, no matter the amount of financial flexibility available, should always look for opportunities to receive more than they give.
Whether your favorite losing team can afford to splurge on a big-name restricted free agent or not, I think they should opt to consider making one (or more) of the following free agents a high priority.
Dante Exum
Exum, the fifth-overall pick in the 2014 draft, hasn't had much of an NBA career. After playing all 82 games in his rookie season, Exum tore his left ACL playing for the Austrailian national team in the summer of 2015. He returned in the 2016-17 season and played 66 games.
Exum looked great in last year's Summer League and was expected to be a big part of a Gordon Hayward-less Jazz team. In an October preseason game, however, Exum separated his left shoulder and had to have surgery. He returned in mid-March and played out the rest of the regular season.
After averaging just three points per game in the first round against Oklahoma City, Exum was averaging 6.6 points per game on 52 percent shooting against Houston. Exum, of course, went down with another injury – this time to his left hamstring.
Combining the injury concerns with average production through four seasons, a team should be able to get Exum for cheap. He is a good defender and has great ability getting to the rim. His jump shot is coming along both on and off the dribble.
Being a restricted free agent, Utah has the ability to match any offer sheet Exum chooses to sign – assuming he does choose to look elsewhere. A team like Phoenix, looking for a long-term point guard to play alongside Devin Booker, would be smart to give Exum a closer look.
Mario Hezonja
Hezonja was another high Magic lottery selection that got lost in the shuffle. Orlando has established itself as a place where talent, in some sense, goes to die. Just look at their first-round draft choices (all lottery) since the Dwight Howard trade:
2013: Victor Oladipo
2014: Aaron Gordon, Elfrid Payton
2015: Mario Hezonja
2016: Domantas Sabonis
2017: Jonathan Isaac
2018: Mohamed Bamba
Oladipo and Sabonis are gone, thriving in Indiana. Payton was traded for a second-round pick. After declining his option before the season, Hezonja is almost a guarantee to be on a new team next year as well.
Hezonja is coming off his best season, even though it still wasn't all too good. He averaged 9.6 points on .442/.337/.819 shooting splits, 3.7 rebounds, 1.4 assists and 1.1 steals per game. Hezonja also shot a discouraging 33.6 percent on catch-and-shoot three-pointers.
There were certainly games, however, where Hezonja looked like he had potential to be a dead-eye shooter.
Hezonja has shown the ability to potentially be a smooth scorer but not much else, which will allow a team to take him off the market at a low cost. Any team with a solid developmental system should look to take a chance on him.
Glenn Robinson III
In theory, Robinson should be one of the most valuable types of players in the league. He can shoot and defend. Indiana shouldn't even let him hit the market, right?
Kind of. Robinson has shown the ability to both shoot and defend, is a good cutter and has even developed a nice off-the-dribble game.
He just hasn't done enough of those things in the same game to garner serious attention in free agency.
The 2016-17 season was the best of Robinson's four-year career. He averaged 6.1 points (.467/.392/.711 shooting splits) and 3.6 rebounds per game in 20.7 minutes.
If it weren't for a preseason ankle injury, Robinson had a good shot to earn himself a nice long-term deal throughout the season. His season didn't begin until late February, however, when Indiana's rotation was already firmly established. There wasn't much space for Robinson to squeeze into.
Robinson hasn't reached his ceiling, and may just need more opportunity in order to develop. A wing-hungry team may benefit from throwing some money at him.
Seth Curry
Curry's season-long absence was disappointing. In Rick Carlisle's system, two ball-handlers almost always share the floor with each other. Whether it be Dennis Smith Jr., Devin Harris or JJ Barea, Curry would have had a talented guard next to him at all times to makes plays for and off of.
After the drafting of Luka Doncic, however, Curry's time in Dallas seems over. Curry, a 43.2-percent three-point shooter, will most likely have a new home next season.
In 2016-17, Curry shot 40.6 percent off the catch and 44.9 percent off the dribble. Curry made just $3 million annually in two years with the Mavericks. Despite coming off an injury, Curry should be due a small raise simply because of his production as a shooter.
Joe Harris
In two seasons with the Nets, Harris averaged 9.5 points per game on 46.6 shooting from the field and 40.1 from three. At 6 feet, 6 inches and 219 pounds, Harris can ideally play both the shooting guard and small forward in today's game.
Harris is mostly an off-ball player but can create a bit on his own. There is not much to say about him – he's just a nice guy to have around.
It wouldn't be surprising to see Harris stay put in Brooklyn for another season or two, and they may be willing to pay more than other teams. But he should get some outside interest nonetheless.
Nerlens Noel
When in Dallas, make Carlisle happy or there is nothing left to see here. Noel did not have a fan in Carlisle, who kept his minutes low, probably hurting his stock around the league.
Noel, though, has shown immense ability as a defender – being a guy who can both defend switches on the perimeter and protect the rim. Noel has ranked highly in block and steal percentage at his position throughout his career.
He's also a solid rim-runner and was a good rebounder in Philadelphia. He will probably sign a small deal this summer, but in the right situation, he could be very effective and earn the long-term deal he coveted last summer.