In a time when drill is incredibly saturated, East London rapper Unknown T brings something refreshing which is just what the genre needs. Rappers who have cemented their sound within drill are often criticized for their lack of versatility. However, this project demonstrates T's ability to transition between drill and rap while showcasing different vocal melodies.
Since its development tracing back to around 2014, UK drill has flourished and expanded into the mainstream, transcending beyond the council estates in inner-city areas. Its success sometimes feels bittersweet with the true essence of the genre being watered down. Despite this, Adolescence provides an alternative to watered-down drill and is the perfect amalgamation of progression while staying grounded within its roots in drill.
Adolescence follows Unknown T's debut mixtape, Rise Above Hate, which was released in early 2020. Since announcing the release of Adolescence on the 25th of June, Unknown T has showcased his growth as a person throughout the rollout of this project. It was warming to see him wander into new areas such as the fashion world when he walked for Virgil Abloh's Louis Vuitton SS22 line. In addition, performing "Goodums" on COLORS helped consumers view him in a new light outside of his usual dark drill aesthetic.
The mixtape features collaborations from various artists across the UK including Digga D, Nafe Smallz, M Huncho, Birmingham's very own M1llionz and even Unknown T's grandmother. The 15-track project includes production from AXL Beats, Ghosty, R14, Gotcha and more.
The tracks reflect on topics like road life, the criminal justice system, and relationships with women all of which he explored on his debut Rise Above Hate. This time he offered more depth into familial relations and his connection with Christianity, showing his development as a young person navigating life events. However, I didn't see much artistic development since his debut tape partly due to the similarity in the structures of both projects. The energy felt more heightened on his debut, making for a more exhilarating listening experience. With that being said, Adolescence had an abundance of standout tracks and deserves to be taken in without being compared to its antecedent.
As Unknown T introduces the tape with "22 double 0," we hear him briefly recount the moments before he was charged with a 20-year-old's murder. He was eventually cleared of all charges and found innocent, but not until he spent 9 testing months awaiting trial in police custody. He raps, "I got no bail, went straight to pen" before declaring that the "jailhouse won't see [him] again".
On "Sweet Lies", Unknown T took a softer approach and offered smooth vocals, a similar feel to "SS Interlude" on his debut Rise Above Hate. "She keeps falling for my bittersweet lies," he raps. However, the lyrical content in the track was not its strong point and felt fairly repetitive. The toxic nature of the lyrical content juxtaposes the softness of his vocals, which was achieved by decisions made during the mixing stage, such as using less compression and a decent amount of reverb (a special shoutout to Sean D who co-produced "Sweet Lies" with AoD and was the recording, mixing and mastering engineer on the whole project).
The transition from "Sweet Lies" felt incredibly cinematic due to the distorted vocal sample from Tyrese's "Sweet Lady" layered over the rain sound effects in the intro of "Tugman Vacation" (produced by R14 and Remedee). Furthermore, the smooth transition into "Tugman Vacation" made it feel almost like a second part to "Sweet Lies", increasing the project's overall sense of coherence.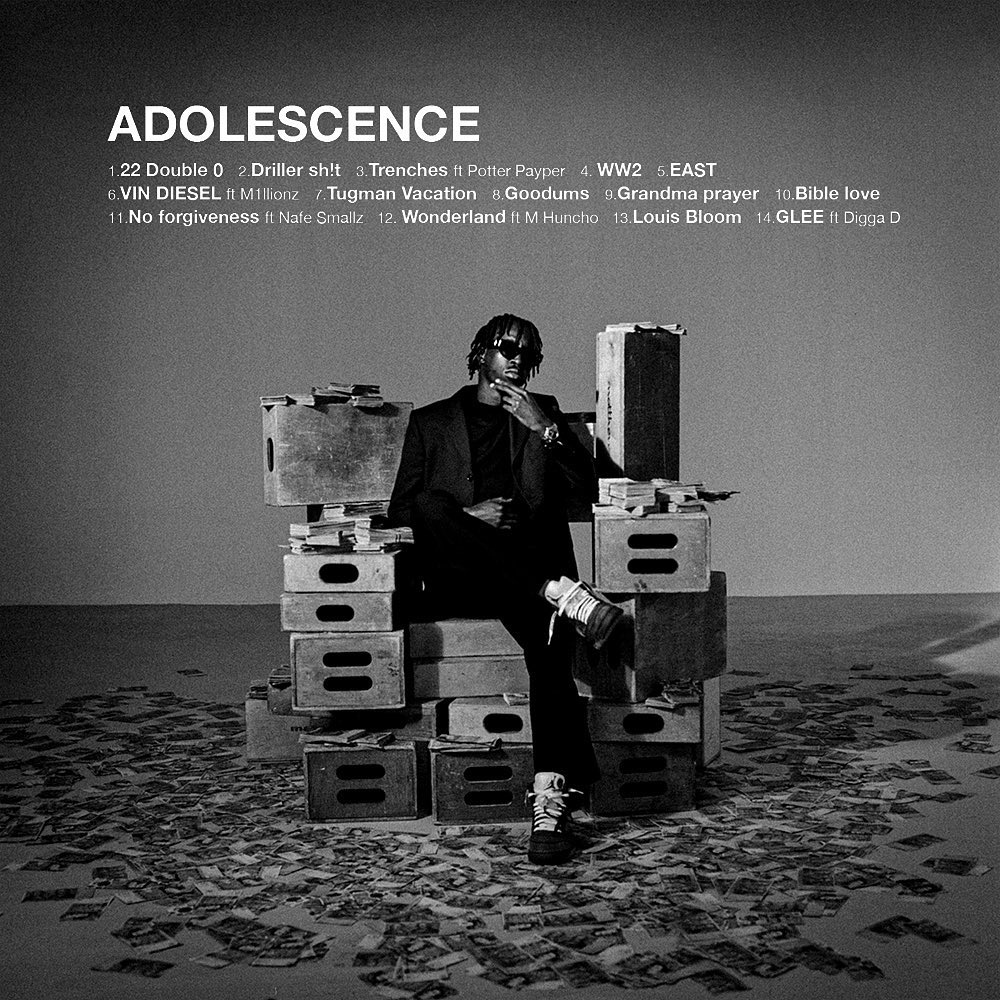 The section of the tape that runs from "Sweet Lies" to "Bible Love" showed Unknown T in a more vulnerable light. It offers insight into his love life, familial relations and mental wellbeing. "I got love for my Grandma, time is a opp, don't know if she's 'round for a while," he vents on "Bible Love." "Bible Love" follows his grandmother's rendition of the "Lord's Prayer" on "Grandma Prayer." He glosses over the state of his mental health when he says, "Time flies by but I still ain't treated my mental." The rhyme scheme used throughout the hook and the first verse helps the lines flow smoothly over the melodic production produced by Chris Rich.
With production being the standout element of many drill songs, Unknown T used this to his advantage by picking unique-sounding beats which often borrow from East Asian influences. A running theme throughout the production on "Adolescence" was the incorporation of a flute, providing an interesting contrast to the deep bass of Unknown T's vocals. For instance, on "WW2" produced by AV the Producer, R14, and x10, we hear a fluctuating melody played by a flute. Similarly, a high-pitched flute sequence opens "22 double 0" as the instrumental is building up, just before Chris Rich's producer tag and Unknown T's signature adlibs.
One of the ways Unknown T symbolized his progression as an artist was to venture into different styles outside of drill such as real rap on "Trenches" featuring Potter Payper. Despite this style leaning heavily towards Potter's lane as someone who has made a name for himself in UK rap, Unknown T held his own while maintaining his usual skippy flow. Unknown T opens by saying, "The streets always brackin', I can never show weakness," a relatable line for those who were raised in similar environments. He further elaborates by saying "Always kept a straight face, I never showed 'em how I'm feelin'", which is contradictory to his vulnerable moments later on in the tape. These moments of contradiction only make Unknown T more relatable as a person; we all have occasions of hypocrisy and that is what makes us human. After going back-to-back with Potter, T closed the track by repeating the last phrase of the hook, potentially paying homage to Potter who is known for repeating lines for emphasis.
Another noteworthy feature was M1llionz on "VIN DIESEL", who matches Unknown T's skippy flow and intricate lyricism. M1llionz's complex storytelling abilities took center stage as he built on themes of cars, crime and warring with his enemies. He raps, "I can tell that that's the gun boys by the headlights. Quick quick, buss a quick left right" as well as other lines alluding to various aspects of cars. Similarly, Unknown T makes references to the renowned film series Fast & Furious during the hook when he says, "Put a foot on it fast, Vin Diesel."
The project comes to a close with a collaboration from West London rapper Digga D, which was previewed on Digga's Instagram months prior. With this being a highly-anticipated collaboration between the two drill stars, especially after hearing them going back-to-back in Groundwork's 2020 Cypher, I was expecting a similar type of approach on GLEE. I was not disappointed as they matched each other's dynamic energies and experimented with melodies.
Rating: 7.5/10