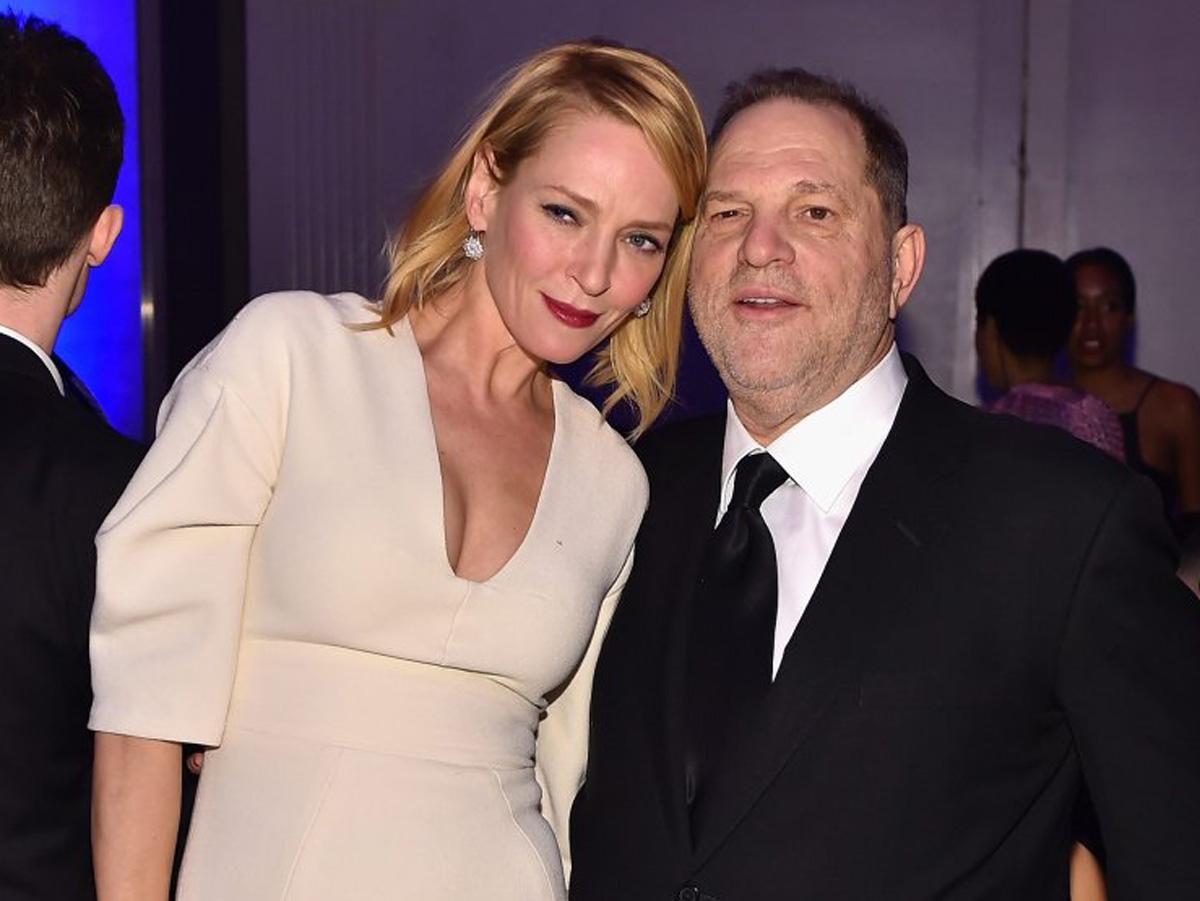 When the news came out about Harvey Weinstein and his disgusting and vulgar allegations regarding sexual assault and rape by multiple women in Hollywood, the world was appalled. It caused a storm that would brew through Hollywood, taking down the careers of those who deserved it. First of all, for their horrible behaviour and second of all because of the impact of the Harvey Weinstein allegations. Once the storm had settled, eyes shifted to Quentin Tarantino and Uma Thurman, who was a long time partner and friend to Weinstein and the other who was his superstar actress respectively. Tarantino came out a while back, striking down rumours that he had been aware of Weinstein's behaviour and that he himself was appalled by what he was hearing.
Uma Thurman, star of the Weinstein company's 'Pulp Fiction' as well as the 'Kill Bill' Saga, had remained quite throughout all the drama, only posting a Thanksgiving picture to show her solidarity with the other victims of Weinstiens wrath:
Now, in an interview with the New York Times, Thurman details her time with Weinstein while filming Tarantino's 'Pulp Fiction' and 'Kill Bill' and her story of being attacked.
Things soon went off-kilter in a meeting in his Paris hotel room. "It went right over my head," she says. They were arguing about a script when the bathrobe came out.

"I didn't feel threatened," she recalls. "I thought he was being super idiosyncratic, like this was your kooky, eccentric uncle."

He told her to follow him down a hall — there were always, she says, "vestibules within corridors within chambers" — so they could keep talking. "Then I followed him through a door and it was a steam room. And I was standing there in my full black leather outfit — boots, pants, jacket. And it was so hot and I said, 'This is ridiculous, what are you doing?' And he was getting very flustered and mad and he jumped up and ran out."

The first "attack," she says, came not long after in Weinstein's suite at the Savoy Hotel in London. "It was such a bat to the head. He pushed me down. He tried to shove himself on me. He tried to expose himself. He did all kinds of unpleasant things. But he didn't actually put his back into it and force me. You're like an animal wriggling away, like a lizard. I was doing anything I could to get the train back on the track. My track. Not his track."
Even after the horrific events in London and Paris, Thurman continued to work with Tarantino and Weinstein, specifically on the movie 'Kill Bill' and this is where Thurman drew the last straw.
In the famous scene where she's driving the blue convertible to kill Bill — the same one she put on Instagram on Thanksgiving — she was asked to do the driving herself.

But she had been led to believe by a teamster, she says, that the car, which had been reconfigured from a stick shift to an automatic, might not be working that well.

She says she insisted that she didn't feel comfortable operating the car and would prefer a stunt person to do it. Producers say they do not recall her objecting.

"Quentin came in my trailer and didn't like to hear no, like any director," she says. "He was furious because I'd cost them a lot of time. But I was scared. He said: 'I promise you the car is fine. It's a straight piece of road.'" He persuaded her to do it, and instructed: " 'Hit 40 miles per hour or your hair won't blow the right way and I'll make you do it again.' But that was a deathbox that I was in. The seat wasn't screwed down properly. It was a sand road and it was not a straight road." (Tarantino did not respond to requests for comment.)

Thurman then shows me the footage that she says has taken her 15 years to get. "Solving my own Nancy Drew mystery," she says.
I had personally never seen this car crash video and it shocked me. You could obviously tell that the car was not functioning properly (as it was bouncing up and down on the road) and the 1st turn that the car needed to take, Thurman crashed into the tree.