After seemingly an eternity, UFC returns to PPV and ESPN+ with  UFC 237, a card that is sure to please the hardcore fans much more than the casuals. With the card taking place in the iconic Rio De Janeiro in Brazil, the card is brimmed with both unknown and legendary Brazillian names.
The card will be headlined by the return from a 13-month layoff with Rose Namajunas taking on #1 contender and Brazil native Jessica Andrade in a 5 round bout that will see Namajunas take on the heaviest hitting strawweight in the UFC.
The co-main event will see Brazilian national hero and one of the undisputed pioneers of the sport Anderson Silva return to the octagon after his strong performance against current interim middleweight champion Israel Adesanya. Silva is set to take on Jared " The Killa Gorilla" Cannonier in the co-main event.
Although not listed as a co-main event, another Brazilian hero (sensing a reoccurring theme here?) and most winning featherweight champion of all-time Jose Aldo is set to take on Alexander "The Great" Volkanovski in a fight that is all but destined to earn a FOTN bonus.
With more than just legacies on the line for some of Brazil's greatest talents, UFC 237 should be one to remember for a long time.
11. Irene Aldana (#11) vs. Beth Correira (13)
It seems like this bout is finally going to happen. Originally, Irene Aldana was scheduled to face Bethe Correia on August 4, 2018, at UFC 227; however, the bout was pulled when Correia withdrew due to injury. Now fast-forward ten months, we will see an intriguing clash of styles to open up the main card.
Confession: it's hard for me to pick a fighter to win who grossly misses weight. After being inactive since her knockout loss to Holly Holm in June of 2017, Beth Correira missed weight by a laughable 5 pounds, entering the scale at a total weight of 141.
Thankfully, Irene Aldana (shown above), was gracious enough to allow for the fight to continue(the 30% of Correira's purse Aldana is set to earn doesn't hurt either).
With Aldana the more active fighter against some stiff competition, I see the 135er overcoming her sometimes reckless style to sketch out a close decision victory to kick off UFC 237.
Prediction: Aldana, Unanimous Decision
Thiago Alves vs. Laureno Staropoli
Oh, how the mighty have fallen. Thiago Alves, by no fault of his own, has been on the downslide since his UFC 100 bout for the welterweight championship against Canada's natural treasure George 'Rush' St. Pierre in which he lost by unanimous decision in fairly dominant fashion.
Since that time, nearly a decade ago, the fan favorite "Pitbull" has put together a 6-8 record, made the jump to lightweight (and came back again), underwent surgery, and has flirted with retirement since 2015.
After taking the UFC by storm with his brutal knees in the clinch, father time and subsequently the UFC's implication of USADA has taken a toll on his body. Once revered for his ferocious combination of power and speed, the welterweight is, unfortunately, a shell of himself.
But, being a shell of a once top 3 welterweight in the world means that the well-rounded Alves is a tough out for just about anybody.
That brings us to Laureno Staropoli.
Although Staropoli easily turned away a game Hector Aldana in his debut with the promotion, taking on Thiago Alves seeps like a stretch.
Alves, if he struggles against Staropoli's bruising style can depend on his strong wrestling game to escape from Staropoli's pressure and outwork the young fighter to a unanimous decision victory.
Prediction: Alves, Unanimous Decision
Jose Aldo (#1) vs. Alexander Volkanovski (#4)
With much respect going to Conor McGregor and current featherweight champion Max Holloway, Jose Aldo is still the greatest featherweight champion of all time. Aldo's tenure as both WEC and UFC featherweight champion is something that is only possible in EA UFC.
Aldo's decline has been largely overexaggerated by both the media and fans, with his only losses coming from the aforementioned Conor McGregor and Max Holloway(2x), so it's not like he's been relegated to the gatekeeping role.
Aldo has been on an absolute tear as of late, but so has the nearly unstoppable Alexander Volkanovski.
Both fighters seemed to be destined for a crash-course collision at the top of the featherweight division, with the winner destined to be positioned for a title shot in the near future, this seems like the perfect time to elevate a young and hungry Volkanovski.
If only it were that simple.
With two back to back devastating finishes against top featherweights Jeremy Stephens and Renato Moicano, it's hard to pick against Aldo in this matchup.
Although Aldo has strayed away from delivering his pattened-pending leg kicks as of late for more of a flatfooted boxing approach, it wouldn't be hard to imagine him turn back the clock and bring out ol' reliable to a heavy-handed opponent.
In his bout against Mendes, when pressured up against the cage, Volkanovski was hurt badly by Mendes throughout the duration of the fight.
With Aldo being a much more versatile fighter, Aldo is set up to defeat Volkanovski with his array of strikes and reaffirm his position as top of the featherweights at UFC 237.
Prediction: Aldo, TKO, Round 2
Jared Cannonier (#10) vs. Anderson Silva(#14)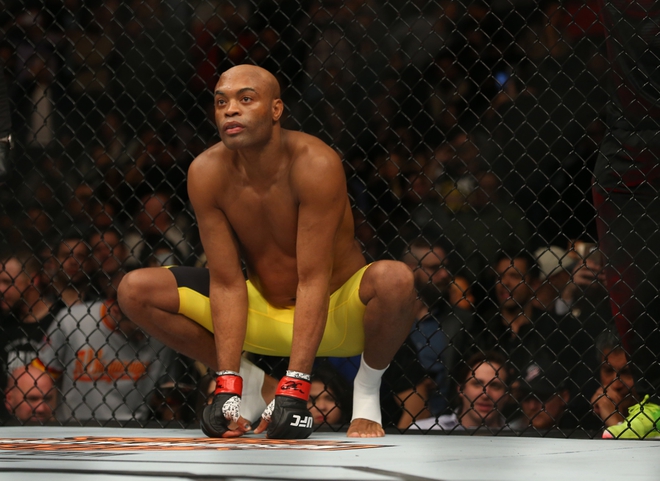 The decision of this fight will lay largely on which Anderson Silva shows up. Will we see an energized Anderson Silva that is happy to be back fighting in his home country and fresh off of a competitive fight with Israel Adesanya, or will it be the Silva who has been largely lacklustre since his second loss against Weidman, who seems to be fighting just because it's in his DNA.
I'm betting on the former, but it's not for the reasons you think.
Jared Cannonier has serious knockout power, but that's about it.
Against rangy MMA fighters such as Dominic Reyez, Cannonier has been largely neutralized due to his limited arsenal of strikes and at UFC 237, he faces the prototype.
It's not like Cannonier is going up against a UFC legend who has been famous for lulling his opponents into a false sense of security before ending their night.
Oh, wait.
Prediction: Anderson Silva, TKO, 2nd round
Rose Namajunas (C) vs. Jessica Andrade (#1)
Contrary to popular opinion, this fight is going to be a lot closer than the public thinks. Rose Namajunas, or more affectionately, "Thug Rose",  is rightly viewed as the Queenslayer for ending Joanna Jedrzejczyk stranglehold on the women's strawweight division. Twice.
Although Rose has beaten the greatest women's strawweight of all time, Rose hasn't fought since. With 13 months of inactivity, one has to ask how much will ring rust will take part for such a young and inexperienced fighter.
Jessica Andrade, on the other hand, has experienced a career surge over the past year. "Bate Estaca" — as she is referred to is 27 years old and clearly in the prime of her combat sports career, is a nightmare for any fighter at 115 pounds as she continues to get better with each fight. Claudia Gadelha and Karolina Kowalkiewicz were both viewed as top tier title contenders before Andrade ran through them like a buzzsaw.
Regardless of how you view both fighters, stylistically Andrade seems like the perfect counter to Namajunas laid back striking style. Andrade, much like current UFC Featherweight Champion Max Holloway, affords her opponents little-to-no space and never stops throwing her jab. Andrade delivered over 300(!!!) strikes against Angela Hill and more than 200 against pressure-wrestler Tecia Torres in three-round fights.
But the champion seems to have one last trick up her sleeve.
After outstriking Joanna Jedrzejczyk over two bouts, most have forgotten what Thug Rose began her career as.
A submission specialist.
Although we have seen Jessica Andrade maintain her cardio for a five-round bout, Thug Rose is more than capable than securing a submission off of her back late in the fight.
Prediction: Namajunas, Round 4, Submission