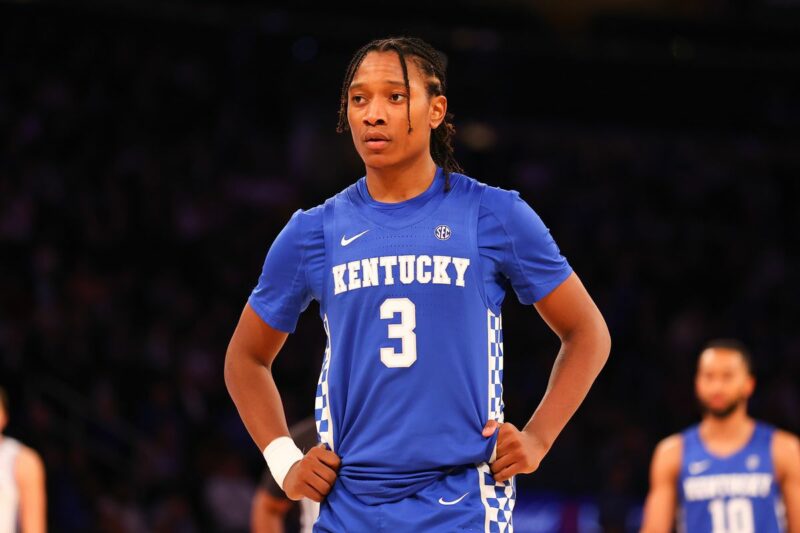 Kentucky Wildcats Guard TyTy Washington will not play against the Mississippi State Bulldogs due to an injured ankle. His availability against the Kansas Jayhawks this weekend is uncertain and will likely depend on how his ankle feels before the highly anticipated SEC and Big 12 matchup. Washington is a top player for Head Coach John Calipari and the Wildcats. Mississippi State could prove to be a tough matchup without him on the court. Kansas could be a nearly impossible matchup without him.
Orlando Antigua says TyTy Washington is "like the rest of us, day to day"

— Matt Jones (@KySportsRadio) January 24, 2022
TyTy Washington will not play for Kentucky versus Mississippi State tonight (ESPN, 9pm ET) due to an ankle injury, a source told ESPN. Availability for Kansas this weekend is yet to be determined.

— Jonathan Givony (@DraftExpress) January 25, 2022
TyTy Washington is in his first and likely only year with the Kentucky Wildcats. The guard has 2022 NBA Draft aspirations, so staying healthy and playing well is important for him. This year with the Wildcats he is averaging 13.6 points, 3.9 rebounds, and 4.4 assists per game. His biggest highlight was his game against the Georgia Bulldogs where he posted 17 points, 17 assists, and five rebounds in the matchup.
17 points, 17 assists, 2 turnovers for projected lottery pick TyTy Washington. Broke John Wall's single-game record for assists by a Kentucky player, and the most-ever for a freshman in SEC-play, per @JaredBerson. pic.twitter.com/QzINnDAHCz

— Jonathan Givony (@DraftExpress) January 9, 2022
Washington is well on his way to playing in the NBA and it will be important for him to continue his high level of play for the Wildcats. Kentucky currently sits at 12th in the rankings and second behind only Auburn in the SEC standings. Mississippi State is unranked, but fourth in the SEC standings.